Carbon Management and Reduction, Energy and Water
The University was one of the first members of the Carbon Trust's Higher Education Carbon Management programme and created its initial Carbon Management Plan (CMP) in 2006/07. Having achieved our initial 2015 target of 30% reduction per m2, we undertook a review of our whole carbon management programme and launched our revised CMP in September 2016.
The university reports against the Carbon Management Implementation Plan 2015-2030 annually. Please see our Carbon Management Plan Annual Monitoring Report 2021-22.
The university has successfully continued to make reductions in carbon emissions in both absolute terms and relative to the size of the estate and are on track for achieving carbon emissions reduction 2030 targets for scope 1 & 2. We have reduced our CO2 emissions intensity by 67% per m2, of estate since 2006/07 (baseline year).
All residential accommodation is in-house and is such included within scope 1 & 2 calculations. The carbon intensity of each building can be found on page 13 of our 2021/22 CMP monitoring report.
Scope 3
The University is working towards increasing the scope of the Carbon Management Plan reporting to cover all Scope 3 emissions to inform the University's ambition to be 'Net-Zero' by 2025.
The infographic below shows the scope and boundary of the carbon footprint emission currently covered in the CMP.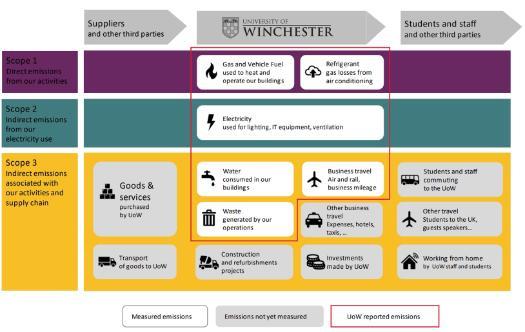 In 2021, the University participated in the newly formed Carbon Coalition via our membership of EAUC (The Alliance for Sustainable Leadership in Education). Drawing on the expertise and purchasing power of EAUC, 386 tCO2e were purchased by The Carbon Coalition on our behalf in line with the COP26 Universities' Principles on Offsetting incorporating Science Based Targets and longevity.
The 386 tCO2e represented our Scope 1 and 2 emissions plus directly purchased Scope 3 emissions (water and wastewater, waste generated on campus and business travel) for the academic year 2019-20.
In 2021, as part of the university commitment to collecting Scope 3 data the university commissioned a Scope 3 Gap Analysis Report (hyperlink included). This report is the first step in enabling us to fully understand our full scope 3 emissions, which in turn will allow us to develop credible Net Zero targets.
Reducing Energy Consumption
The University is committed to reducing its carbon emissions and a number of behaviour change initiatives and technical interventions are in place across the campus designed to cut our carbon footprint.
The university has purchased renewable electricity to cover 100% of its demand since 2008/09. Since the 2020/21 reporting year the University increased its annual purchasing of renewable gas (biomethane) to 100%, making the University's market-based scope 1 & 2 emissions Net Zero.
In 2021/22 the university completed its Public Sector Decarbonisation Programme (PSDS) installation. The university was successful in securing PSDS funding to cover the installation of 34 Air Source Heat Pumps (replacing gas boilers), completion of LED lighting roll-out, installation of smart heating controls in West Downs Student village and in other building across campus and the installation of Solar PV panels on 4 more buildings. The University used the REFIT framework, an Energy Performance Contract framework, for procurement of these large scale energy efficiency measures.
This investment has been made possible by a £3.12m grant from Salix. Lead contractor Ameresco have provided guaranteed cost savings of £102k /yr and carbon savings of 505 tCO2e/yr.
In addition to the PSDS funding the University has invested over £1.5m in energy efficiency projects since 2010 to reduce carbon emissions. Carbon and energy reduction projects include:
Building Management Systems installation
Automated Metering Reading equipment
LED Lighting and Controls
Boiler replacements
Motors replacements and upgrades
Insulation of buildings and pipework
The University is committed to building all new buildings to the BREEAM (Building Research Establishment Environmental Assessment Method) Excellent standard. Past BREEAM buildings built on the campus feature a number of sustainable design innovations such as natural ventilation, energy-efficient lighting and controls, air source heat pumps, solar photovoltaic panels, sub-metering and wildflower roofs.
Reducing Water Consumption
The University has reduced water consumption by 62% per m2 of estate since 2006/07 and we have introduced a number of water saving initiatives to reduce our consumption including leak detection, automated meter reading and monitoring, waterless urinals, dual flush toilets, low volume cisterns and automatic taps.
Declaring a Climate Emergency
In June 2019, the University of Winchester announced its pledge to tackle the use of all unnecessary single-use plastic by December 2020 and called on individuals and the higher education sector to stand up and take action to combat the climate crisis.