10 questions students ask before coming to Winch
11 Aug 2021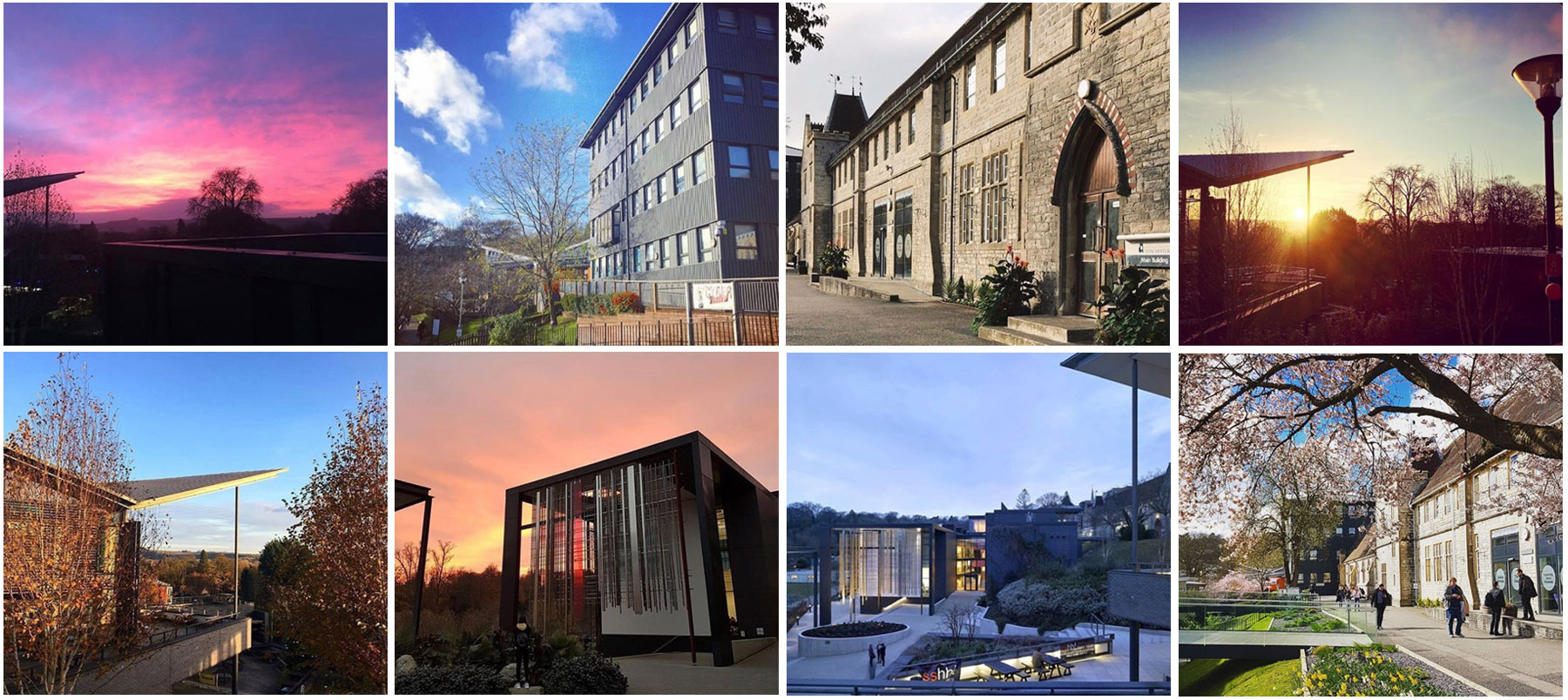 1. Where might I live in Winchester?
Whether you are an undergraduate or postgraduate student, you have the opportunity to apply for halls in your first year of study. When it comes to student living at Winchester, you'll be spoilt for choice. We've got a wide range of stunning accommodation options, both on- and off-campus. From catered halls with larger than average study bedrooms (and some with fantastic views across our beautiful city) to en-suite rooms in self-catering halls, you'll have space, comfort and all the modern facilities you need to call it 'home'. Explore our accommodation on our Virtual Tour.
After the first year, students tend to find off-campus housing in the surrounding areas of Winchester, such as in Stanmore, Badger Farm, Weeke, Winnall or the city centre. Check out the accommodation available at Winchester and how to apply.
2. What's it like being a student at Winchester?
As a student living in Winchester, you'll be part of a welcoming and friendly community. Whether you live on-campus or off, you'll have easy access to all our fantastic facilities for studying, relaxing and socialising. Plus, you'll be close to the heart of our beautiful city with its lively social scene and stunning open spaces. We've got loads of support and advice to help you make the most of your time here and get the best out of what Winchester has to offer. Have a look at the Student Support available.
3. Will I get the chance to travel home during term time?
Of course! It is important to take some time off for yourself and have a break from the 'university bubble'. There's nothing better than going back home for a nice home-cooked meal and a night in your own bed. Some courses also have a reading week in the middle of the semester, so this would be a great opportunity to study somewhere other than your usual haunts.
4. Is it possible to work part-time alongside my study?
It definitely is possible, especially if you're super organised and have good time management skills. There are plenty of jobs available through the University Student Union, such as working in the SU bar, SU shops or even becoming a Student Ambassador. These roles have flexible working hours that fit around your study. If the idea of working at University doesn't float your boat, then there are plenty of cafes, pubs and shops in the city centre which hire plenty of students each year. Why not check out the University's jobs and opportunities platform, CareerConnect and see our Careers team's top tips on Finding a job.
5. How do I join the doctors whilst I'm here?
During your online enrolment, we ask you to register with a Winchester GP before you arrive in September.
There are three GP surgeries in Winchester that you can choose to register with, and can do so directly via their website:
6. What's the nightlife like in Winchester?
Everyone loves a night at the Student Union. Whether cheesy BOP tunes are your jam, or you prefer testing your knowledge in the weekly Big Fat Quiz, the SU has you covered. There are also plenty of pubs and bars to keep you entertained (even one of the oldest pubs in England!). But don't fret, we've been voted the best place to live in the UK for a reason! There are also plenty of alcohol-free things to do for an alternative night out.
7. Isn't it expensive to live here?
It's good to know that when you're in university-managed accommodation at Winchester, your bills, content insurance and wifi costs are all included. You can also choose to be in catered halls of residence so that your meals are taken care of. We make it easy for you to budget for your living costs by providing clear and simple payment options. So you can relax and get on with making the most of uni life.
Also, one of the best parts of being a student is the student discounts! This means you'll get tonnes of deals when you want to eat out, buy clothes and go out and about – you can often bag a whopping 30% off food at restaurants such as Pizza Express and Ask! It's all about being careful with your money and learning to become a savvy money saving student.
8. What are the people like at Winchester?
Everybody is so friendly! We have a small, close-knit campus – you're almost always guaranteed to bump into somebody you know en route to your lecture. It's probably one of the best things about coming to the uni, and you will definitely feel a sense of community here. There are so many societies where you will have the opportunity to meet like-minded people, from sports teams to academic societies. We even have a society for all those hardcore Potterheads!!
9. Will I need to buy books before I arrive?
This one is completely up to you. Most books on your reading list will tend to be in one of our Libraries anyway (yes, we have two libraries!). Occasionally, you will be required to pick up an extra textbook or two depending on the type of course you study, however, these are often available second hand for next to nothing. Google books are always there for you too!
10. What are the semester dates for this academic year?
These are important, and it's a really good idea to add these dates into your diary or calendar. Semester dates for this academic year and future academic years can be found on Semester Dates page.
Still have some burning questions?
Let us know in the comments below, or tweet us at @_UoW using #hellowinch
Back to blog