Grad all over...class of 2023 celebrates at cathedral graduation ceremonies
20 Nov 2023
More than 2,000 University of Winchester students have celebrated their academic achievements at a series of joyous graduation ceremonies held in November.
Winchester Cathedral provided the magnificent setting for eleven ceremonies attended by more than 8,000 guests. Thousands more, from all over the world, watched the events as they were live-streamed.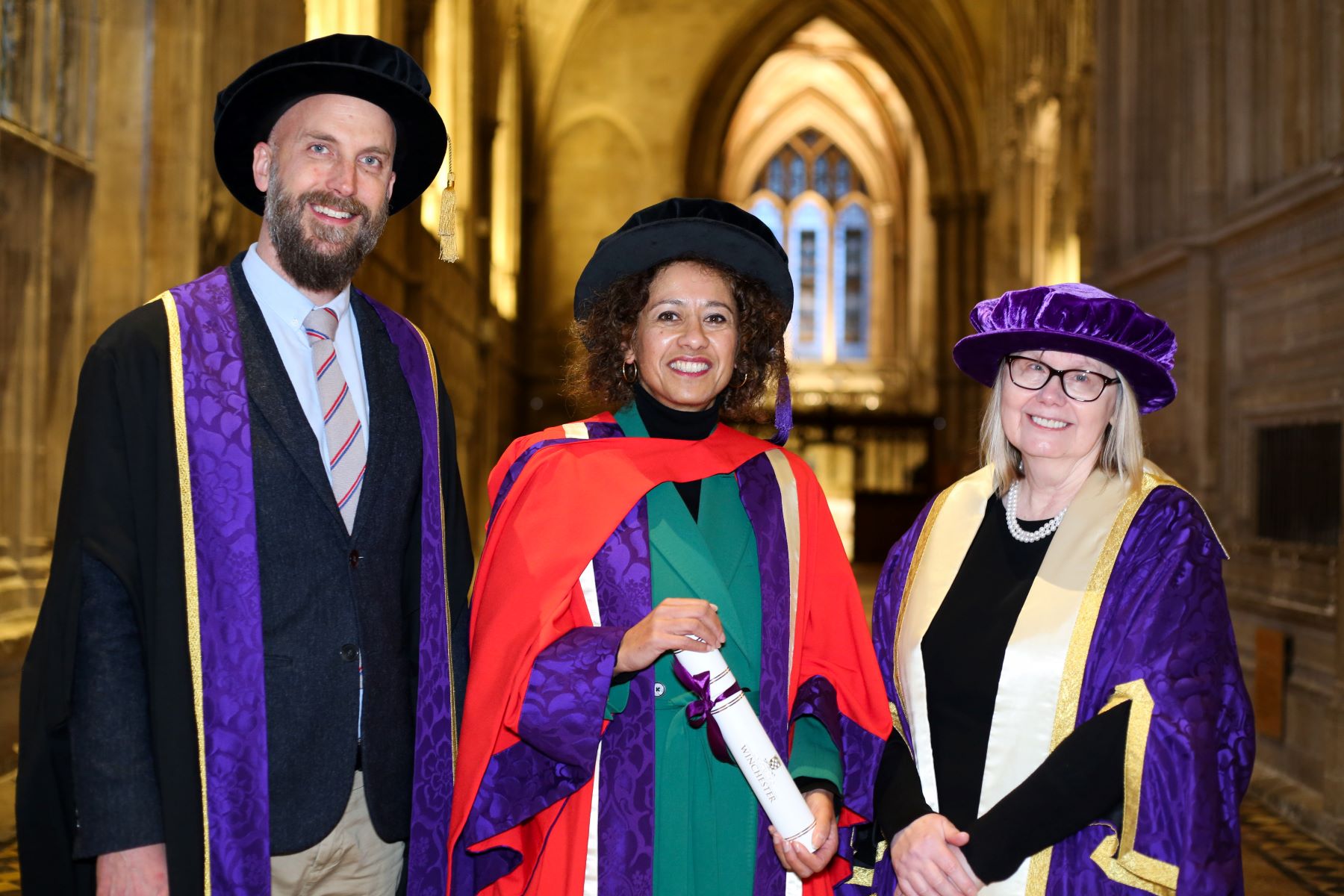 Honorary Doctor Samira Ahmed flanked by Pro Chancellor Sam Jones and Vice-Chancellor Professor Sarah Greer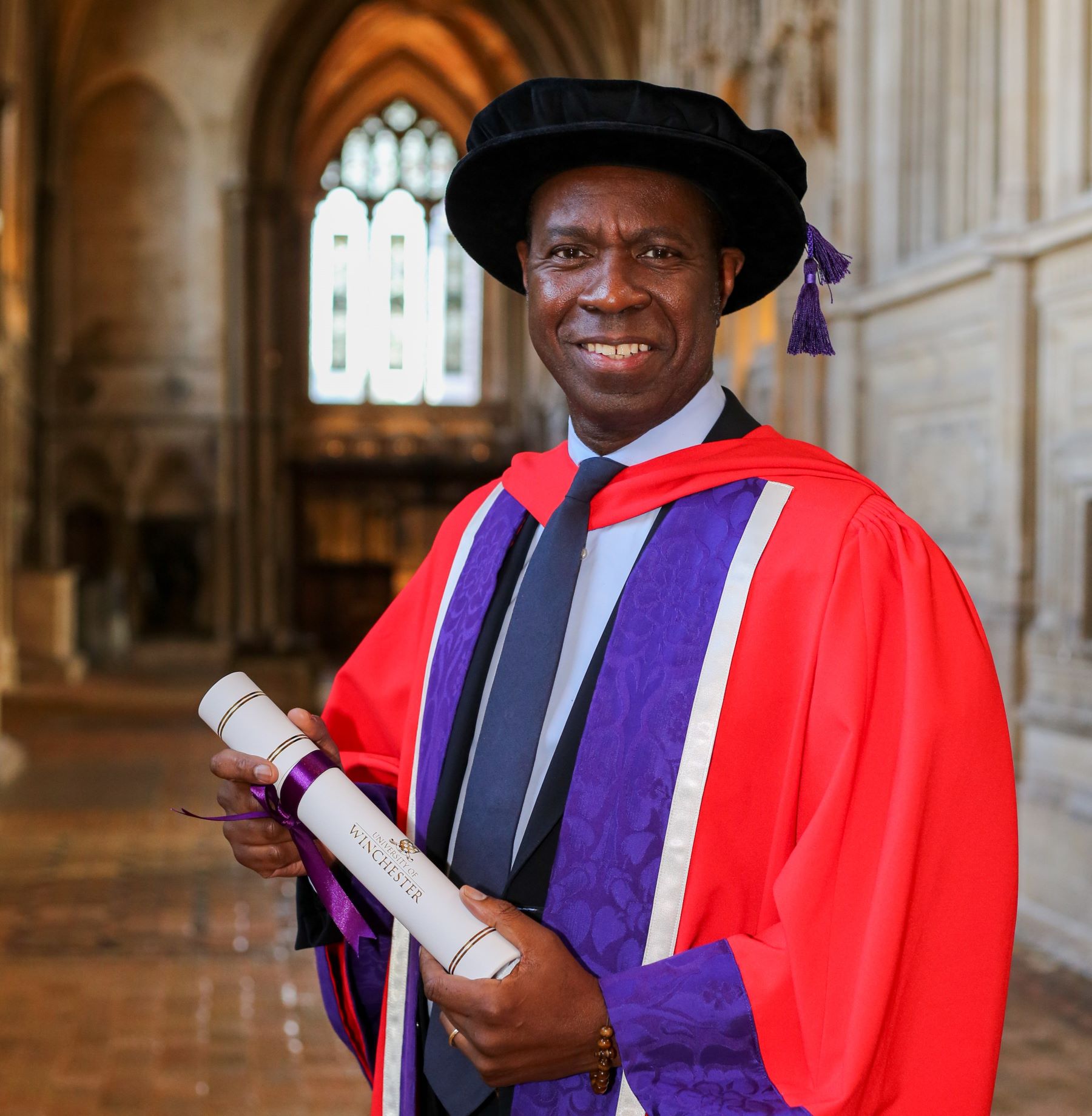 Honorary Doctor Clive Myrie, BBC news anchor and presenter of Mastermind
Vice-Chancellor of the University, Profess Sarah Greer, congratulated the students on their achievements and also reminded them of the important parts their parents and loved and ones and university staff had played in their success. Both sets of supporters received ovations.
She urged the graduates to "go out into the world and make a difference" armed with the skills they had learned at Winchester.
"You bring so much to the important task of creating a fairer more humane and civilised society," said Professor Greer.
The ceremonies also marked the achievements of some inspirational individuals recognised with the award of honorary doctorates and fellowships.
Honorary Doctorates were awarded to:
Samira Ahmed, award-winning journalist and broadcaster, who has presented Channel 4 news, BBC Radio 4's Front Row and acclaimed BBC4 series The Art of Persia.
Lord Nigel Crisp KCB, a former chief executive of NHS England who is an outspoken campaigner on global health issues.
Andrew Lumsden, a renowned organist and choir master at Winchester Cathedral since 2002 during which time he has presided over an expanding music programme.
Clive Myrie, award winning TV news reporter, BBC news anchor and presenter of TV's Mastermind.
Lord Mark Price, a former managing director of Waitrose, who served as Minister of State for Trade and Investment in the Cameron and May governments before setting up WorkL – a digital platform aimed at making the world of work a happier place.
Wendy Searle, the seventh woman to ski solo to the South Pole. The mother-of-four ditched her office job to become a polar expedition leader and inspirational speaker.
BBC newsman Clive Myrie spoke about his recent experiences in Gaza and the West Bank in his speech and struck a note of hope saying that what seemed an intractable conflict could be resolved in the same way peace had been achieved in Northern Ireland.
"I hope and pray that behind the scenes there are those with the imagination and determination to find a lasting peace," he said.
Clive then echoed that in his message to the graduates: "Imagination and determination – that's what gets you the things you want in life."
Another award-winning broadcaster Samira Ahmed told graduates: "If you stick to the passions that drove you, they will sustain you in your work."
She cited her 'passion for pop music' leading to her making headlines around the world in April when she uncovered the earliest complete concert recording of the Beatles in Britain, made at Stowe School in 1963.
Polar explorer Wendy Searle receives her Honorary Doctorate from Mary Edwards, chair of the Board of Governors
Lord Nigel Crisp, former chief executive of NHS England, with Mary Edwards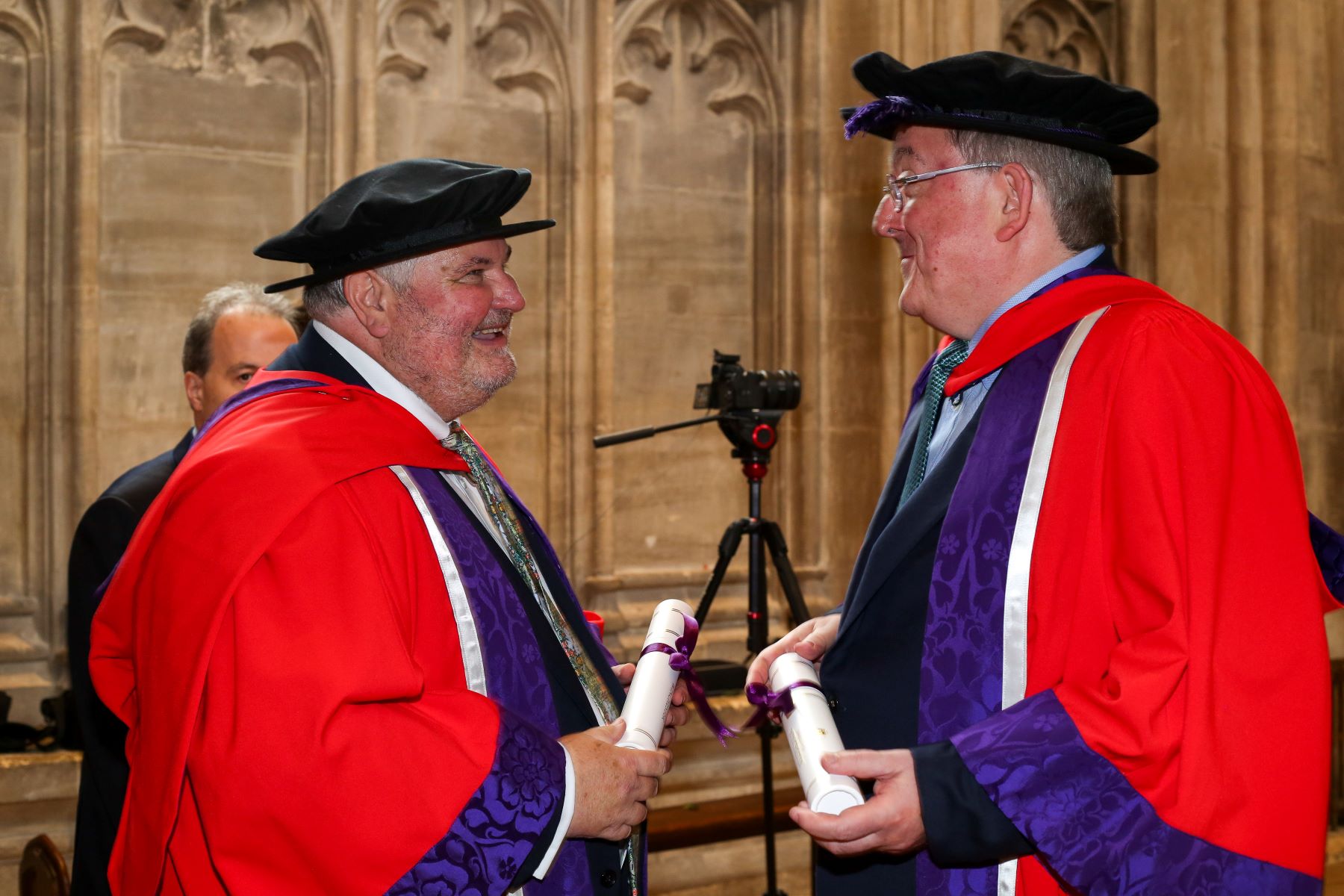 Honorary Doctors Lord Mark Price and Andrew Lumsden
Honorary Fellowships were awarded to:
Dr John Acres, who after a long career in public health, including a short spell with Zambia's Flying Doctor Service, founded the Wessex Global Health Network.
Jo Cottrell, a National Leader in Education who became Executive Head of the University of Winchester Academy Trust, which is made up of five local primary schools.
Sue Hill, Queen's Nurse and chair of the Royal College of Nursing's Community Nursing Forum. Sue helped set up the University of Winchester's Learning Disabilities Nursing Course.
Deryck Newland, Chief Executive and Artistic Director of Play to the Crowd, an Arts and Education Charity incorporating Theatre Royal Winchester, Hat Fair and Playmakers.
Jonathan Whettingsteel, a partner at Dutton Gregory Solicitors and specialist in family law, who is heavily involved in social and cultural development within the firm and supporting future generations of the legal profession.
The Pro-Chancellors for the ceremonies were: Mary Edwards, Chair of Governors; Captain Andrew Robinson, vice-chair of the governors, governor Edward Rochead, and Alan Titchmarsh, Chancellor Emeritus.
Photographs by Dominic Parkes Photography
Back to media centre