University of Winchester Chapel scoops Civic Voice awards
18 Jul 2017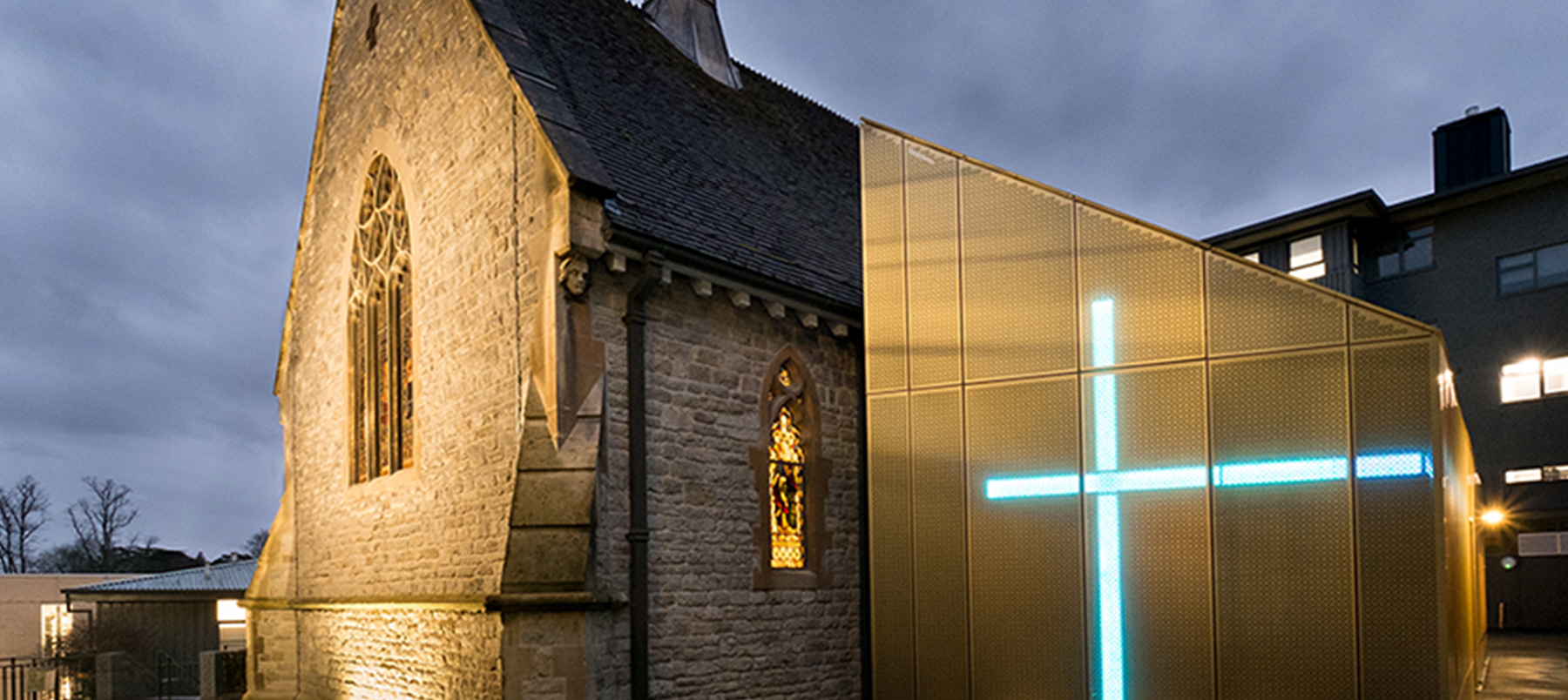 The University of Winchester has won the coveted Civic Voice Design Awards for the stunning restoration of the Victorian chapel at the heart of its campus.
The Civic Voice Design Awards recognise buildings and restoration projects which make positive contributions to the local area in terms of their high-quality architectural design and engagement with the local community. The University was nominated for the award by the City of Winchester Trust.
The project has seen the University's Chapel beautifully and sensitively restored to its former glory. Working with local craftspeople and materials, the project has resulted in the original splendour of the Chapel being restored alongside the careful addition of a new altar and font and an extension to the north of the main Chapel. The extension is an empathetic response to the gothic revival building where its connection, form and materiality are both intuitive and exciting. Externally, the extension is clad with perforated aluminium panels, anodised to give a highly reflective gold finish allowing the building to be interpreted at different distances and scales.
In 2015, the University commissioned Design Engine Architects to oversee a complete restoration of the internal and external fabric of its Victorian Chapel – originally built in 1880 – as part of the celebrations to commemorate the institution's 175th anniversary. In addition, the University wanted to add a small side chapel and a social and meeting space to the Chapel to increase its usability.
In May, the Chapel also scooped a highly-acclaimed RIBA South Award 2017 for its regional importance as a piece of architecture.
Judges from the Civic Voice Design Awards commented on the Chapel: "Incredibly restrained and beautifully simple, with a contemporary graphic quality and bold use of materials, architecturally, this is a fascinating project. Its clever integration of sacred and secular spaces and beautiful detailing serves as fine example to others on how our ecclesiastical buildings can be used and adapted to meet the demands of the modern world."
Professor Joy Carter, Vice-Chancellor of the University, said: "We are utterly delighted that the project to restore our Chapel has been awarded this prestigious national prize. Our Chapel is right at the heart of our campus and who we are as a university – a wonderful link to our foundation by the Church of England in 1840. The Chapel restoration was the centrepiece of our 175th anniversary celebrations and a reflection of the important place it is for our students and staff."
Steve Brine MP for Winchester and Chandler's Ford, who is also a member of the APPG for Civic Societies in Parliament, added: "I am not surprised the Winton Chapel caught the judges' eye, it is simply stunning. This is a richly deserved award, from a hugely respected group, that is testament to the vision of our excellent University and the talent of Design Engine."
Watch a short video about the Chapel restoration project here
Ends
Back to media centre