Lauren Clarke: BA (Hons) Journalism 2013-2016 Production Specialist at ITV Channel
27 Oct 20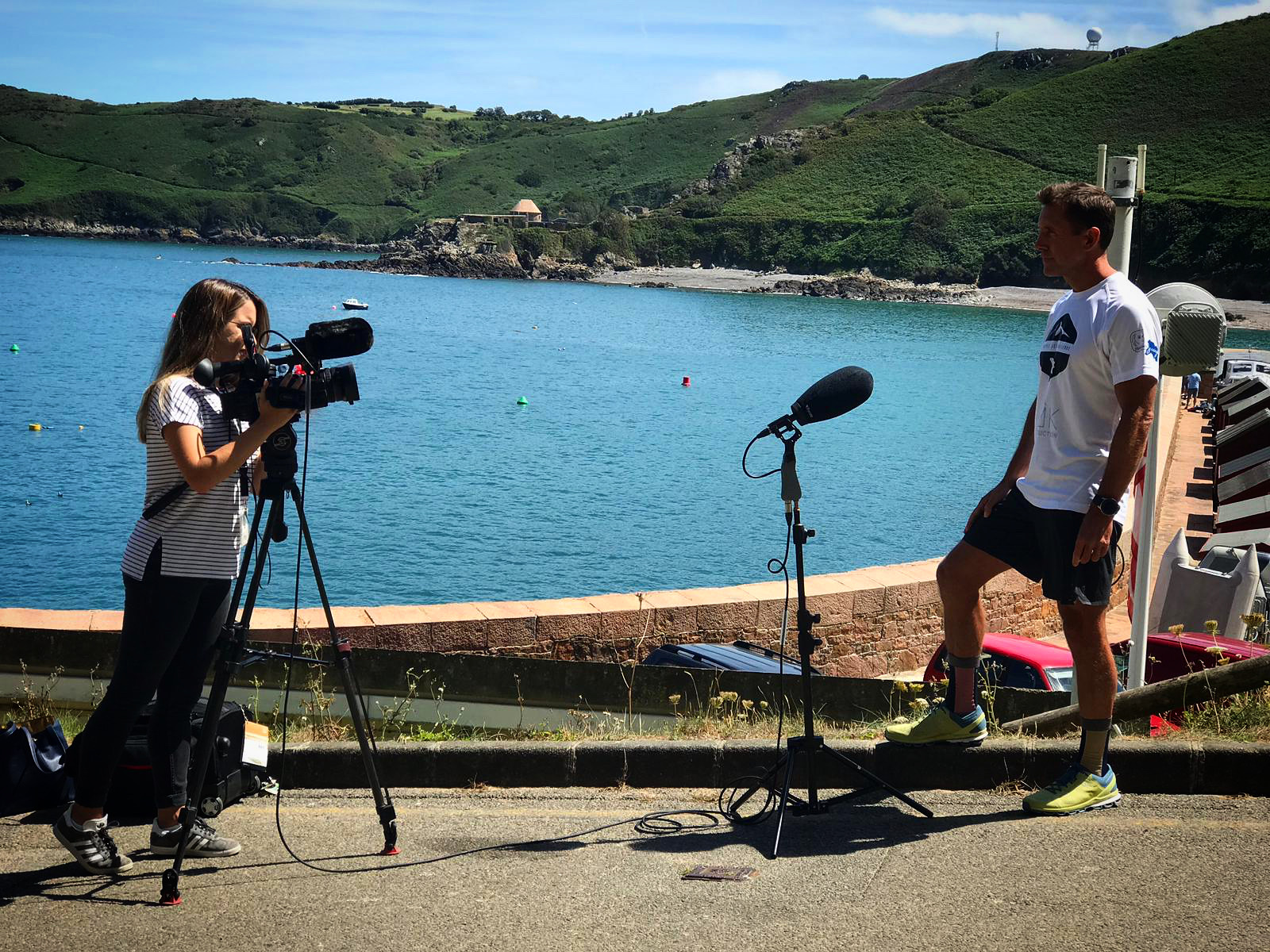 "The Journalism degree at Winchester is a very practical course and is like the workplace on a smaller scale. You're setting up interviews, self-shooting, editing, directing in the gallery and more. When I went for my interview at ITV, I found this experience was so valuable."
Lauren Clarke has gone from dressing up as a journalist on a night out to working with them at ITV. After graduating in 2016 with a First Class (Hons) in Journalism, Lauren now works for ITV Channel in her home island of Jersey. Thanks to her experience at Winchester, she was already prepared for the newsroom before finishing her course and applied for her current role while still studying.
"Six months before I left university this job popped up on Twitter. I was lucky in the fact I got the first job I applied for… when I did my interview, I said I still hadn't finished university but they were prepared to wait. It was a mixture of hard work and luck – it's rare to get the first job you apply for after uni."
Lauren's typical working day is not like a desk job. Like anyone in journalism, Lauren is constantly on the go. Her role as a Production Specialist involves camera-operating, directing the lunchtime news, filming packages, editing packages and working on longer features. This means Lauren works in the technical side of journalism rather than being a journalist herself.
"I now work in the technical side of the industry and the skills are completely transferable. I can still pitch stories and deal with the technical aspects. It means you could go down any path, even producing, web, digital and media. "
Lauren wasn't expecting to go into the technical side of journalism, nor was she expecting to stay at home in Jersey, but this is something she says has helped her career.
"If you're from a small place, don't be afraid to start in your own region. It's great to get your grounding in regional news. So don't go rushing straight into the big cities. You can get on screen quicker in regional TV which means you can get ahead of the game."
Lauren has other crafts in journalism alongside her skills as a Production Specialist in regional TV. These skills were developed during her studies and in her own time while doing a multitude of work experience placements. Placements are something Lauren is very knowledgeable about; she has great advice for those interested in work experience.
"At every given opportunity, do some work experience. The BBC work placement forms are a long process but so worth it. I did experience on The One Show with BBC Wales and that taught me a lot. You need work experience, even if you're just somewhere for a week. Having a variation of different work experience is important too as it's not obvious what your path might be. "
Lauren also has advice on how to find these important opportunities.
"I got more confident every time I did work experience. My approach to getting work experience was just to email generic placement email addresses, send a CV and say why you want to do work experience there. It usually gets forwarded on so even if you don't have a direct contact, just email placements. Places such as the BBC or ITV have entry careers pages online. ITV even has an Instagram page specifically for entry careers."
Aside from her degree and work placements, Lauren found even more ways to add to her skillset while having lots of fun. Lauren joined the University of Winchester radio station, Sound Radio in her first year of study and became Station Manager in 2015. This is where she says she has some of her best memories.
"My favourite memory is from my time at Sound Radio. During my first year we all dressed as stereotypical journalists for an SU night. "
"Doing Sound Radio helped me impress my interviewers because it showed I had skills in creating feature-led content on air such as games and longer format pieces for radio. It shows personality. A lot of people in TV start off in radio – for a lot of journalists, it is how they get their grounding."
Lauren has been working full time for four years now since graduating. She is still proud that she chose Winchester to learn her craft and make long-lasting friendships.
"I loved going to Winchester. It has a great community feel and it is very accessible. Coming from Jersey it was such an easy step for me. It is big enough for resources but not too small and I still have close friendships with my degree friends."
Lauren has achieved a lot in her current role since leaving university. However, as someone with many skills, there are a wide variety of things Lauren wants to achieve in her career. Working at ITV allows her to move around in the company and she now has experience filming for TV shows.
"I've spent four years in my current job and I'm happy. I'm excited to see where my career takes me and there's a lot of different avenues to take. I have filmed weddings as a hobby aside from my job. I have also filmed a television programme called Housewives of Jersey which will be on ITV BE."
"This has given me different opportunities in camerawork, editing and feature-production while still being able to stay in Jersey."
Back to alumni