Outstanding Ofsted for teacher training at University of Winchester
23 Jan 2018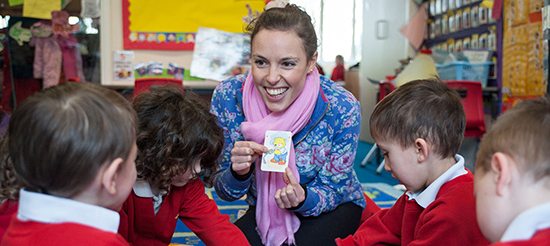 The quality of the University of Winchester's Initial Teacher Education (ITE) programmes has once again been recognised by Ofsted, confirming Winchester's position as one of the best providers of teacher education in the country.
In its latest report, which has just been released, the education inspectorate rates Winchester as a provider of 'outstanding' teacher training in England for its provision of both primary and secondary ITE.
Winchester's primary teacher training has been rated outstanding since 2010, but this is the first time that its secondary teacher training has also received the highest accolade.
"This is an excellent result for the University, underlining our reputation as a flagship provider of teacher training and it is testament to the dedication and hard work of staff, students and our partnership schools," said Dr Janice de Sousa, Dean of the Faculty of Education, Health and Social Care.
"We train some of the brightest young people in the country to teach in primary and secondary schools. As a values-driven institution, it is especially pleasing that Ofsted highlighted that respecting values - including the promotion of equality and elimination of discrimination - are enshrined in the University's vision for teaching training and embedded throughout our programmes."
The Ofsted report states that the University of Winchester 'produces highly professional, confident, enthusiastic teachers who are welcomed into the profession and make a strong contribution from the start of their careers'. Trainee teachers demonstrate exceptionally high levels of personal and professional conduct and have demanding expectations of themselves and of their pupils' learning and behaviour.
The personalised teaching that trainees receive and the close relationships trainees and their tutors build up are also highlighted in the report. Trainee teachers at Winchester receive high levels of individual support and direction tailored to promote their learning and support their success
The inspectors also praise the 'passionate and enthusiastic' leaders and managers across the partnership who actively pursue excellence and seek to improve training provision and outcomes.
The University offers undergraduate and postgraduate programmes leading to the award of Qualified Teacher Status and is a major provider of trained primary teachers in Hampshire. The University currently works in partnership with almost 400 schools to provide excellent work-based placements for its trainee teachers.
Read the Ofsted report: UoW Ofsted report 2017.
Find out more about teacher training and development here.
Back to media centre