Postgraduate scholarships, bursaries and awards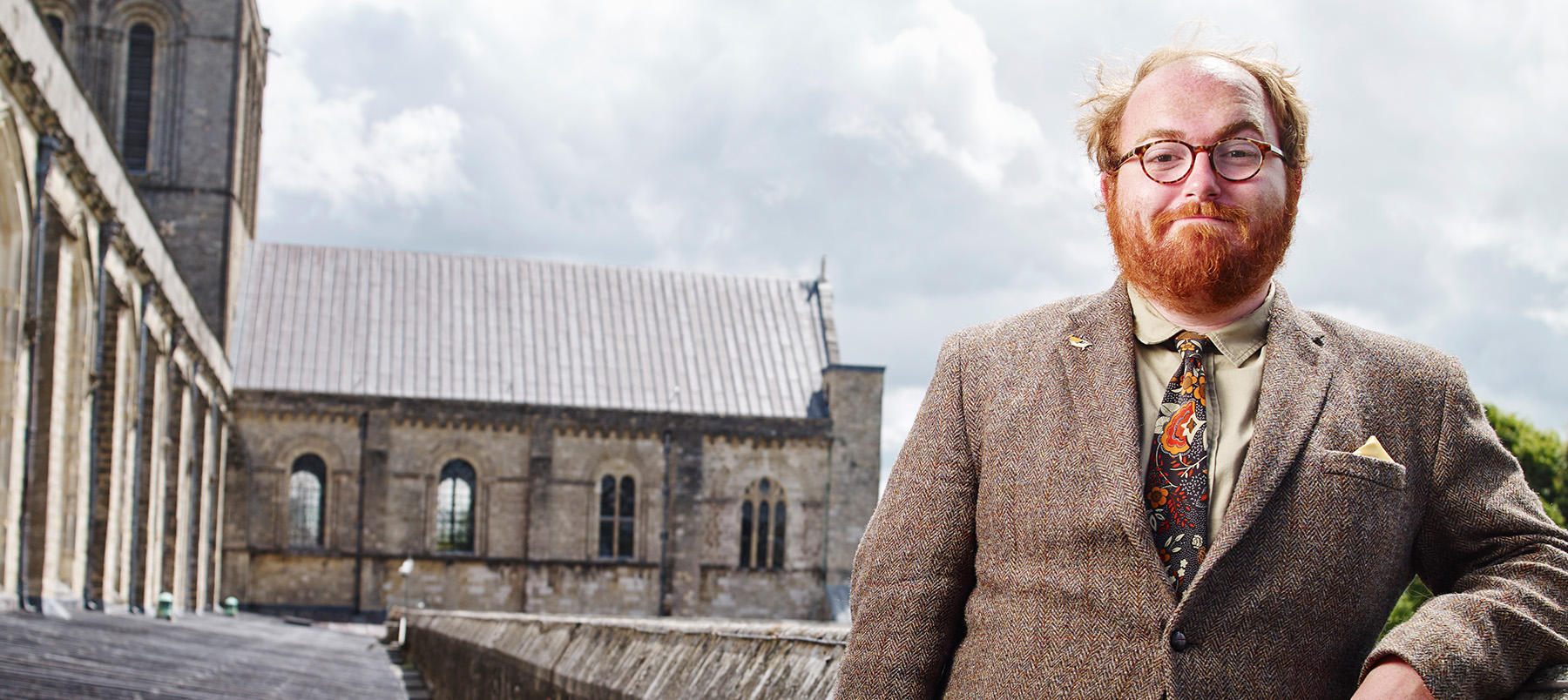 Postgraduate scholarships, bursaries and awards
We offer a range of scholarships, bursaries and awards for students joining us in September. These provide students with financial support based on their academic achievements, personal circumstances and household income.
For general enquiries please contact: studentsandmoney@winchester.ac.uk
Explore below for more information about specific bursaries and scholarships available:
Alumni masters scholarships
We provide financial support to Masters students who have previously graduated from the University.
Undergraduate students with a first-class Honours from the University of Winchester receive a 50% discount*.
Graduates from the University of Winchester receive a 20% discount with our Alumni Masters Scholarship*.
Open to: Students who have previously graduated from the University
Criteria: Former undergraduate, postgraduate or research degree students of the University of Winchester (or King Alfred's College or University College Winchester).
Value: 20% or 50% depending on qualifications
Access agreement*: No
Exclusions: Cannot receive both Alumni Scholarship and PASS; PGCE, GDL, PgDip, SENCo and top-up courses not eligible. MSc Social Work and Step Up to Social Work students also excluded. MSc Occupational Psychology, MSc Forensic Psychology, MA Creative Writing and MA Writing for Children & Young People are also excluded from the scheme. Self-funding students only; if you are part sponsored you will not be eligible.
How to apply: Your discount will be deducted automatically from the Masters programme tuition fee invoice.
PG and PGCE Graduates
Those who have studied a PG or PGCE qualification and have received a Distinction, Merit or Pass profile will be eligible for a 20% discount on Masters programmes.
How do I receive my Alumni Masters Scholarship?
For the reduced tuition fee you need to be accepted on your intended programme of Masters study and be able to satisfy all the normal academic admissions criteria. You also need to meet the University of Winchester's enrolment and registration conditions.
If you have any queries, please email alumnischolarships@winchester.ac.uk
All recipients are normally expected to participate in appropriate marketing activity on behalf of the University to help with future recruitment to its programmes.
Postgraduate access scholarship scheme (PASS)
We have a strategic aim to reach out to groups not traditionally represented in Higher Education with particular care in overcoming disadvantage and promoting equality, social justice and social mobility.
We believe that education must be a force for opportunity and social justice, not for the entrenchment of privilege. The following is only available for taught Masters programmes.
Open to: UK students
Criteria: Various – see below
Value: 20% discount on tuition fees
Access agreement*: No
Exclusions:
The discount is applicable to stand alone taught Masters programmes only.
Students receiving Alumni Masters, Winchester Graduate Masters Scholarship or other fee discount, waiver or sponsorship will not be eligible to receive PASS as well.
Students studying MSc Social Work who are in receipt of the NHS bursary are not eligible to receive PASS.
How to apply: Applicants must first have received a conditional or unconditional offer of a place on a postgraduate programme of study before filling in the online application form.
To be eligible you must fulfill at least one of the following criteria:
Previously been in receipt of Disabled Students' Allowance (DSA) or be in receipt of one of the following benefits:

Personal Independence Payment (PIP)
Disability Living Allowance (DLA)
Attendance Allowance (AA)
Employability Support Allowance (ESA)

Spent time in the care of a local authority as a child or young person
Be a carer for a family member with long-term ill-health or disability
Be currently receiving any form of means-tested state benefit e.g. Housing Benefit, Income Support
We also offer the Postgraduate Access Scholarship to:
Those who have served in the British Armed Forces, either as a regular or reservist
spouses/civil partners of those who have served in the Armed Forces, either as a regular or reservist within the past five years
children, aged 30 or under, of those who have served in the Armed Forces, either as a regular or reservist
Filling in the Application Form
Please save your application form using the following format before submitting:
Surname, Forename Student Number PASS Application
e.g. Bloggs, Joe 0123456 PASS Application
The closing date for completed applications and supporting evidence is Friday, 27 September 2019.
Please submit your form to studentsandmoney@winchester.ac.uk or email if you are unable to access the application form.
Course bursaries and scholarships
The University of Winchester offers a range of bursaries and scholarships, please explore further and find out what you could be eligible for.
Executive MBA Bursary and Scholarships
Winchester Alumni MBA 10th Anniversary Bursary
50% fee waiver
Applicants must have a minimum of two years' management experience
Applicants may only apply for one scholarship
Vice Chancellor's Scholarship
25% fee waiver
Subject to submission of an essay on Climate Change (details available from Programme Leader – see contact details below)
Essays are judged and the awarding of scholarships is competitive
Applicants must have a minimum of two years' management experience
Applicants may only apply for one scholarship
Entry Requirements
For all bursaries and scholarships, applicants are required to hold an undergraduate degree (2:2 classification or above) and have at least two years' management experience. Exceptionally, those without an undergraduate degree but who have significant senior management experience may be considered.
For more information, please contact Dr John Richardson, MBA Programme Leader
Email: John.Richardson@winchester.ac.uk
Telephone: 01962 827033
*Eligibility for a Staff Family Member Scholarship applies to a spouse/partner, parent, sibling, child or grandchild of a salaried member of staff of the University of Winchester.