Accreditation success for University of Winchester Music and Sound Production course
11 Jun 2020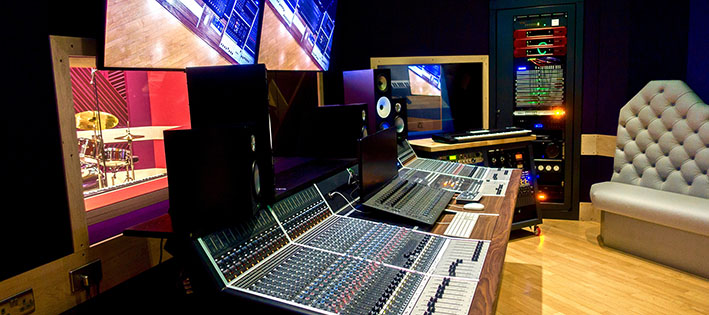 The University of Winchester's BA (Hons) Music and Sound Production programme has this week been awarded accreditation by Joint Audio Media Education Support (JAMES), the leading professional body in this field.
JAMES represents a group of industry organisations which work together to promote excellence in education. Its accreditation process employs assessments by industry professionals to endorse the relevance and quality of programmes.
The accreditation panel for Winchester's programme included renowned record producer George Shilling, who is best known for his work with Primal Scream, Ocean Colour Scene and James Brown, and guitarist Elliott Randall, who has worked with Steely Dan, John Lennon and Asia.
The panel particularly commended how the quality, commitment and experience of the programme's teaching team supported students to "grow in knowledge, skills, insights and attitude in preparation for their professional careers", and how the programme's use of guest producers working directly in studio with students contributes to a positive and stimulating learning experience.
Winchester's BA (Hons) Music & Sound Production programme has been going from strength to strength in recent years, boasting superb new recording studios, attracting high profile guest lecturers and growing in both reputation and size, under the energetic management of programme leader Dr Niall Thomas.
Dr Thomas said: "It is so exciting to be recognised by such a prestigious industry body. We were overwhelmed by the glowing feedback we received from the panel of such well-respected music industry professionals."
"This is absolutely fantastic news, and very well-deserved," added Professor Alec Charles, Dean of the Faculty of Arts. "It's a wonderful programme, taught by a brilliant team, with state-of-the-art facilities. Time and again, this programme delivers great music, great events and great collaborations with cultural organisations and with our own programmes in film and performing arts. We're incredibly proud of what our team and our students have achieved."
JAMES Executive Director David Ward commented: "We are very happy to welcome the University of Winchester BA (Hons) Music and Sound Production programme into the JAMES family and we look forward to the staff and students helping us with our mission to bring excellence and collaboration into education for the creative industries."
Press Office | +44 (0) 1962 827678 | press@winchester.ac.uk | www.twitter.com/_UoWNews
Back to media centre