April 2021 at the University of Winchester
4 May 2021
In April, the University of Winchester welcomed a new Vice-Chancellor, took a stand against racial inequality in higher education, won recognition for its impact on quality education in a global ranking of universities, and marked the holy month of Ramadan.
Read on to find out more about this month's highlights here at Winchester.
New Vice-Chancellor takes the reins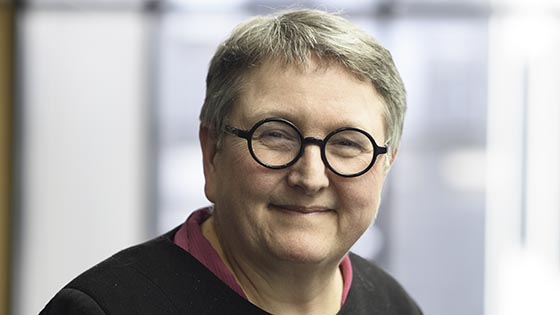 The Reverend Professor Elizabeth Stuart began as Vice-Chancellor of the University on 1 April.
"It was 23 years to the day from arriving at the University to beginning my post as Vice-Chancellor," said Professor Stuart. "As always, I remain dedicated to this distinctive, values-driven institution. We will continue to nurture the next generation of reflective, critical thinkers who will not be afraid to challenge dominant discourses and ideologies in their professions and in society as a whole."
Professor Stuart joined the University of Winchester as a Professor of Christian Theology and Director of the Centre for the Study of Theology and Religion in 1998. She became Director of Research and Knowledge Transfer in 2005 before being appointed Pro-Vice-Chancellor (Academic) in August 2008, and then First Deputy Vice-Chancellor in January 2013. She is also curate of the parish of St Matthew with St Paul and is a Bank Chaplain for the Hampshire Hospitals NHS Foundation Trust.
Professor Stuart takes over from Professor Joy Carter CBE, DL, who retired from the role at the end of March after 15 successful years as Vice-Chancellor. Professor Stuart accepted a transitionary role and will be succeeded by a new Vice-Chancellor in the next academic year.
Read Professor Stuart's biography here.
Global University Impact Rankings recognise University's work in sustainability in education
The University of Winchester is ranked second in the UK - and in the upper quartile of institutions globally - for Sustainable Development Goal 4 Quality Education in the Times Higher Education global University Impact Rankings 2021.
The rankings recognise universities worldwide for their social and economic impact on society, based on their success in delivering the United Nations' 17 Sustainable Development Goals (SDGs), with the impact ranking for SDG 4 measuring universities' contribution to early years and lifelong learning, their teaching, research and their commitment to inclusive education.
Criminal 'cold cases' focus of international partnership
A new international partnership sees Winchester students on undergraduate Forensics degree courses work with a team of experts to revisit historical unsolved crimes as part of a unique project investigating criminal 'cold cases'.
The University has recently established a new Cold Case Unit, which aims to help students understand the many practical challenges of cold case investigation supported by the academic team. In the international collaboration, the Police Expert Network on Missing Persons (PEN-MP), AMBER Alert Europe and Locate International have succeeded in connecting educational organisations working on these cases with one another across national borders for the first time.
Oshina Ann Jose and Ingrid Hoff - both studying BSc (Hons) Cyber Crime and Forensic Investigation - share their experience of being part of the University's new Cold Case Unit and collaborating across borders in a post on the University blog.
University signs Race Equality Charter
On Stephen Lawrence Day on 22 April, the University announced its commitment to tackling racial inequality in the higher education sector through the signing of the Race Equality Charter.
Sam Jones, Assistant Vice-Chancellor, said: "As a values-driven university committed to social justice, we are determined to provide equal opportunities for all our staff and students, regardless of their background. Racial inequality exists and we recognise that we must play a role in actively addressing any societal, systemic and everyday racism both on our campus and in our wider community."
Food waste bin trial launched in halls of residence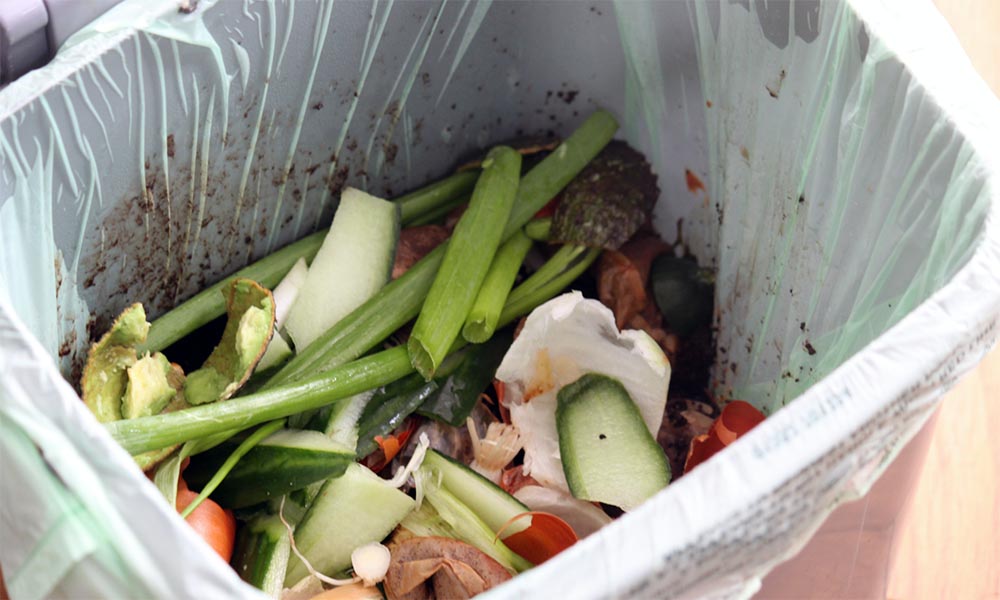 A new initiative to reduce student food waste sees food waste bins introduced in kitchens in Burma Road and West Downs Student Villages.
This is part of a wider effort, led by the Catering Department, to reduce food waste across catering outlets. The University's general food waste goes to anaerobic digestion, used coffee grounds are split between anaerobic digestion, University staff (who use them on their gardens) and a local charity who use them to grow mushrooms.
Data collected since 2018 has given a much clearer picture of the volume and profile of Catering food waste, and is being used to design preventative actions.
Study begins into national Covid-19 vaccination programme volunteers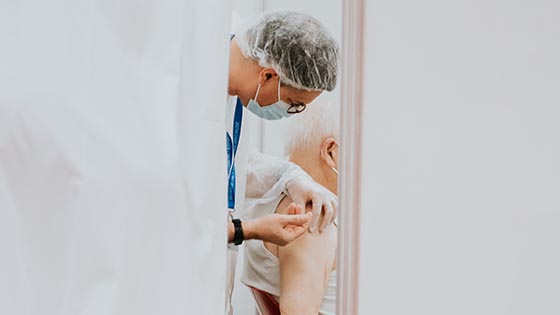 The University is appealing for people who have volunteered to help run the national Covid-19 vaccination programme to take part in a new research study.
The study is set to help understand the reasons why people volunteer and their experiences when they do so. The study is part of a wider project led by a team of psychologists at the Universities of Winchester and Buckingham who have a common interest in the social dimensions of volunteering. In particular, they aim to understand how our sense of belonging to social groups and communities is important in understanding why people volunteer and their behaviour and experiences around volunteering.
Film Production student digs WWI trench as film set in parents' garden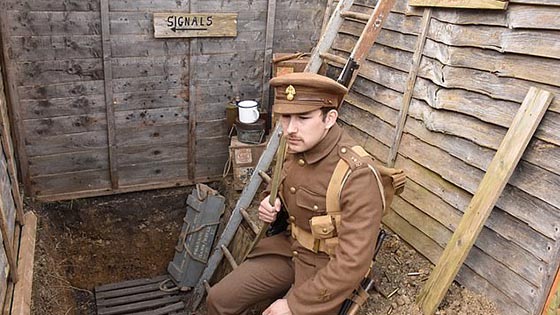 Photo: © James Linsell-Clark/SWNS.com
University of Winchester final year BA (Hons) Film Production student Chris Richards made national headlines this month for recreating a World War I trench in the back garden of his parents' home in St Albans.
He created the set for a short film titled Crossed Lines: The Story of the Signallers he is making as part of his final year project, inspired by the real-life story of his great-grandfather who was a signaller in the conflict. The 3ft by 5 ft deep trench took Chris and his brother three days to build.
Marking the death of HRH The Prince Philip, Duke of Edinburgh
The University joined with the nation in mourning the death of His Royal Highness The Prince Philip, Duke of Edinburgh on 9 April. The Chapel bell tolled for half an hour from 12.30pm and the University flag flew at half-mast. A service giving thanks for his life was also live streamed from the Chapel.
Blog highlight: Sharing the fast and Iftar for Ramadan
To mark the holy month of Ramadan (12 April-12 May), Vice-Chancellor The Reverend Professor Liz Stuart joined Tasnim Husain Curtis in a solidarity fast on the eighth day of the festival. In a video conversation for the University blog, Tasnim, a Senior Lecturer in the Institute of Education, and Liz break their fast together and talk about how they both experienced the day.
Watch the discussion here.
Earlier in the month, final year student Mina Begum (BSc (Hons) Economics and Finance) also contributed a blog post about the significance and challenges of fasting during Ramadan. Her blog post is here.
Press Office | +44 (0)1962 827678 | press@winchester.ac.uk | www.twitter.com/_UoWNews
Back to media centre