Attorney General shares words of wisdom with University of Winchester Law students
23 May 2022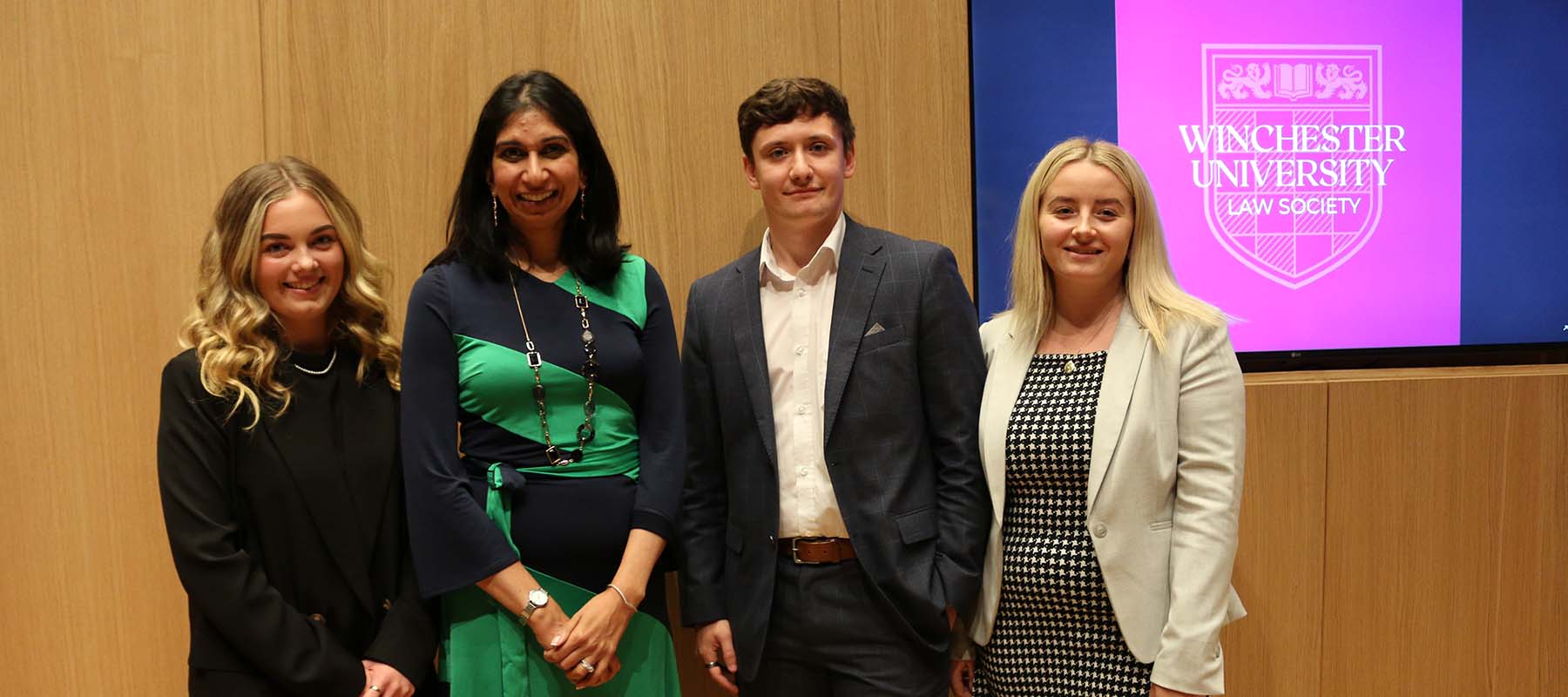 Attorney General for England and Wales, the Right Honourable Suella Braverman QC MP shared details of her life growing up, her legal education and her historic career with undergraduate Law students at the University of Winchester and answered their questions at a special event.
Ms Braverman, who is the country's youngest ever Attorney General and only the second woman to be appointed to the role, was the guest of honour at an event hosted by the student Winchester Law Society.
Josh Kidd, who graduated from the University in 2021 with a BA (Hons) in Politics, and LLB (Hons) Law student Ellie Phillips hosted the Q&A session, during which Ms Braverman spoke about her journey to the top of the legal profession, including completing her Master's degree in Paris and qualifying for the bar in New York. She gave a powerful insight into a day in the life of the Attorney General, who is the government's most senior legal advisor and a Cabinet member.
She went on to give advice to the students present about building a career in the highly sought-after profession and also answered students' questions on a wide range of subjects, including Brexit, the cost of living crisis, windfall taxes, the war in Ukraine, and the government's immigration policy.
Asked what advice she would give students aspiring to work in the legal profession, Ms Braverman said: "I think law can be a really fulfilling and challenging profession and if you want to work in the profession there are many, many capacities in which you can find a role and purpose. And if you get rejected from one application and it doesn't work out, don't give up. There are many opportunities within the profession to really make a difference to people's lives."
Charlie Keast, President of the student Winchester Law Society, said: "It was brilliant to have the opportunity to host the Attorney General. Although she is a political figure, she has an extensive background in the legal profession outside politics and of course legal experience in government. As the second female Attorney General it was interesting to hear about her journey as a lawyer and what advice she had for anyone going into the profession."
Ellie Phillips said: "Interviewing Suella was an experience that I will never forget. Hearing about her hard work and dedication has really inspired me as I go forward with my own legal career. I really appreciate that she took the time to come and speak to us."
"It was inspiring to hear Suella Braverman's journey and to acknowledge the obstacles she overcame," said Julian Dobson, Senior Lecturer in Law. "However, even as we realised that her pathway was open to any of us to follow, the perspectives she gave were clearly a challenge for some. Nevertheless, having the flexibility to grapple with new ideas is an essential attribute for anyone trying to put a Law degree into practice and was a valuable lesson for us all."
More information about the University of Winchester's Law degree programmes are available here.
Photo above: Ellie Phillips, Suella Braverman QC, MP, Josh Kidd and Charlie Keast.
Press Office | +44 (0) 1962 827678 | press@winchester.ac.uk | www.twitter.com/_UoWNews
Back to media centre