Blue Apple Theatre celebration marks first year of University of Winchester residency
11 Jul 2019
The University of Winchester and Blue Apple Theatre have celebrated the first anniversary of its five-year residency.
Blue Apple Theatre, which relocated its headquarters to the University last year, supports performers with learning disabilities to develop and present high-quality productions for the widest possible audience. It is now working with University staff and students from a range of disciplines including dance, drama, creative writing and film production.
The unique partnership came about due to the two organisations' shared values around social justice, inclusion and the wellbeing of individuals as well as communities.
University of Winchester Dean of the Faculty of Arts, Professor Alec Charles, said: "We are delighted to be celebrating our wonderful partnership with Blue Apple. They bring their expertise in live theatre, in public participation and in challenging prejudice through performance. Through our collaboration, it is a fantastic opportunity for Winchester students to not only learn the practical skills of the theatre, but also about making a difference to society and enabling each person to flourish."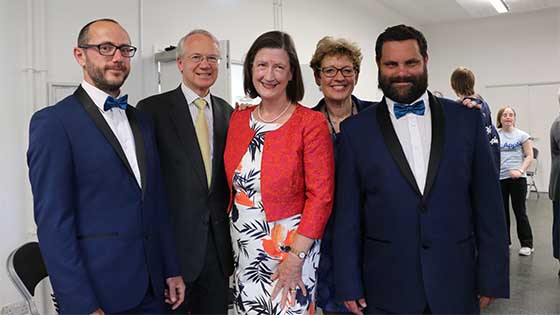 Over the last year, the University and Blue Apple have worked on productions with some extremely inspiring and talented cast members and volunteers. The aim is to involve everyone in making incredible theatre, but also to enhance the social, personal and artistic skills of the participants through performance.
Blue Apple's General Manager, Simon Morris, said: "The collaboration with the University of Winchester is building bridges between people of all abilities, allowing new creative opportunities to be explored.
"Our mission is to support disadvantaged people in our society to develop their personal skills to a high level of achievement and that clearly chimes with the University's community-focussed outlook, so we have a huge amount in common. Being in residence on campus means that we are now surrounded by like-minded creative thinkers and a huge amount of collaboration has been growing organically."
During the evening's celebrations, there was a short performance of excerpts of Blue Apple's recent show The Tempest by some of the performers with learning disabilities.
Pictured above (left to right): Simon Morris (Blue Apple General Manager); Alan Lovell DL (Blue Apple patron); Jane Jessop (Founder, Blue Apple): Georgiana Robertson (Chair, Blue Apple Board).
Press Office | +44 (0) 1962 827678 | press@winchester.ac.uk | www.twitter.com/_UoWNews
Back to media centre