February 2022 at the University of Winchester
2 Mar 2022
From student volunteers supporting the local community to an impressive performance in a national mediation competition, this month has seen students at the University in the forefront of our news and events. Read our February highlights to find out more.
Winchester Law students' success in national mediation event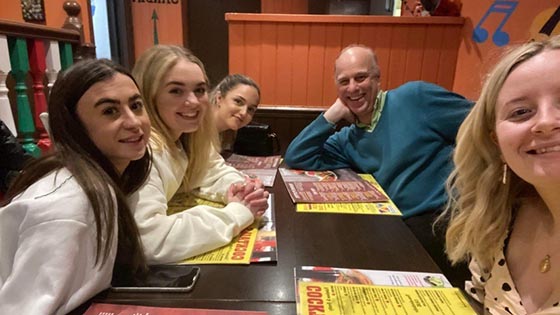 A team of Winchester undergraduate Law students placed fourth in a national law mediation competition, behind SOAS, University of London; Newcastle University, and Edinburgh University.
In the UK Student Mediation Competition 2021/22, held at Canterbury Christ Church University, the four-strong team competed against 16 other universities. Many of the other teams comprised postgraduate students and/or individuals who had developed mediation skills as part of a module or assessment. Although none of the Winchester students had conducted a full mediation session before the competition, they were able to use the negotiation skills they had honed on their LLB (Hons) Law degree course. In legal terms, a mediator faciltates a negotiation. The team pushed previous winners Canterbury Christ Church into fifth place.
"All of the team performed amazingly!" said Julian Dobson, Senior Lecturer in Law, who accompanied the team for the competition.
Congratulations to Jessica Bell, Charlie Keast, Georgia Oliver and Ellie Phillips who made up the successful team!
Student volunteers support local community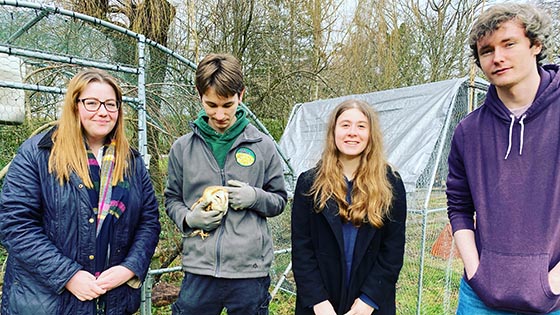 A crafting session for elderly residents of a care home, a bake sale, a 'Chatty Café' and a 'Big Tidy Up' around Stanmore were some of the events organised by students to mark national Student Volunteering Week (7-13 February).
The events were organised in partnership by students and staff from the University of Winchester's Careers Volunteering Team, Winchester Student Union and Winchester Hub - the local branch of the national student social action charity Student Hubs which offers practical volunteering, skilled placements and developmental opportunities. Read more.
Nominations are still open for the annual University of Winchester Volunteering and Community Champion Awards which celebrate and recognise the time and effort dedicated by Winchester student and staff volunteers. Awards will be announced at a ceremony at the University on 24 March 2022. You can vote here.
West Downs Centre shortlisted for RIBA Award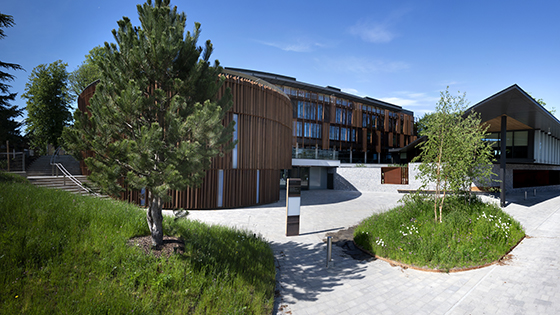 Our West Downs Centre teaching and learning building is one of 18 projects shortlisted for a Royal Institute of British Architects (RIBA) regional South Award. All shortlisted projects will be assessed by a regional jury, with the winning projects announced later this spring.
The building is also in the running for a Civic Trust Award 2022, as one of only 35 successful national and international projects selected in the final. The Award winners are due to be announced on 7 March.
In December 2021, the building - designed by Winchester-based Design Engine Architects - scooped the Gold award in the global World Architecture News WAN Awards 2021 Education category, beating six other shortlisted international projects in the sector.
University sponsors city-wide celebration of style
The University of Winchester's Faculty of Business, Law and Digital Technologies announced sponsorship of Winchester Fashion Week (WFW) 2022, the city's annual celebration of style (4-9 April).
As well as supporting a wide array of activities, the sponsorship offers students studying on the BA (Hons) Fashion Marketing, BA (Hons) Fashion Business and BA (Hons) Event Management degree programmes an opportunity to get involved. Students will be running mini events throughout the week, including a networking and workshop event with retail brands and local independents on 8 April. Full details of all events are available at: www.winchesterfashionweek.co.uk.
The University will also host the Grand Finale Catwalk show at its King Alfred Quarter on Sparkford Road for the first time on Saturday 9 April.
Animal welfare expert featured in Panorama investigation into UK dairy industry
Professor Andrew Knight was interviewed on BBC1 Panorama on 14 February. A Cow's Life: the true cost of milk was a hard-hitting investigation into the UK dairy industry to find out whether animal welfare is being compromised in the drive to keep milk process low. The film featured disturbing footage shot undercover of farmworkers abusing cows.
Commenting on the practice of separating a cow from her calf shortly after birth, Professor Knight told the programme: "The bond between a calf and a mother is a very strong bond. It's very stressful for the calf to be removed."
Andrew Knight is Professor of Animal Welfare and Ethics and Founding Director of the University's Centre for Animal Welfare.
If you missed it, the programme is available to watch on BBC iPlayer at this link.
Research fellow contributes to encyclopedia of violence, peace and conflict
Dr Majbritt Lyck-Bowen, Research Fellow in the Winchester Centre of Religion, Reconciliation and Peace and Senior Lecturer in Reconciliation and Peacebuilding, has written two new chapters on international law and truth and reconciliation for the third edition of the Encyclopedia of Violence, Peace & Conflict (ScienceDirect).
The Encyclopedia includes some 260 authoritative, multi-disciplinary articles providing information about antagonism and reconciliation in all contexts of public and personal life. It is aimed at students and academics working in the social scientific study of peace and conflict, criminology, public policy and international relations.
Blog highlights
The Inside Out podcast: White privilege
To mark Race Equality Week 2022 (7-13 February), we launched a fourth episode of The Inside Out podcast.
In this episode, University of Winchester BAME Ambassadors Shelina and Alisha - with students Maisha, Darren and Elliot - explore privilege, with a particular focus on white privilege. Find out more.
In addition to the video discussion above, a longer audio podcast is also available on Spotify at this link.
Also as part of Race Equality Week, the University hosted a talk and interactive session with guest speaker Dr Arun Verma, Head of the Race Equality Charter, Advance HE. Keeping up the Momentum: Intersectionality in action explored the normalising of racism and the ways in which intersectionality offers us a tangible approach to moving from aspiration to action.
The session is available to watch at this link.
Blog offers insight into studying for a degree apprenticeship
"Apprenticeships exist in all forms and you'll meet some great people along the way." So says
Louisa Seers, a software analyst at IBM in her second year at Winchester studying for her Chartered Manager Degree Apprenticeship and BA (Hons) Business Management and Leadership degree.
In a blog marking National Apprenticeship Week 2022 (7-13 February), Louisa explains why she signed up for a degree apprenticeship, where she hopes her qualification will take her in the future and what advice she'd give to someone considering taking on a degree apprenticeship. Read the blog.
Press Office | +44 (0) 1962 827678 | press@winchester.ac.uk | www.twitter.com/_UoWNews
Back to media centre