Future stars of musical theatre collaborate on exciting new projects at Winchester
30 Oct 2017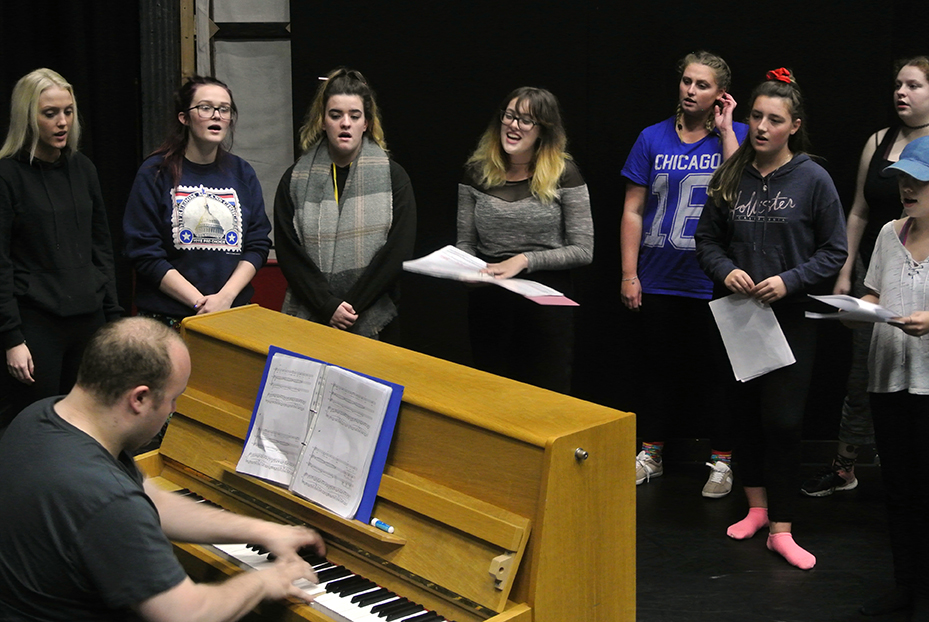 University of Winchester Musical Theatre students and emerging young British composers and lyricists are collaborating to develop new British musicals this month.
Three musical theatre projects, which are at varying stages of development, were chosen earlier this year after the University launched its first-ever search to find exciting projects to develop with second year students. The focus was on original British musical theatre scores rather than the 'jukebox' and American shows that make up a large part of the repertoire in the West End.
The Jury, by Ashley Walsh and Amy Finchley, is a partly devised project in which the students play the characters on a jury deliberating and struggling to come to a verdict. It is a character study that opens up debate about perspective and politics.
Flower Cutters, by Rachel Bellman and Josh Bird, is about a group of students who get involved in the theft of a rare orchid - and become involved in the flower trade - to raise extra money for their studies. It is also a story about friendship and self-reliance and about what is right and wrong.
Amy 37, by Susannah Pearse and Rebecca Applin, is a concept musical that sees a woman (Amy, aged 37) revisiting her memories as she comes to terms with a traumatic event. She is joined onstage by several ghosts/memories of her younger selves, as well as imaginary and real friends and family.
The creative collaboration will culminate in a showing of work in progress of all three musicals at the University of Winchester on Saturday 4 November in front of an invited audience of friends, family and industry contacts.
Millie Taylor, Professor of Musical Theatre at the University of Winchester and a musical director, musical theatre analyst and historian, said: "For an actor, relationships with writers are crucial. This initiative offers our Musical Theatre students a unique opportunity to work closely with writers and gain valuable first-hand experience of fleshing out characters and situations that have not yet been performed. Working with writers in this way boosts our students' CVs and future employability.
"In turn, writers have an opportunity to hear how their words and music actually sound in a studio space and to see how characters develop during the course of a rehearsal period."
Students studying Musical Theatre at Winchester study the history and theory of musical theatre and incorporate that into their study of voice, drama, performance and physical skills. They go on to pursue careers as musical theatre professionals in performing, writing, creating and researching, or working in production or with young people as a teacher or in community contexts.
The University has just launched a new search for two shows to develop in Spring 2018. For more information contact: Matt.Lockitt@winchester.ac.uk and Millie.Taylor@winchester.ac.uk. The closing date is Friday 3 November 2017.
Back to media centre