Hiroshima ginkgo seeds take root in Winchester
9 Dec 2021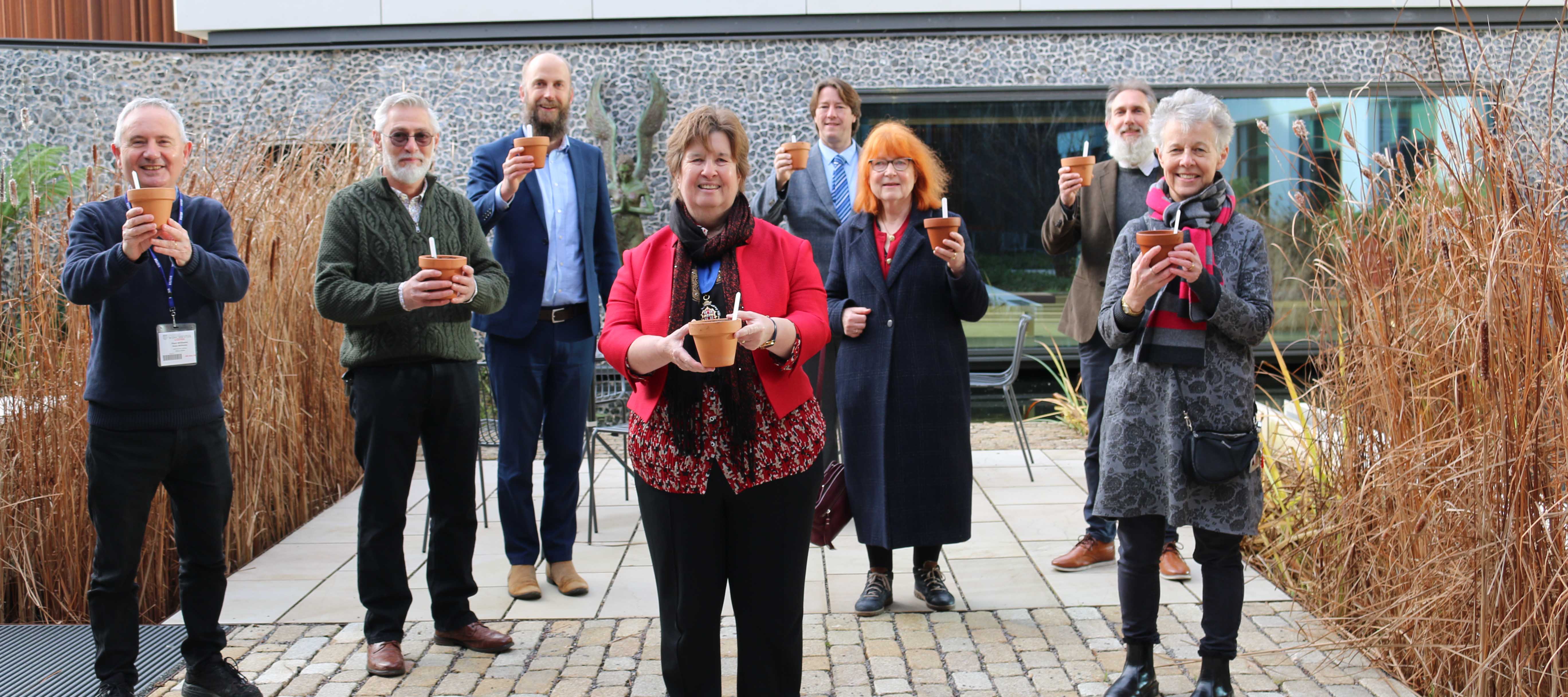 Ginkgo seeds from a tree that survived the nuclear attacks on Japan at the end of World War Two have been planted at the University of Winchester, as part of an international peace project.
The joint Ginkgo Tree Project between the University, the Winchester Mayoralty and Winchester members of SGI-UK, was launched in August this year to promote peace, anti-bullying and sustainability in schools.
The seeds were offered as a symbol of peace by Mayors for Peace International, an organisation based in the Japanese city of Hiroshima where the first atomic bomb was dropped. The seeds come from a 250-year-old ginkgo tree, which grows less than a mile from the epicentre of the atomic blast which destroyed the city on 6 August 1945. The tree survived the explosion and subsequent fires, sprouting new buds from the burnt and distorted trunk.
On Wednesday, 8 December, The Right Worshipful Mayor of Winchester, Councillor Vivian Achwal, and University of Winchester Assistant Vice-Chancellor, Sam Jones, sowed the seeds in pots, alongside representatives of SGI-UK, the University's Faculty of Education and the Centre for Religion, Reconciliation and Peace.
They will be carefully nurtured at the University until the saplings are sturdy enough to be planted out, when they will be donated to schools in the Winchester District, through links with the University's Institute of Education. Until then, the Ginkgo Tree Project will work with schools in the district to spread a message of hope for the future with activities being rolled out in 2022.
"The seeds of the gingko trees in Hiroshima are powerful symbols of peace and the power of nature to regenerate after disaster. It is a great honour that the University of Winchester can help to nurture these seeds into trees that will grow in schools in the area.," said Sam Jones.
"In the future, I know the trees will be a source of inspiration to pupils in Winchester schools as we all strive to live as part of a peaceful global community."
Councillor Vivian Achwal, Mayor of Winchester, said: "I am delighted to continue and support the Mayor's for Peace activities in Winchester District, initiated by my predecessor Councillor Eleanor Bell. The Gingko Tree project between the Mayoralty, the University of Winchester and SGI-UK gives a vision of the future in which young people can live and thrive in a world of peace."
Maurice James, Estates Grounds Manager at the University will be nurturing the seeds as they grow. "Gingko tree is a unique 'living fossil' species which can be traced back 270 million years and these seeds have a particular significance. Germinating the seeds will require patience and some coaxing and once germinated, they will need care for a number of years before being planted out as a small tree."
Press Office | +44 (0) 1962 827678 | press@winchester.ac.uk | www.twitter.com/_UoWNews
Back to media centre