'Inclusive' schools excluding children with autism
7 Nov 2019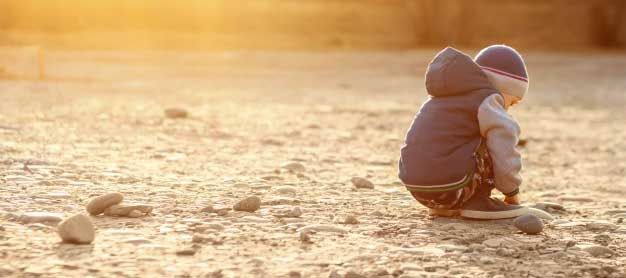 In the final blog in our short series showcasing student research featured in the Alfred Journal, Sommer Ledger highlights the inequality and discrimination within 'inclusive' school settings on children with autism spectrum condition (ASC).
For children with autism spectrum condition (ASC), mainstream school can be a constant daily struggle. Too many people, unexpected social situations, high levels of stimulation, judgemental parents of peers, embarrassment after having a 'meltdown'... The list can seem endless.
Caring for a young boy with autism and seeing the difficulties he faces every day is an emotional rollercoaster, but he truly is an inspiration for me and I am so grateful to be a part of his journey every day. Knowing he attends a primary school that supports him, even on his toughest days, is surely what all families should experience: but is that the reality in modern education? This blog seeks to highlight the inequality and discrimination within 'inclusive' school settings.
Labels

As a primary school teacher myself, I strive to ensure all children experience an inclusive education and feel valued within my classroom. I want them to know I am on their side and I will never give up on them or label them as 'naughty'.
The term 'naughty' is thrown around too often, but to label a child with autism as such suggests a complete lack of understanding of that individual child. Autism is a 'hidden disability' and as such, children with this additional need can often be judged with ignorance as a 'naughty, misbehaving child'.
Autism in the media

In 2018, the media headlines highlighted a boy with autism had been excluded from mainstream school for aggressive behaviour towards a member of staff. Whilst every case of autism is different and there are many different behaviours, most people with experience of autism will know that aggression is beyond control for someone with autism and is not a choice. Is it acceptable that some professionals are discriminating against a child's disability?
Role of teachers

Children with ASC lose protection under Equality laws due to their challenging, physical behaviour. I am a firm believer that all behaviour is a form of communication and it is the job of teachers and other adults in a position of support to understand what the child is trying to express and remove these barriers to the child's learning. By adapting the learning environment to suit the learner, this would greatly reduce the number of exclusions. After all, don't all children have the right to an education that meets their needs?
Effect of exclusion on children with autism

Another big current issue is children's mental health. Excluding children with ASC can cause a decline in their mental health and negatively impact on their future educational attainment. Therefore, with existing strains on health budgets, this exclusion from schooling and ultimately society, increases the effect their mental health difficulties can have on mental health budgets. Also, it is claimed that children with Special Educational Needs (SEN) that have suffered exclusion are more likely to commit a criminal offence. Therefore, if inclusion is invested in by schools, this benefits the holistic development of children with ASC, their families and wider society.
Professional training

For successful inclusion, teachers and parents need to form positive relationships. For parents, they need assurance that the school staff have the appropriate professional training to meet their child's specific needs. The current practice of assessment should be reflected on to ensure it doesn't isolate learners by relying on social communication. This is one of the main areas of difficulty for children with autism so by using formative assessment, are we setting children with ASC up to fail? Should we encourage triggers for behaviour that leads to exclusion?
Lack of funding

Education is reportedly in financial crisis with ever-decreasing budgets and lack of resources. Schools desperately need sufficient funding to recruit external expert services in order to effectively support children with ASC and remove barriers to their learning. Senior management within schools need to place emphasis on inclusive practice and professional training to ensure they are promoting a school ethos underpinned by inclusivity.
Writing for Alfred

Having the opportunity to write for the Alfred Journal has been a great opportunity: it has allowed me to voice my views on the current failings of the education system for children with autism. Although this blog post - which is a version of my Alfred paper - hasn't detailed all the issues, I hope it gives an insight into the challenges faced for SEN within modern education.
Whilst my family are fortunate that our local primary school is inclusive and has constantly worked with us to ensure the best education possible for our inspirational little boy, many families are not this fortunate. Being able to highlight these inequalities and issues has hopefully raised awareness and helped to promote change for at least one child with autism. Throughout writing this, I have been able to reflect on my own teaching and it has made me more determined to champion every child, even on their toughest days when their actions are beyond their control. Exclusion of children with ASC should not be the answer for a teacher's lack of understanding.
About the author

I am a BA (Hons) Primary Education with Qualified Teacher Status student in my third year.
Alfred 2010 submissions

Interested in submitting your work to be considered for Alfred 2020? We would love to hear from you!
Alfred welcomes submissions in various forms: essays, original works, creative pieces, critical commentaries or any other written form. If you would like to make a submission, please email Alfred@winchester.ac.uk, so we may send you the formatting guidelines and a range of FAQs. The deadline to submit your work for consideration is 24 January 2020.
The previous two blog posts in our Alfred series are also available to read online
The People's War in Cinema: how was the home front portrayed in film?
London Pride 2018: lessons we still need to learn
Press Office | +44 (0)1962 827678 | press@winchester.ac.uk | www.twitter.com/_UoWNews
Back to media centre