"It's fine to walk to the beat of a different drum and it's good that there are companies around which actively encourage that."
22 Mar 2018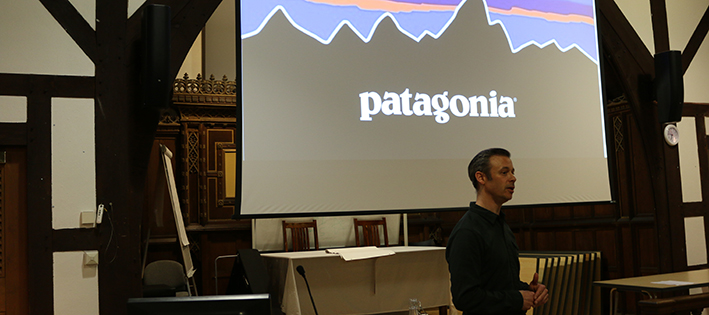 "It's fine to walk to the beat of a different drum and it's good that there are companies around which actively encourage that." Five minutes with Alex Beasley, Country Manager UK and Ireland, Patagonia
Patagonia sells outdoor clothing and gear for activities such as climbing, surfing, skiing and snowboarding and is renowned for being a leader in environmental and social initiatives. It considers itself an 'activist company' and channels one per cent of total sales into environmental groups and NGOs every year.
Following a recent talk at the University of Winchester Business School, Alex Beasley, Country Manager UK and Ireland for the brand, explains how purpose and the company's mission statement underpin everything that the business does.


Patagonia famously encourages its customers not to buy new items of clothing, but to repair old ones - and even offers a repair service. What's the oldest piece of Patagonia clothing that you own or are aware of?
It's not a piece of clothing - it's Patagonia founder Yvon Chouinard's best-selling book Let My People Go Surfing. I bought it when it came out in 2005, when I was in the Lake District on a family climbing holiday. I'd tried to join Patagonia about a year before - unsuccessfully - and I thought I needed to read the book. It was the only copy that they had in stock.
Yvon wrote the book to be a manual: the company was growing globally and he wanted to make sure that employees understood who they were working for and that the activist nature of the company wasn't lost or diluted by its growth.
The book has made me think so differently about things: it was probably what you'd call a 'quake book' in that it made me realise that it's fine to think differently, it's fine to walk to the beat of a different drum and it's good that there are companies around that actively encourage that. I think I must have read it into double figures by now. I regularly refer to it.
When I worked for other brands I always looked at Patagonia and thought it must be amazing to work for a guy who thinks in the way Yvon does. Yvon, his wife and Rose Marcario the CEO genuinely encourage people not just to think differently but to act differently, to take responsibility for things and not blindly follow. They want people to question. I do that naturally - which can be a pain for people!
I wish that it was a 15-year-old jacket which had been up Himalayan peaks but the truth is, it's not!
An 'activist company', socially responsible, purposeful: Patagonia is described in many ways. It also commits to a variety of environmental and political initiatives. How would you describe the way the company does business and why is it important?
We're trying to run a business which has a conscience, is socially responsible, genuinely creates discussion with people and genuinely tries to make people think differently about how and why they buy.
Why is that important? We all have to understand that we have a footprint and a responsibility to our community - whether it's as small as a village - through to our workplace. The more engaged people are with their community and the better they understand the impact they're having on that community and the wider world, the better that is for us all.
A company which has a conscience and instills that in the people who work there means that responsibility lies with the individual. Often it's small, committed individuals or small groups of people that forge real change which is why Patagonia supports activist groups. There's a belief and an ownership around an issue which makes it an individual's responsibility.
You can relate that down to something such as coffee cups. In the UK we dispose of 2.5 billion cups a year and, if you lay them end to end, they stretch around the world two and a half times. I just can't picture the size of a hole in the ground in which we bury 2.5 billion cups every year!
How does Patagonia embed core values into every day operations and activities and focus on what's important during periods of growth (for example induction, employee reward schemes)?
Patagonia's mission statement sets out what we are in business for. We want to make the best products, find a way to do good, minimise the impacts that we're having on the planet and we want to be able to find a way to have a viable business with a business that also has a conscience.
It's easy to say that but to make it happen is the challenge. All those aims affect everything that happens in the business. When people come into Patagonia, they take the mission statement and make it applicable to themselves in one way or another. There's an element of personal responsibility involved and I think that Patagonia naturally attracts people who buy into this whole ideology about understanding and managing your impact, wanting to do something that's much bigger than yourself and to feel part of a company that cares.
Patagonia's been talking minimising our impact on the environment since the 1980s and very much ploughed a lone furrow. There's a lot more conversation now about sustainability, purpose, about mission-driven businesses and Patagonia is often held up as an example of that. For some companies now, maybe it's seen as a way to increase sales which is a different way than how Patagonia operates.
The younger generation are very much attracted to working for companies that have a conscience and do have something more than just working for a salary and a profit. They're asking what else companies can give them and what else they can do.
Patagonia gives one per cent of its global sales away which goes to 1% for the Planet which Yvon set up with his friend Greg Matthews in the 1980s. This gives grants to small activist groups around the world. Patagonia employees are also offered the opportunity to go and do a 12-month internship for an NGO. There are no reward schemes - it's not about financial rewards, it's about the drive that you have as an individual and the value that you bring.
What can other companies learn from you about the way you do business?
We don't pretend that we know all the answers or think that other companies should do what we do. I don't think we'd ever preach that way.
Most companies would know you should never be afraid of change and to learn from your mistakes
A lot of companies look at a change in business practice for environmental reasons - and the short-term upfront costs puts them off. But every time Patagonia has had to make a decision for an environmental benefit, it has never not worked and that short-term pain has been more than compensated for in long-term wins.
Never be afraid of walking to the beat of your own drum, whatever that might be. Don't worry about the competition so much.
We are collaborating with more and more organisations, learning from them and with them about measuring our impact and working together to reduce the impact of our industry. We've done that with a number of other outdoor suppliers and in the USA we have worked with Walmart. Collaboration and learning is crucial.
Patagonia has been leading the way on sustainability for almost 40 years: what's next for the brand?
One part of Patagonia's mission statement creates tension (deliberately so) and that's 'cause no unnecessary harm'. It's an admittance that what the company does, causes harm at some point. What company in their right mind puts that in a mission statement? It's done on purpose because what we ultimately want to do is change that line to 'do good'.
How can something where you cause harm ultimately do good? That's one reason we launched an agriculture business which in some ways doesn't make sense. But agricultural practice is harmful to the environment and to eco systems. Although all Patagonia's cotton is organic, harvesting it consumes vast amounts of energy and water. We are looking at ways to use regenerative agricultural techniques that sequester carbon from the atmosphere, rather than putting carbon back in the atmosphere. We could then produce a t-shirt that was organically made, using regenerative techniques with sequestered carbon.
Sustainability is a word people use a bit flippantly. Our aim is to put good back into the soil and repair our eco systems rather than try to find ways to maximise the resources that are on them or in them. We can't keep consuming the way that we are - something's got to change.
Who knows how long it will take or if we'll ever get there but at the moment we're part of a group pioneering regenerative agriculture in North America.
Do you think big brands like Patagonia have a responsibility to speak out about issues?
At Patagonia, we are increasingly aware that we have a bigger voice as a company and we feel that we need to use that to support communities. A lot of that is focused on the USA, however we have our challenges here in the UK and in Europe.
We have just launched our first ever global environmental campaign focusing on a European issue: protecting the last wild rivers of Europe located in the Balkan peninsula, the so called 'Blue Heart of Europe'. More than 3,000 dams are planned in this region, having a devastating impact on the local ecosystem, environment and its communities.
We feel it's important to challenge people's perception on what is renewable energy and highlight the real issues around the use of hydropower and who's funding these projects. This final point is critical and if anyone would like to learn more about this issue and see how they can help, they can do so at this link.
I guess we are being disruptive, however it's important as it's simply the right thing to do. We want to support communities and NGO's in their campaigns for issues that we are engaged in - I think it's important to stand up for issues you believe in.
Back to media centre