January 2018 at the University of Winchester
14 Feb 2018
A new year means new beginnings and looking forward to what's to come. What better way to do that than with a ceremony to mark the first day of construction at our new landmark development at West Downs? We had spades at the ready.
We were recognised as one of the best providers of teacher education in the country, one of our students received an award and we held a peace day to get us thinking.
Then there were some spooky goings on and a little romance…..all in all a packed January!
Groundbreaking ceremony celebrates an exciting new chapter at West Downs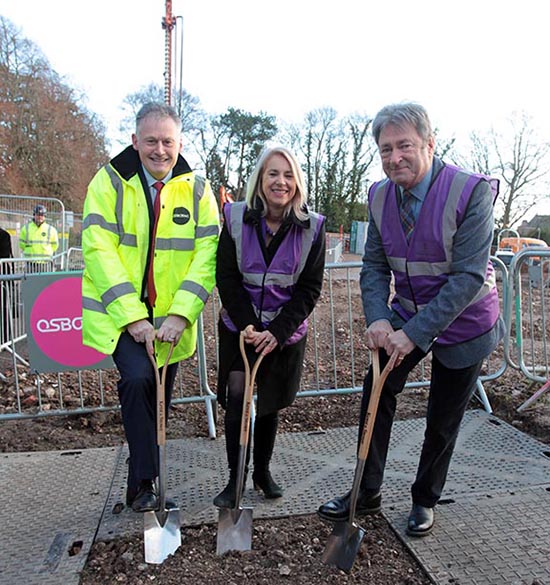 University Vice-Chancellor Professor Joy Carter DL, CBE marked the official start of construction of the new development, alongside Andy Steele, CEO of construction company Osborne, and Alan Titchmarsh DL, MBE, Chancellor of the University.
The £50m build will provide first-class teaching and learning facilities at the site on Romsey Road, next to the Grade-II-listed West Downs Centre. It will feature an art gallery; a 250-seat auditorium; a café and food hall; a contemplation space; courtyard garden and library. It will also be home to Digital Futures, the University's computer and digital-related degree programmes. Many of the facilities will be open for members of the local community to enjoy. The building is due to open in autumn 2019.
Winchester awarded Ofsted 'Outstanding' for Teacher Training
The quality of the University of Winchester's Initial Teacher Education (ITE) programmes has once again been recognised by Ofsted, confirming Winchester's position as one of the best providers of teacher education in the country.
In its latest report, the education inspectorate rates Winchester as a provider of 'outstanding' teacher training in England for its provision of both primary and secondary ITE.
The Ofsted report states that the University of Winchester 'produces highly professional, confident, enthusiastic teachers who are welcomed into the profession and make a strong contribution from the start of their careers'. Trainee teachers demonstrate exceptionally high levels of personal and professional conduct and have demanding expectations of themselves and of their pupils' learning and behaviour.
Janice de Sousa, Dean of the Faculty of Education, Health and Social Care said: "This is an excellent result for the University, underlining our reputation as a flagship provider of teacher training and it is testament to the dedication and hard work of staff, students and our partnership schools,"
British Education Award for Winchester Student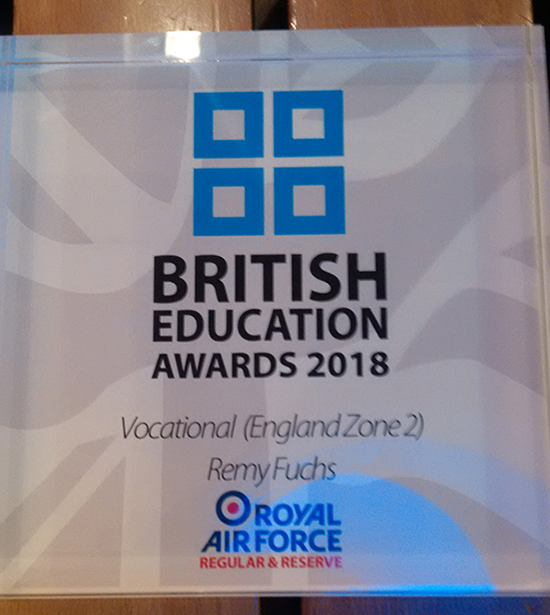 A University of Winchester degree apprentice has won a British Education Award in the Vocational category.
Remy Fuchs completed an Employer Sponsored Degree programme in FdA Management in Business Management in IT, attending lectures at the University one day a week while working full-time at CGI – a leading IT and business process service firm. The award recognises Remy's commitment to his studies and application of this learning to his place of work.
University of Winchester Psychology graduate, Lucy Parr, was also a finalist in the Degree category of the British Education Awards. Lucy graduated from the University of Winchester in 2017 with a First Class degree. The nomination recognised Lucy's exceptional dedication to her studies and enhancing the learning of others, against the backdrop of a busy and challenging family life. During her time at University, Lucy completed her studies while raising four children, one of whom has a particularly severe form of autism.
We reflected with a Day for Peace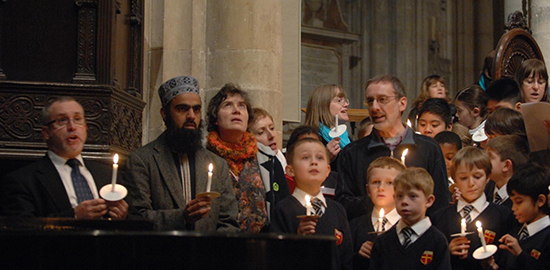 Individuals and families were welcomed for the special day, to think about what peace means to us all.
It opened with a ceremony, led by the University's Dean of Spiritual Life, Revd Dr Terry Biddington, and was followed by two peace walks and a musical evening performance, Space for Peace. Amongst those taking part were representatives from Jewish, Christian, Islamic and other faiths.
It brought together local community choirs, schools, faith groups, artists and soloists to embody a way of working together. Choral and religious groups each performed their own repertoire of musical material, using University buildings as a resonant meditative space.
Creative Writing students hold ghostly storytelling session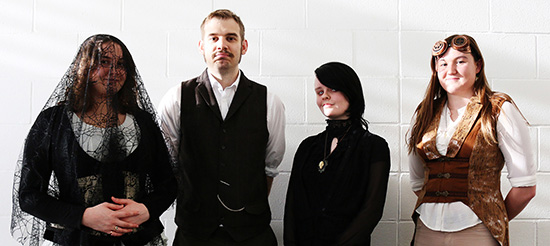 After a semester studying Gothic Literature, second year Creative Writing students gathered together on a cold, winter's morning to make their own stories, and to take part in a brand new initiative: 'Instant Stories'. Given only one hour to plan and write their pieces of flash fiction, the stories were then gathered together, recorded by voice actors, and released as a podcast within 24 hours.
It was a quite different to the usual need to edit and re-edit work, with little time for changes or corrections. The project served as a window into storytelling in its purest form, harking back to the days before mass-printing, when verbal storytelling was the prime way to communicate ideas.
The result was dark, hilarious, and sometimes downright bizarre. You can listen for yourself here at SoundCloud
Winchester ranks in top 10 romantic destinations
People are being asked to vote for their top romantic getaway, and Winchester is in the running. Alongside Winchester, the poll lists nine other cities in the running: Bath; Durham; Oxford; Salisbury; Norwich; Lincoln; Dundee; Inverness and Cambridge.
According to the poll, Winchester is an excellent choice for a romantic weekend break, with its castle and cathedral, as well as King Arthur's round table, conjuring up all the romance of courtly legend. The farmer's market also gets a mention as a great place to stock up before cooking up a feast for your loved one.
Well, we love Winchester – get voting if you do too.
Back to media centre