Journalist and broadcaster Alastair Stewart formally opens newsroom at University of Winchester
9 Oct 2018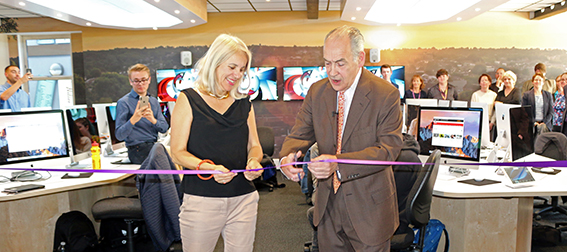 Veteran ITN journalist and broadcaster Alastair Stewart OBE formally opened the University of Winchester's purpose-built, industry-standard newsroom today, Tuesday 9 October.
Alastair toured the newsroom - part of the 24-hour Multimedia Centre which also includes a TV and radio studio, computerised radio station and facilities for multi-track audio recording - and met BA (Hons) Journalism students and teaching staff before a ribbon-cutting ceremony.
The fully-equipped newsroom offers students the opportunity to gain practical experience working as a reporter in a simulated newsroom environment. It also serves as the hub for the University's Winchester News Online website, which showcases independent journalism by Winchester students.
Speaking at the opening, Professor Joy Carter CBE, Vice-Chancellor of the University of Winchester, said: "In this era of fake news, the sustainability of intelligent reliable journalism is more crucial than ever in underpinning democratic freedoms and social justice. The University of Winchester believes that it is essential to our mission and our values to invest in the future of high quality journalism education."
At the forefront of British journalism for more than four decades, Alastair presents one of the country's most iconic news programmes, News at Ten. He works closely with the University and has hosted Winchester students at ITN HQ in London. He currently works at ITN with a number of Winchester graduates who have successfully transferred their skills from the University newsroom to his, on a national and international level.
Alastair Stewart said: "I think these facilities are absolutely brilliant, because they look and feel like the real thing. As well as academic excellence, it's important that student journalists get the best chance of employment. Anyone who wants to work in television journalism, output or input, has got to feel the space and the facilities I have opened today will help Winchester students feel the space of the newsroom."
Professor Alec Charles, Dean of the Faculty of Arts, said: "We are thrilled that Alastair joined us today to open our marvellous new newsroom: the credibility and respect that he brings is everything our journalism students should be aspiring to match.
"This inspiring and interactive environment provides perfect facilities for Winchester students, who will be able to move on to journalism roles secure in the knowledge that they have studied in a true-to-industry facility."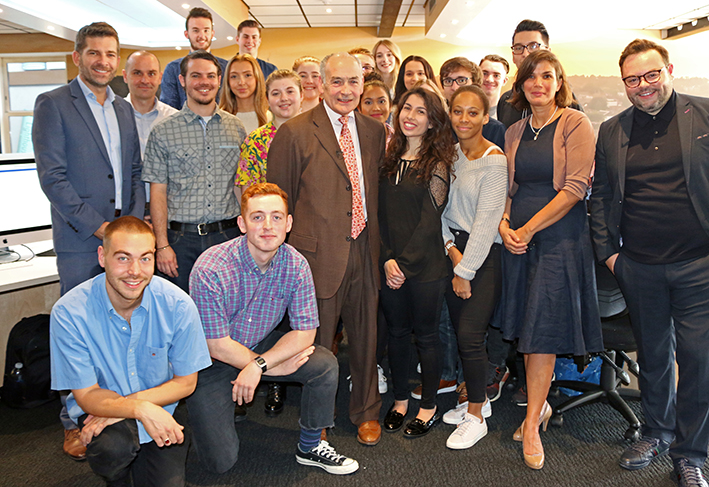 The University's BA (Hons) Journalism programme has been accredited by the Broadcast Journalism Training Council (BJTC) for almost ten years. The University has also boosted its teaching team with the appointment of Joe Michalczuk from Good Morning Britain, who has previously reported for Sky News. Joe joins former BBC journalist Brian Thornton's team, alongside beIN SPORTS' Angus Scott, award-winning documentary filmmaker Shira Pinczuk and media technologist Tom Tlalim.
Back to media centre