July 2019 at the University of Winchester
5 Aug 2019
Throughout July, social justice and sustainability continued to be top priorities. As a founding member of the new Winchester Food Partnership, the University was involved in its formal launch and student donations supported a range of local charities by giving unwanted items a second life. The University's outstanding green spaces across the estate also won a national award. Here are the highlights.
University commits to driving positive change through food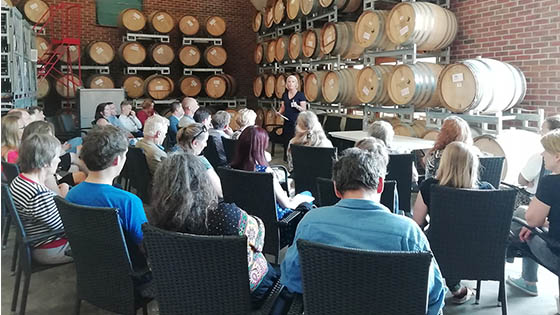 The University is a founding member of the Winchester Food Partnership, whose vision is to create a 'healthy and sustainable food culture for people living and working in the Winchester district, regardless of income'.
Formally launched on 3 July, the Partnership is part of the Sustainable Food Cities Network, a group of cross-sector partnerships across the UK using food to help meet some of today's most pressing social, economic and environmental challenges, including food waste and food poverty.
Speaking at the launch, Dr Martina Hutton, senior lecturer in marketing and an expert in food poverty, highlighted the different ways hunger in a food rich society is experienced and how this has implications for the nature of interventions undertaken at a local level.
"The benefits of adopting a food wellbeing lens which addresses food availability, food to thrive, food socialisation and food literacy represents a more holistic and customisable approach for scaling deep for impact, by identifying, connecting with, and then leveraging unique, local resources to secure food access in our community," Dr Hutton said.
Photograph above shows Dr Martina Hutton speaking at the launch of the Winchester Food Partnership.
University scoops award for outstanding green spaces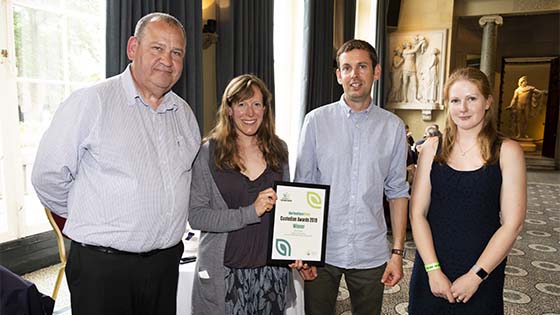 The University won a prestigious national gardening award for creating 'a peaceful, eye-catching, and functional environment in which to visit and work'.
Members of the University's grounds team collected the Horticulture Week Custodian Award 2019 for Best Grounds at a ceremony at Woburn Abbey, alongside other winners from across the UK, including teams from Historic Royal Palaces, the National Trust, the Eden Project and English Heritage.
The grounds team manages green spaces across the University's quarters, which encompass academic facilities, student accommodation and a sports stadium. It is at the forefront of the University's commitment to improve the biodiversity of its estate, which is a haven for wildlife and home to nesting swifts, mining bees and the rare white helleborine orchid. Find out more.
Photograph above shows (L to R): Ian Tonks (Campus Manager); Mark Blake (Gardening Supervisor); Natasha Redfern (Gardener), and Jennifer Bembridge (Gardener) with the award at the Woburn Sculpture Gallery.
'Green' league table recognises Winchester's sustainability credentials
Its dedication to environmental and ethical performance earned the University a top 40 place in the independent People and Planet University League 2019.
Overall, Winchester ranked 32nd out of 154 universities in the league, which scores institutions across a range of policy areas. Winchester scored particularly highly in two categories: education for sustainable development (97 per cent) and sustainable food (95 per cent).
The ranking comes after the University received the prestigious National Union of Students' (NUS) Responsible Futures accreditation for its commitment to embedding sustainability and social responsibility in its teaching and other activities.
The University's sustainable food schemes and ethical catering initiatives include the LIFE brand, which ensures catering outlets on campus offer only Local, Independent, Fair and Ethical food and drinks.
First-year students 'bag it up' for local charities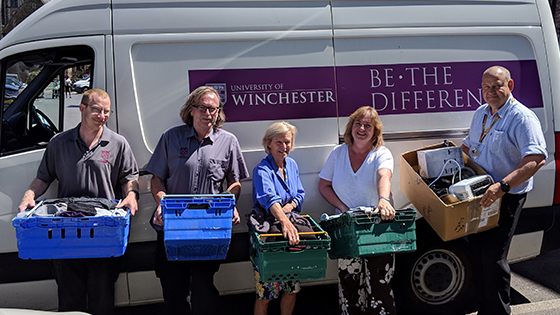 First-year students heading off the for summer holidays have donated unwanted items - including household items, clothes and unopened canned food - to local charities, as part of the University's Bag It Up initiative.
More than 500 green bags, weighing roughly 1.8 tonnes in total, were donated by students living in University on-site accommodation, with over 1.2 tonnes benefiting a number of charities in the city, including Winchester Basics Bank and Emmaus Hampshire, as well as Winchester Churches Nightshelter.
Campus Manager, Ian Tonks, said: "With sustainability firmly at the top of the University's agenda, we are committed to recycling and reusing as many of these items as possible. Our Bag It Up initiative prevents reusable goods from ending up in landfill and enables us to partner with a number of local charities to provide donations that really help their work."
Photograph above shows members of the University's Portering team delivering donated items to Winchester Churches Nightshelter: (L to R): Philip Lemon, Ken Taylor and Campus Manager Ian Tonks with Nightshelter volunteers.
A winning performance for student at Winchester Hat Fair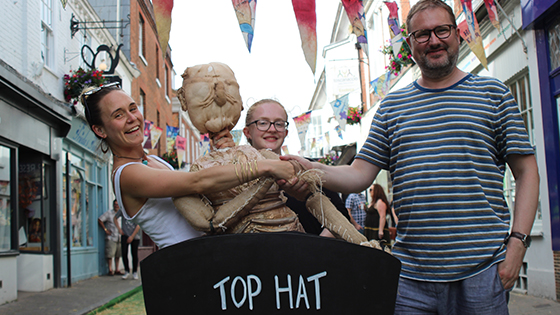 Final year BA (Hons) Performing Arts student Lottie Clist won the Hat Fair Top Hat competition 2019, thanks to a public vote for her original outdoor festival piece titled 36%.
Inspired by Japanese 'Bunraku' puppetry, Lottie's performance involved a puppet that represented an ageing human, highlighting the issue of loneliness in old age. She beat two other student performers, Jacob Hulland and David Flanaghan, to the prize, which will see her return as one of the official acts in 2020, with personal mentoring and guidance from Hat Fair Director, Andrew Loretto, over the next year.
Speaking to local newspaper, the Winchester Gazette, Lottie said she was delighted to have won: "I feel over the moon about winning the Top Hat Competition and humbled that the audiences felt connected to and understood 36%. It is a gentle reminder to look out for each other."
Also taking part in the Hat Fair was the University's student dance company D@win who performed alongside performers from Blue Apple in a dance theatre performance inspired by traditional folk tale Hansel and Gretel.
Photograph above shows (L to R): Lottie Clist, Kerryanne Hewlett and Andrew Loretto. Copyright: MLG Gazettes.
Don't forget the hedgehogs!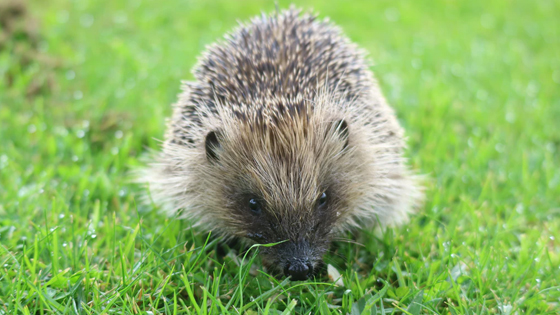 University staff and students are working together to welcome and care for some of our more prickly visitors.
Hedgehog numbers in the UK have declined by up to a half since the year 2000. Now universities are being encouraged to create joined up habitats, safe and dry shelters and a litter-free environment to encourage them to thrive.
MSc Animal Welfare, Ethics and Law students have taken up the challenge and are working towards developing a more hog-friendly habitat with help from others, including the University environment team who have provided special hedgehog homes on campus.
Follow @hogfriendlyUoW on Twitter to keep up-to-date on the latest hedgehog news. Find out more.
Blog highlight: D-Day remembered

Dr Phil Marter, Senior Lecturer in Archaeology and an expert in battlefield archaeology, has written about a moving tribute made as part of D-Day 75: the 75th anniversary of the Normandy Landings on 6 June 1944.
The tribute recognised the men of the 4th/7th Royal Dragoon Guards who took part in the historic event. The article includes a heartfelt account by 97-year-old Cecil Newton (pictured above) of his D-Day experience that he shared as part of the commemorations. Read the blog post here.
Press Office | +44 (0) 1962 827678 | press@winchester.ac.uk | www.twitter.com/_UoWNews
Back to media centre