July 2022 at the University of Winchester
5 Aug 2022
Here are the highlights from a busy month at the University, which featured virtual placements for our Nursing students, a visit from the Queen's Commonwealth Games Baton Relay and the results of the National Student Survey 2022.
Welcoming the Queen's Baton Relay to Winchester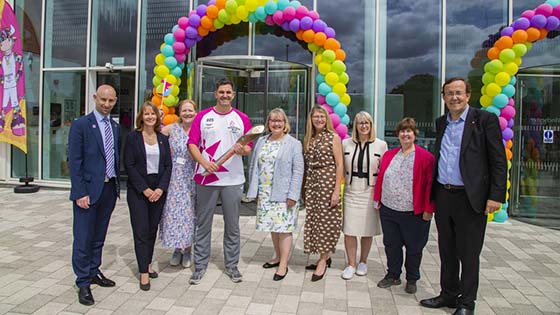 The University's Sports Stadium at Bar End was the destination for the Queen's Baton Relay when it visited Winchester on 6 July, on its way to Birmingham for the start of the 2022 Commonwealth Games.
Baton bearers ran a lap of the University athletics track, accompanied by local primary school children, having earlier arrived at the adjacent Winchester Sport and Leisure Park.
National Student Survey 2022 sees University
The University is ranked top 25 in England for students feeling part of a community of staff and students in the National Student Survey (NSS) 2022.
The NSS gathers students' opinions on the quality of their courses which helps to inform prospective students' choices and provide data that supports universities and colleges to improve the student experience.
Four Winchester degree programmes scored 100 per cent overall satisfaction: BA (Hons) Education Studies, BSc (Hons) Health, Community and Social Care Studies, BA (Hons) Music and Sound Production, and BSc (Hons) Psychology with Criminology.
Winchester was also ranked in the top ten in the country for BN (Hons) Adult Nursing and BSc (Hons) Psychology and Child Development and top 20 for BA (Hons) Primary Education.
Outdoor spaces transformed by University staff volunteers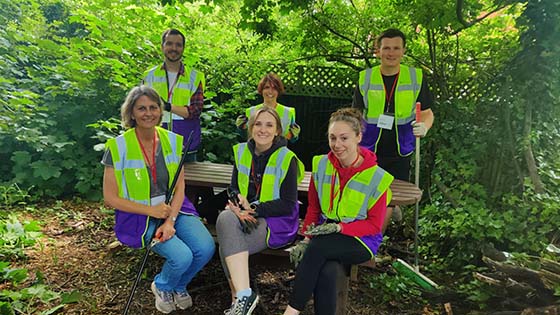 The outdoor spaces of two local charitable organisations have been transformed for the summer by staff volunteers.
Osborne School in Winchester and the Broadlands Group RDA both welcomed teams of enthusiastic University staff members to tackle a range of tasks outdoors for a day.
Nina Lazarski, Volunteering and Community Projects Officer at the University of Winchester, who co-ordinated the volunteering effort, said: "Our volunteers had a fantastic time volunteering with both organisations, but most importantly their achievements are making a positive difference and will be enjoyed by everyone at the Broadlands Group RDA and Osborne School.
Nursing virtual placements and digital health conference in focus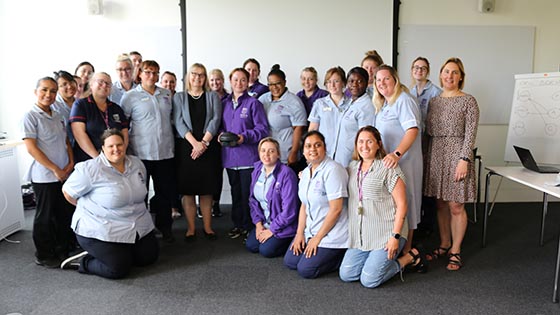 A four-week virtual and simulated placement event for Nursing students took place during July in the clinical skills training facility in the West Downs Centre.
Nursing students took part in a community simulation day, involving practice partners, which included a GP scenario and a community nurse visit to review a cellulitis case. There was also an acute medical ward simulation scenario; a service improvement hackathon, solving scenarios with lived experience experts, and virtual wards working with Hampshire Hospitals NHS Foundation Trust. The virtual placements culminated in an awards and celebrations day on 22 July.
Vice-Chancellor Professor Sarah Greer visited the students on placement and tried for herself a GIG XR Hololens virtual reality headset, which offers an immersive learning experience in remote healthcare and medical settings.
As part of the event, over 70 people attended Leading the Way in Digital Health, a conference hosted by the Faculty of Health and Wellbeing at the University Business School on Tuesday 19 July.
Topics included expert lived experience, telehealth, the future digital workforce, new innovations in wearable devices, virtual wards and more.
University hosts first sustainable research and innovation conference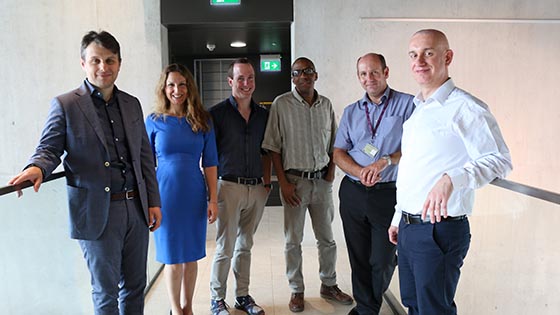 The University hosted its first sustainable research and innovation conference in July organised by the Faculty of Business and Digital Technologies.
A one-day workshop for University staff dissected the process of writing and publishing with two leading academics, Dr Ameen Nisreen and Professor Peter Lugosi. Short lectures looked at topics such as publishing into quality journals and developing research projects and external funding and were interspersed with practical exercises, group discussions, and a Q&A with the facilitators.
Day two focused on industry engagement, with the theme of sustainable energy research, seeking to build on the Faculty's relationships within the sustainable energy industry. Speaker Dario Cavallaro, Product Manager, Security Business Group, Cisco Systems, spoke about cyber security's contributions to a greener economy. He was joined by Dario Gravina, Senior Manager, Engineering Department, McDermott.
Organisation of the conference was led by Dr Hugues Seraphin, Dr Manuela Pilato, Dr Ben Sanders and Dr Sakib Anwar.
Photo above (left to right): Dario Gravina, Dr Manuela Pilato, Dr Ben Sanders, Dr Huhues Seraphin, Professor Martin Broad, and Dario Cavallaro.
Research highlights lessons to be learned by schools from Covid-19 pandemic
A new study co-authored by Dr Amy Warhurst, senior lecturer in the Department of Psychology, has revealed that, far from taking a back seat during the Covid-19 pandemic, teachers found themselves leading the way: turning schools into the community coalface of the global health crisis.
The study - carried out jointly with the University of Portsmouth - also found that some of the most vulnerable children and young people, who were often able to stay in school, benefitted from a change in teaching style with more one-on-one time with teachers.
A 'partial inversion of expectations' was also seen in students who had previously been thought to be confident and settled. The report says children in this group were often found crying in corridors on their return to school, unable to articulate their distress, and unable to cope with peer environments.
Contact rugby still played in schools, despite risk of injury says study
Despite a high risk of injury and concussion, boys in state-funded secondary schools are compelled to play it within the physical education curriculum, says new research led by the University of Winchester, Oxford Brookes University and the University of Newcastle.
Co-author Dr John Batten, Senior Fellow in Learning and Teaching at the University of Winchester, said: "Non-contact versions of rugby, such as touch rugby, should become the default form of rugby played in physical education. Such forms of rugby will provide a range of physiological and psychological health benefits, whilst reducing the likelihood of brain injury."
University expert takes 'deep dive' into the Viking past
Dr Eric Lacey features in a new podcast series which is inspired by and accompanies the latest version of popular video game Assassin's Creed: Valhalla, the Dawn of Ragnarök, which sees players explore the world of Old Norse mythology, fighting to save the son of Odin from the gods' foes, the giants.
In Echoes of History: Ragnarök, Eric, who is a senior lecturer in English, shares his expertise in Old Norse literature, language and myth.
Supporting the next generation of entrepreneurs through Enterprise Educators UK
The University is now a member of Enterprise Educators UK (EEUK), which enables excellence in enterprise and entrepreneurship education, connecting and supporting enterprise and entrepreneurship educators across the world. This new membership will see the University continue to develop its enterprise and entrepreneurship support, especially through the 'Enterprise Futures' service, which is designed to support students starting their own business.
Contact Josh Armstrong, Enterprise Officer, for more information: josh.armstrong@winchester.ac.uk.
Book by University of Winchester professors "merits worldwide attention"
A new book edited by University of Winchester Centre for Animal Welfare Professors Andrew Knight and Paula Sparks gained a spectacular review in Psychology Today.
The Routledge Handbook of Animal Welfare, which draws on the expertise of 50 authors, many of whom are world leaders in their fields, comprehensively covers animal welfare concerns associated with the farming of terrestrial species and fish, transportation, slaughter, the use of animals in laboratories, zoos, entertainment settings, and as companions, working animals, and more.
Dr Marc Berkoff, Professor Emeritus of Ecology and Evolutionary Biology at the University of Colorado, said in his review that the book "merits worldwide attention".
Andrew said: "In my decades trying to advance animal interests, it's been clear to me that there is a strong need for a science-based textbook that comprehensively reviews the full range of animal welfare issues, along with key related areas such as animal law, ethics, and human behavioural change-and further, that supports the really significant calls for change that are warranted in many areas. This textbook was created to support these needs. I hope and expect it will become a key resource for animal welfare advocates globally."
If you'd like to attend the launch of the book in London on 25 August, you can apply for free tickets here.
Blog highlight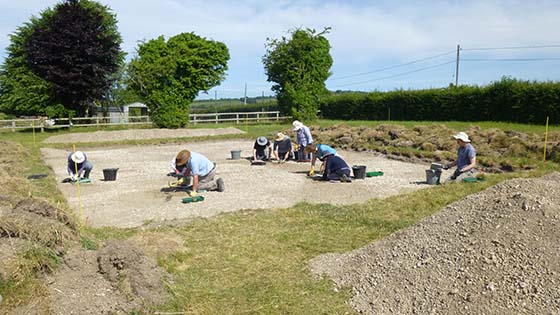 The Council for British Archaeology's Festival of Archaeology took place between 16-31 July. In this blog, we take a look at some of the archaeology projects underway at the University and the latest finds and discoveries by students and staff, from the Meon Valley in Hampshire to the South Caucasus.
Read Digging Deep: University celebrates Festival of Archaeology.
Press Office | +44 (0) 1962 827678 | press@winchester.ac.uk | www.twitter.com/_UoWNews
Back to media centre