June 2018 at the University of Winchester
6 Jul 2018
June was possibly our busiest month so far in 2018, with some exciting announcements, VIP visits, successful events and our work making an impact both in the region and nationally. Here are some of the highlights.
We launched a report into the University's regional economic impact
A new report, The Economic Value of the University of Winchester, launched on 13 June, shows that we contribute over £266 million a year to the regional business community.
More than £203 million a year added income is created by our alumni, £20 million a year by student expenditure and £42 million a year by university expenditure. The University also contributes nearly 10,000 jobs a year into the regional economy. Find out more.
Chief Executive of Afghanistan speaks at Winchester
On 6 June, the University welcomed Dr Abdullah Abdullah, Chief Executive of the Islamic Republic of Afghanistan,who gave a speech to an invited audience of students, staff and members of the local community during a three-day visit to the UK.
He spoke on a range of issues, including peace initiatives, human rights, the power of education and the value of building partnerships with countries including the UK. After the lecture, Dr Abdullah answered questions from the audience in a session chaired by Dr Mark Owen, Director of the University's Centre for Religion, Reconciliation and Peace.
Find out more about Dr Abdullah's visit
We became the first UK university to secure green finance for campus development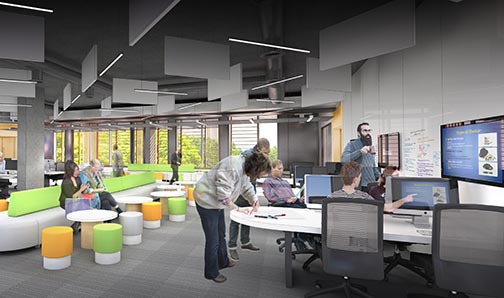 We secured a £30m loan from Triodos Bank, Europe's leading sustainable bank, to fund our landmark new building at West Downs.
Professor Joy Carter CBE DL, Vice-Chancellor of the University, said: "We think it's incredibly important that higher education institutions take social responsibility seriously. That's why we put our ambition to be the most sustainable university in the UK at the centre of all the decisions we make. This project - the most ambitious in our history - typifies our commitment to this cause and is made even better by receiving funding from such a like-minded and values-driven bank."
The new building will feature a number of cutting-edge sustainability features, including solar photovoltaic panels, rainwater harvesting and bat and bird boxes to promote biodiversity. Find out more
Chew fancy a brew? Our initiative to tackle disposable coffee cup waste featured in BBC news report

Our successful campaign to reduce the use of disposable coffee cups on campus was the focus of a BBC news report this month, which featured an interview with Environment Officer Liz Harris, .
A change in pricing has prompted more staff and students to use a reusable cup when buying hot drinks, saving 34,000 disposable cups in the scheme's first year. The campaign has been boosted by giving away free reusable cups to first year students.
The initiative also scooped the MRW 2018 National Recycling Awards Public/Third Sector Campaign of the Year this month.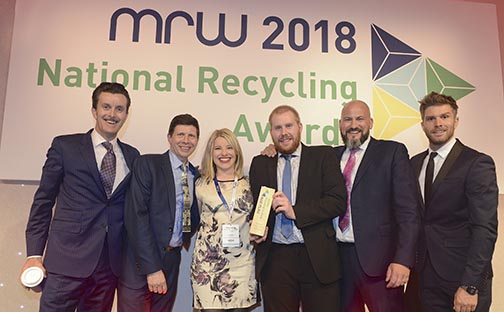 Find out more about our coffee cup initiative
Another successful Winchester Writers' Festival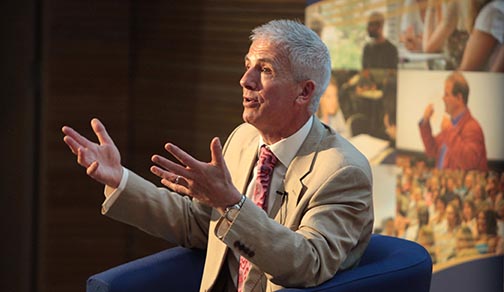 New and emerging writers gathered at the 38th University of Winchester Writers' Festival (14-16 June) for inspiration, support and networking.
The keynote was delivered by best-selling novelist Patrick Gale, who offered a fascinating insight into his life in writing and how he develops the themes, places and characters that distinguish his work.
At the three-day Festival, writers had the opportunity to network one-to-one with around 70 industry professionals, as well as take part in 17 themed all-day workshops and over 30 talks, panels and presentations aimed at new and experienced writers.
Find out more about this year's Festival
Read an account of the event from a 2018 Festival scholar
We celebrated the military community on Armed Forces Day 2018

Armed Forces Day (30 June) saw the University fundraising for two charities which support military veterans through a raffle, bake sale and a time trial assault course, organised by the Widening Participation team.
The University's work in support of the armed forces community and their families includes leading the Service Children's Progression Alliance, a partnership of organisations focused on improving outcomes for children from military families, and the Heritage for Heroes initiative in partnership with charity Help for Heroes, which sees a group of wounded, injured or sick serving personnel study on an undergraduate degree programme in Archaeology to help them to develop new skills and transition from military into civilian careers.
The University is a member of the Universities in Support of Wounded, Injured and Sick Service Personnel (UNSWIS) and signed the Armed Forces Covenant in 2016.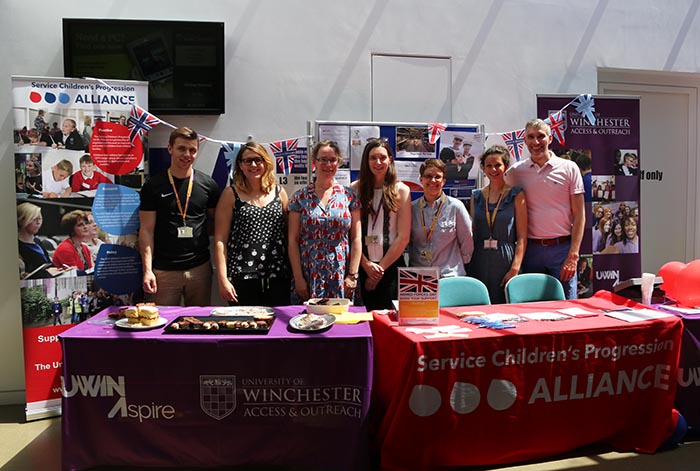 Over £250 was raised and will be donated to Help for Heroes and Hounds for Heroes. Find out more
University research showcased in pictures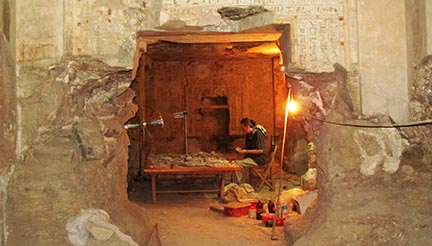 The diverse range of academic research being undertaken at Winchester was highlighted in an exhibition on display at Winchester Discovery Centre throughout June.
Images of Research featured 18 striking images each representing a University of Winchester research project and each accompanied by a short description of the study. From vegetarian diets for cats and dogs and research into a pioneering treatment that poses a promising alternative to knee replacement surgery, to a study that looks at whether new forms of technology, such as EEG headbands that sense electrical activity in the brain, can help increase our mindfulness and wellbeing, the research has both local and global relevance and potential impact. Find out more.
Hymn composed by University musician sung at Grenfell Tower commemoration service
We Shall Go Out With Hope of Resurrection, a hymn composed by the Reverend Professor June Boyce-Tillman, MBE, Professor of Applied Music, was sung at a special service in St Clement's Church, Kensington, to mark the first anniversary of the Grenfell Tower fire on 14 June 2017.
The power of the hymn was referenced in a comment piece in the Guardian which goes on to discuss the crucial role that community has played in supporting those effected by the disaster. Read the Guardian article.
We hosted a family fun day with the Rural Refugee Network
We opened our doors to refugee families for a day of fun activities and relaxation to mark World Refugee Day in partnership with the Rural Refugee Network (RRN).
University staff and students and RRN volunteers ran craft and sport activities, served cakes and snacks and offered complimentary massages. Huge efforts were made to make every guest feel welcome, with translation services available to those who spoke English as a second language. Find out more.
We supported the launch of a new student mental health initiative
Through our membership of the Southern Universities Network, we are supporting an initiative to help schools, colleges and universities better support students starting higher education.
The project, led by student mental health charities Student Minds and TeenMentalHealth.Org, saw the launch of two resources to help students transition to university and succeed in their studies.
Know Before You Go provides guidance to young people before they leave school or college and Transitions contains information to support the first few years in higher education. Both guides are available online. Find out more.
Hundreds join University academic on twilight walk to raise money for breast cancer
Dr Denise Hewlett, Senior Fellow in the Department for Responsible Management and Leadership, became the face of the Bournemouth Twilight Walk 2018, an annual walk to raise funds for women's health.
Since her breast cancer diagnosis in 2017, Denise has worked tirelessly to raise awareness of cancer and has taken part in a number of events to raise money for Bournemouth Hospital Charity. Find out more and donate to her cause at her Justgiving page.
Visit Denise's Facebook blog Roast Beef and Raspberries
Blog highlight: A Nation Divided? Thoughts on English identity and politics
At the invitations of Rt Hon John Bercow MP, Professor John Denham, Head of the Centre for English Identity and Politics, delivered a speech in Speaker's House, House of Commons on 27 June. John spoke about the importance of recognising 'English' identity as strongly held and the most widely shared. The lecture is available to watch or download on BBC iPlayer until 24 July at this link.
In this blog, he offers an edited version of his speech. Read the blog post.
Back to media centre