May 2019 at the University of Winchester
7 Jun 2019
The University of Winchester's focus on sustainability and social justice are highlighted by our wide-ranging activities in May, from the presentation of our inaugural sustainable fashion award to our involvement in an innovative theatre project to positively affect prisoners' attitudes.
Hard hats on as construction of Barton Farm Academy begins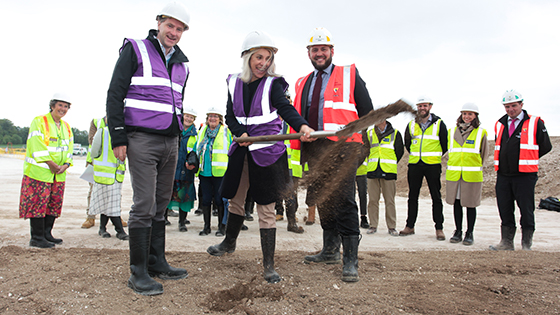 Pictured at the ground breaking ceremony above (left to right): Steve Brine MP, Professor Joy Carter CBE, DL and Tom Jenkinson, Willmott Dixon. Photo: Dominic Parkes.
A ground breaking ceremony at the construction site of the new Barton Farm Academy has marked the official start of building work on Winchester's first primary academy school.
The 420-place academy for children aged four to 11 opens to its first intake of pupils in September 2020 and is sponsored by the University of Winchester.
"The University is an outstanding provider of teacher education and has a strong track record of raising aspiration among young people. Academy sponsorship is a natural development of our commitment to education, social justice and the local community," said Professor Carter, who also chairs the University of Winchester Academy Trust, which will run the school.
"Pupils will benefit from our values-driven ethos, extensive regional school partnerships, evidence-based learning and teaching, powerful links with local business and community organisations, and our passionate commitment to social justice and sustainability. Find out more.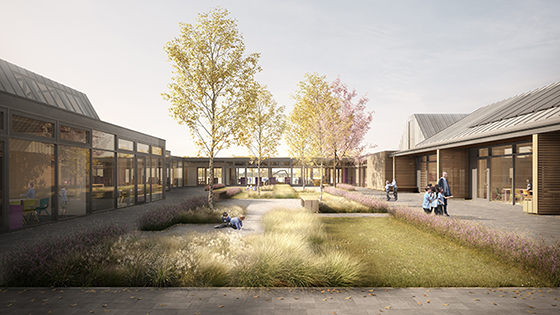 Architect's impression of Barton Farm Academy. Image courtesy of Hampshire County Council.
And the inaugural University of Winchester Sustainable Fashion Award goes to . . .Oxfam Winchester!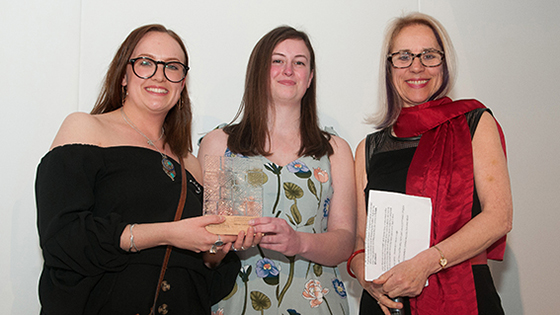 The University awarded its inaugural Sustainable Fashion Award to Oxfam Winchester.
Vice-Chancellor Professor Joy Carter CBE, DL, presented the award - which recognises a local organisation working responsibly, ethically and sustainably within fashion - to Leigh Warren, Oxfam Winchester shop manager, at the Winchester Fashion Week Grand Finale Catwalk Show.
"One of the University's firm beliefs is that fashion can be a force for good and Oxfam Winchester's focus on selling pre-loved fashion to raise funds to help the world's poorest people through projects around the globe was a key reason for their award," said Dr Samantha Lynch, Programme Leader for the BA (Hons) Fashion Marketing course. Find out more.
Pictured above (left to right): Leigh Warren, Jamie Gray (Oxfam Winchester volunteer and University of Winchester student) and Professor Joy Carter. Photo: Andy Brookes Photography.
Sport and exercise physiologist named one of the 'Nation's Lifesavers'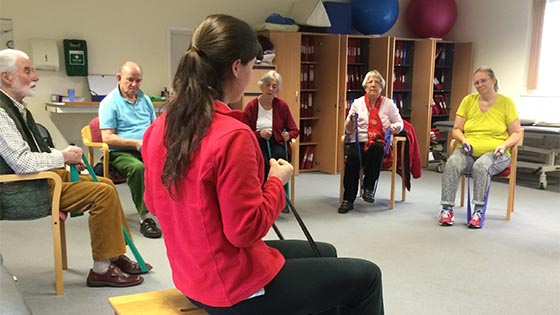 Pictured above (left to right): Ariyan Alimadadi, HELP Hampshire Programme Manager; Louis Martinelli, Hobbs Neurological Rehabilitation; Dr James Faulkner, HELP Hampshire Programme Director; and Professor Simon Jobson, Dean-Designate of the Faculty of Health and Wellbeing at the University of Winchester.
Sport and exercise physiologist Dr James Faulkner has been voted one of 100 'Nation's Lifesavers' by UUK in their #MadeatUni campaign for his work with the pioneering Health Enhancing Lifestyle Programme (HELP) Hampshire stroke clinic.
Thanks to his extensive global research and collaborations with research partners, Dr Faulkner was the driving force behind the creation of HELP Hampshire. The not-for-profit community clinic uses academic research to make a real impact through delivering exercise classes and educational seminars to support the recovery of stroke survivors.
Read James' story on the Made at Uni website.
Innovative project uses drama to positively affect prisoners' attitudes
Prisoners from HMP Winchester shared Saving Face, a short, powerful piece of theatre inspired by their life experiences, to an invited audience of staff and guests as the culmination of an innovative intervention project.
BearFace Theatre CIC ran the new applied theatre intervention project at the prison from January to March of this year, using drama to positively affect prisoners' attitudes, thinking and behaviour. The project is being researched by the Department of Applied Criminology and Forensic Sciences at the University. Support and funding have been provided by Hampshire Cultural Trust.
Initial findings from the evaluation of the project by criminologist Dr Adrian Barton (now at the University of Plymouth) and Alexandra Russell (University of Winchester) provide positive examples of the impact on learners who completed the programme. The report titled HMP/YOI Winchester Applied Theatre pilot 2018 is available to download here. Find out more.
Pictured above at HMP Winchester: Alexandra Russell, Lecture, Faculty of Arts (far left) and Dr Angus Paddison, Dean of the Faculty of Humanities and Social Sciences.
University pledges to make economy and quality of life in Winchester top priorities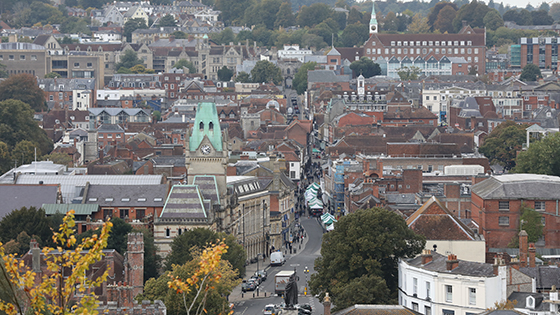 The University has pledged to put the economy and quality of life in Winchester and the wider area high upon its list of priorities, by committing to produce a Civic University Agreement in partnership with local authorities and other major institutions. Winchester joins 50 other universities across the UK in making the pledge.
"Our pledge builds on the excellent work the University already undertakes in and around this beautiful city," said Vice-Chancellor Professor Joy Carter CBE, DL. "It aligns with our community impact initiatives, in which we partner with local communities and organisations to foster flourishing people and communities."
An economic impact report published last year revealed that the University contributes over £266 million a year to the regional business community. Find out more.
Blog highlight: Vulnerable and intoxicated witnesses: how reliable are they?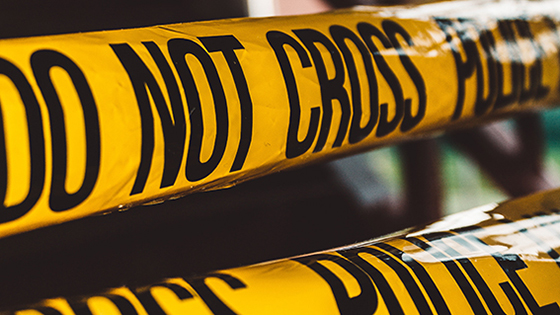 Can you trust the eyewitness accounts of individuals who witnessed a crime while inebriated? Can autistic children be credible witnesses?
As the accounts given by witnesses from the scene of the crime still form a vital part of many investigations, ensuring the completeness, accuracy and reliability of eyewitness testimony is of great importance to all justice system practitioners. This blog post highlights some of the most fascinating and surprising findings revealed by studies carried out in the Department of Psychology at the University of Winchester and beyond, associated with vulnerable and intoxicated witnesses.
Photo by David von Diemar on Unsplash
Press Office | +44 (0) 1962 827678 | press@winchester.ac.uk | www.twitter.com/_UoWNews
Back to media centre