My summer organising events for a heritage festival
18 Sep 2020
Charlotte Tindle, a student on the MA Cultural Heritage and Resource Management (CHaRM) degree course, explains how she helped to organise the University of Winchester's events as part of Winchester Heritage Open Days - and how with lots of creativity the challenges posed by the COVID-19 pandemic were overcome.
I am a Master's student reading Cultural Heritage and Resource Management (CHaRM) at the University of Winchester, a course which focuses on the different ways of understanding the wider role of heritage management in contemporary society.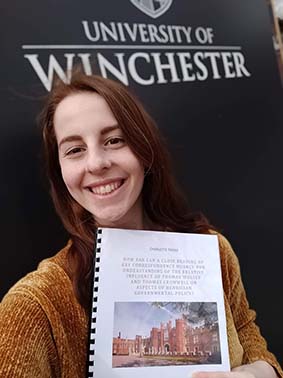 During my undergraduate degree at Winchester, I volunteered for Winchester Heritage Open Days, a local branch of Heritage Open Days, a non-profit organisation which organises a free heritage festival for the public every September. This meant I already had a good relationship with the two organisers of Winchester Heritage Open Days, Nicky and Becky.
This year Nicky and Beck invited CHaRM students to organise the University's events for Winchester Heritage Open Days 2020.
The CHaRM students began work immediately, brainstorming the University-hosted events that we could organise for the 2020 festival, contacting academics at the University to see if they could take part. Things were going very smoothly, we had good interest from academics; a Heritage Open Days training day was held at Winchester College, where we grew our network conacts and where I gave a presentation on the CHaRM course. Many people offered to volunteer at the University of Winchester Volunteer Fair ... and then COVID-19 happened.
That put a big spanner in the works. I'm a key worker, working as a dispenser in a pharmacy - so my hours at work doubled, whilst I was still trying to finish my assignments, getting to grips with online lectures and trying to restructure my dissertation plans: stressful.
There was a lot of uncertainty on what to do with the festival because at that time we weren't sure how long lockdown would last, whether in person events would be possible, let alone if academics could visit the sites they had proposed to talk about. After much discussion we concluded that virtual events were the way to go, and although COVID resulted in many of our plans being adapted or sadly cancelled, we could still arrange some amazing events.
The next few months consisted of endless emails, countless Zoom calls discussing which events were still feasible and how we should host them. This reduced the number of volunteering hours for several of the other CHaRM students because we had to wait for the academics to share their plans and recordings. Initially I delegated one event to each student and the majority of our events have had some input from them, editing the recordings, conducting interviews or finalising transcripts. However, since they had to find other volunteering opportunities to fill their quota, it did mean that I had to take on many more of the responsibilities myself.
We organised thirteen events with nine podcasts - including a Queenship series and three interviews - two virtual presentations, one walking tour and a webinar. (For more information visit: www.facebook.com/CharmatUOW/)
Through these wider responsibilities and liaising with others I learned how to edit videos, create animated intros, create a website, I boosted my social media skills and ran a YouTube channel!
One challenge I overcame was the Virtual Walking Tour of Medieval Winchester, led by Dr Cindy Wood. We had initially planned to film this event. We met in Winchester, armed with masks and a camera, however buskers and traffic meant our footage was unusable. So I re-evaluated my plan and in the end created a virtual walking tour using Google-Street-View.
This approach took four times longer than filming, but by being open to adapting my plan, I created an event that is easy to access and is of far better quality.
An important part of our Master's course is our volunteering module, designed to allow students to gain important experience and which enables extra support to be given to wonderful organisations. Although not a volunteering placement this time around, helping to organise the University's events for Winchester heritage Open Days 2020 has widened my skills. Although it did not turn out as planned, I am incredibly proud of the events which we (myself and my CHaRM peers) have helped to create. Despite all the challenges that 2020 has thrown my way, it has only served to increase my determination to help create the best events we could in the circumstances.
I hope that my contribution has set a path for future CHaRM students to be able to become involved with the University of Winchester's events for the Winchester Heritage Open Days festival in years to come.
All of the events that the MA CHaRM students have helped to create can be found on our YouTube channel or our Facebook www.facebook.com/CharmatUOW/
Press Office | +44 (0)1962 827678 | press@winchester.ac.uk | www.twitter.com/_UoWNews
Back to media centre