Never too old to learn: Getting an MBA at 75
1 Dec 2022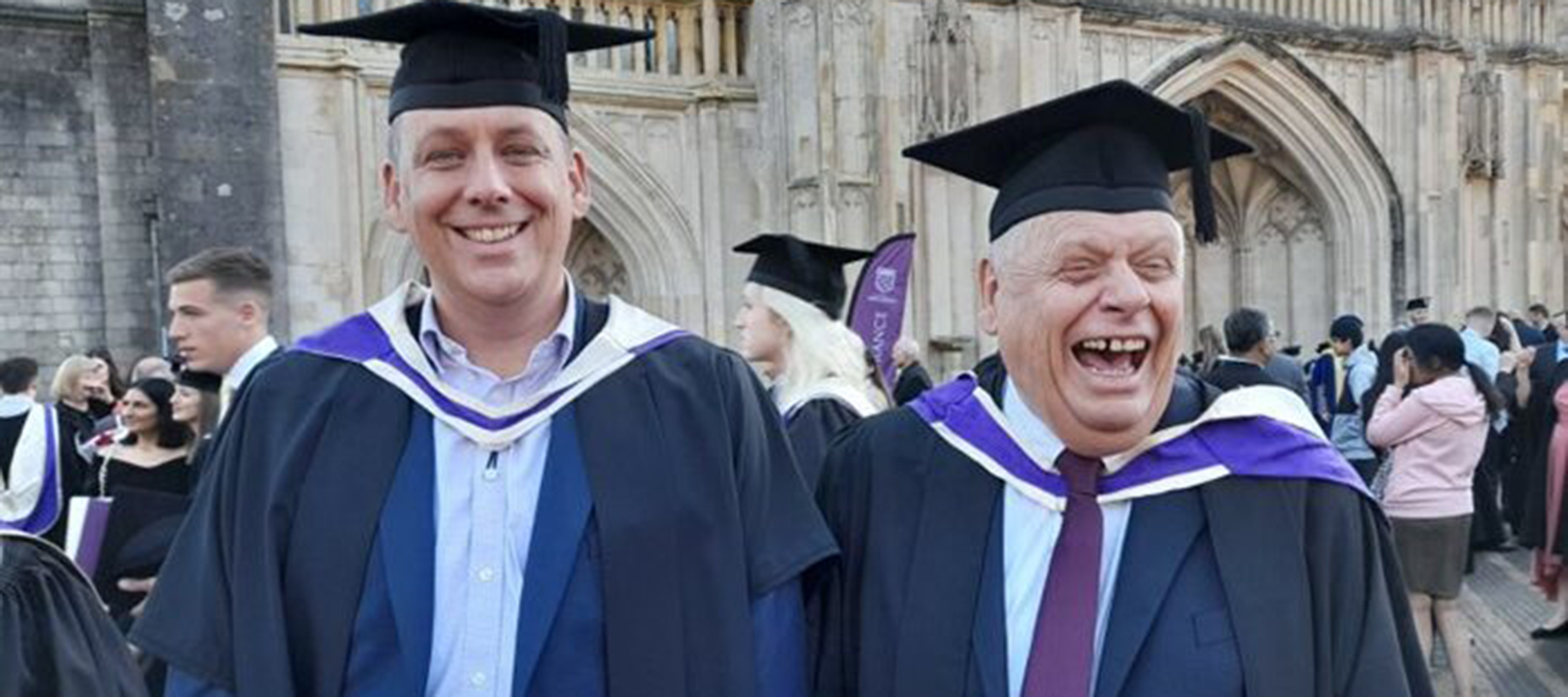 Congratulations to YMCA Fairthorne Group Volunteer Trustee and Director Mike Cranston, who has graduated from the University of Winchester this year with a Master of Business Administration (MBA) at the age of 75.
His success is no surprise, given that Mike has been on a journey of lifelong learning since he left school and went straight to work in an office. In the early 1960s, going to university was not a family value for the working class.
Mike explains that some life events of encouragement, purpose, and belonging led him to start a journey of lifelong learning, including his office supervisor telling him that he had more ability than he realised and that by studying for a qualification, he could move forward in his career. Becoming a Christian gave Mike a purpose in life and he also met his wife who encouraged and supported him.
He gained his accounting qualifications (Fellow of the Association of Certified Chartered Accountants; Fellow of the Chartered Institute of Management Accountants, and Chartered Global Management Accountant) which supported his career development from office junior in 1964 to Finance Director/Chief Financial Officer of what is now known as Ageas Insurance in 1978 at the age of 31.
He also studied to become a voluntary Licenced Lay Minister (LLM) of the Church of England and became one of only a few LLMs to gain the advanced Archbishops Diploma (ADipR). He recently celebrated 50 years in this role.
His interest in Christianity led him to gain some more understanding of his faith. This led him at the age of 41 to start his university journey, where he gained Bachelor, Master, and Doctoral awards in Religious Studies and Theology over the next 23 years.
As he approached the age of 50, he made a personal choice to spend some of his voluntary time helping younger people develop their understanding of Christianity and Ministry within the Church of England. This resulted in him serving for almost 30 years as a voluntary tutor for the Diocese of Winchester in conjunction with the University of Winchester and Durham University. This led him to become an Associate Fellow of the Higher Learning Academy (AFHLA).
After retiring at the age of 58, his life saw some changes. Mike started his journey with YMCA Fairthorne Group, and he had more time for church activities and family time. A year later, his wife was diagnosed with breast cancer, and he rapidly learned how to be a nurse and a carer. In 2018 his wife died just after they celebrated their 50th wedding anniversary.
A few months after his wife died, he had the honour of attending Windsor Castle where he received the ancient Maundy Money from Her Majesty Queen Elizabeth II for services to the church and community. Whilst this was a great occasion for Mike, the real joy was to be part of a loving family and to serve others through his local church and the YMCA.
After two years of living by himself, he decided to do something that would keep his mind active. Mike enrolled in the MBA course at the University of Winchester Business School for fun and personal enrichment and received the award at the age of 75 earlier this year. One of his great joys of the course was being with bright young people including his son Paul (pictured above with Mike outside Winchester Cathedral after their Graduation), who was also studying for an MBA at the same time.
Tim Friesner, Senior Lecturer in Marketing, who taught Mike, said: "Mike is a pleasure to work with. He is extremely knowledgeable and added value to all of our classes. Popular with other Executive MBA students, Mike has been an inspiration to us all."
Mike is thankful to the team at the University for the effort that they put into ensuring that the cohort could study during the COVID-19 pandemic.
Press Office | +44 (0) 1962 827678 | press@winchester.ac.uk | www.twitter.com/_UoWNews
Back to media centre