New book from Winchester academic to bring creativity back to classrooms
19 Mar 2018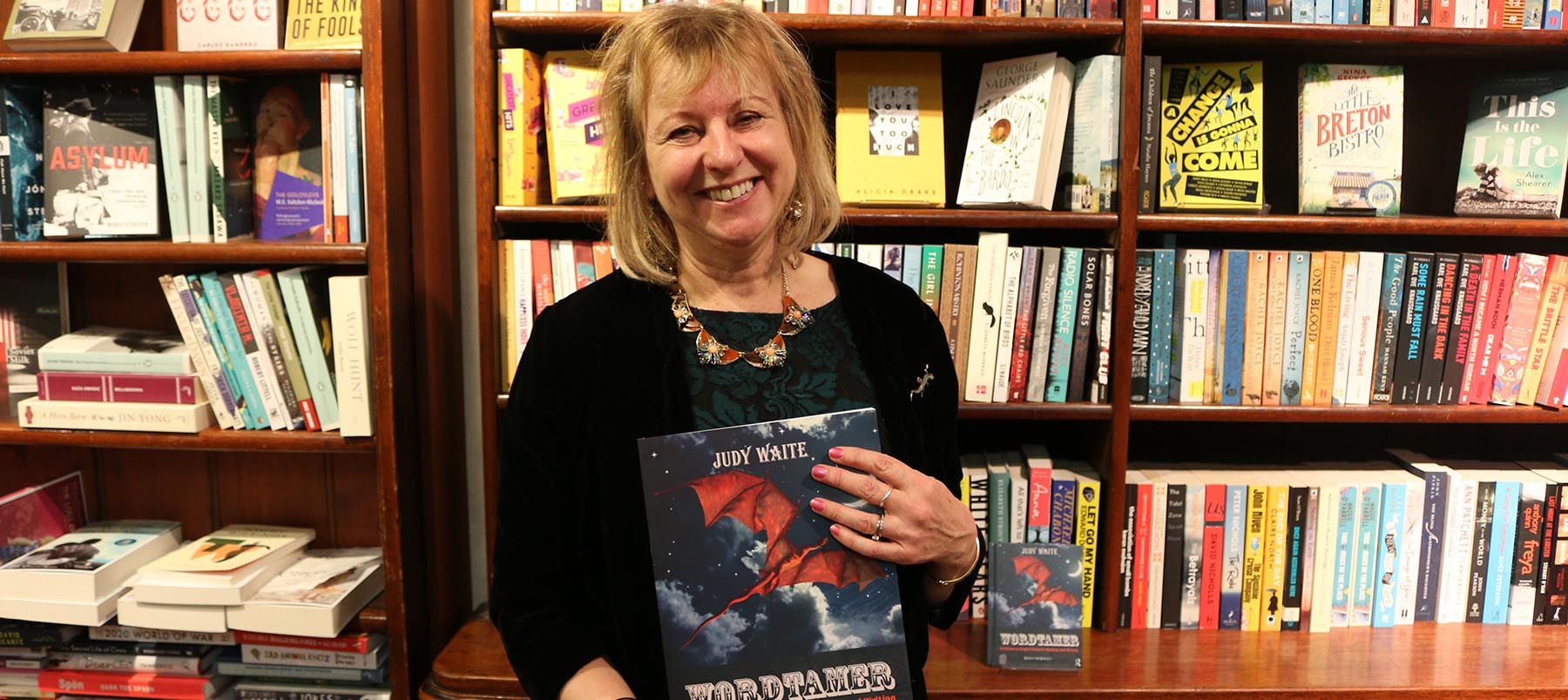 A creative writing lecturer at the University of Winchester has produced a new book designed to encourage children and young people to exercise their creativity.
Wordtamer: Activities to Inspire Creative Thinking and Writing combines academic findings and practical activities in an engaging resource book for primary and secondary schools. Containing over fifty creative writing activities and accompanying supportive material and theory, the book aids teachers in the creation of creativity-focused lesson plans with measurable learning outcomes. All exercises and theory in the book are based on academic research, providing citations to aid teachers in their further reading.
The book is the culmination of several years of research by Judy Waite, Senior Lecturer in Creative Writing at the University of Winchester, who was approached to write the book by publishers Routledge.
Judy Waite said: "Prior to becoming a published children's and Young Adult fiction writer, I worked in schools supporting pupils with special needs. This often included working with those who struggled with reading and writing and I witnessed many pupils who were also daunted by the prospect of being creative. When I later became an author and researcher at the University of Winchester, I decided to make creativity in education a key focus of my research.
"Keen to develop approaches that would have measurable impact, I explored ways to bring immersive, interactive creative writing activities into schools. I evolved techniques using mind-mapping; drama; role play and visualisation, identifying which activities were most successful. My main aim was to offer approaches that teachers could implement in their own classrooms: approaches that inspired all pupils to engage with ideas, creative writing and story-telling."
Her research initially led her to develop and launch the Wordtamer website in September 2011, with support from ICT specialist John Audain and graphic designer Darren Vernall. The interactive website, which was partly funded by the University, offers visitors a unique collection of funfair-themed games and activities designed to help children to 'tame words and train stories'.
Wordtamer builds upon the website. Developed over two years, the contents of the book were trialled with primary school children from Redlands Junior School, Peel Common Junior School and Siskin Junior School, and secondary school children from Cantell School. The book is designed to be used in primary and secondary schools and can easily be adapted for use in adult learning contexts.
Judy added: "Every teacher I ever worked with or talked to is always motivated and innovative but they are also hampered by the increasing demands around marking and assessment, where creative writing is assessed less by the vibrancy of ideas and more by the correct usage of a semi-colon. Wordtamer gives time-pressed teachers the resources, templates and supporting material they need to encourage children to be creative within curriculum restraints. Each activity has evolved from my active research, providing step-by-step instructions to help teachers, or any creative facilitator, run interactive guided writing workshops to inspire ideas and stories in the students they teach."
The book has already garnered a positive response from schools.
Katie Hadlow, a teacher at Redlands Junior in Fareham, where the book was trialled, said: "The techniques from this book have inspired my class. The different activities stimulate the children's imaginations, engaging them immediately – reluctant and unconfident writers are putting pen to paper before they realise. It has transformed attitudes to writing by providing approaches that give the children strategies and skills that they can draw upon time and time again."
Judy Waite is an award-winning author who has published over fifty works of fiction, ranging from picture books to works of YA (Young Adult) fiction. Before pursuing a career in academia, she worked in the field of learning support in both primary and secondary schools. She runs creative writing workshops and residencies in schools for both pupils and teachers, and also leads a range of creative writing activities for adults within the community.
Wordtamer: Activities to Inspire Creative Thinking and Writing was formally launched at an event on 15 March. It is now available at: www.winchester.ac.uk/wordtamer
NOTES FOR EDITORS

For more information or to request a review copy contact:
Tom Eden
Email: Tom.Eden@tandf.co.uk
When referencing the book, please include: Wordtamer: Activities to Inspire Creative Thinking and Writing, published by Routledge (Taylor & Francis Group).

Learn more about Wordtamer: Activities to Inspire Creative Thinking and Writing, at: www.winchester.ac.uk/wordtamer
Back to media centre