New clinical skills facilities set to boost Nursing at the University of Winchester
1 Apr 2022
University of Winchester student nurses and new Vice-Chancellor Professor Sarah Greer were joined by NHS staff, the Mayor of Winchester and other dignitaries to open state-of-the-art clinical skills training facilities in the University's West Downs Centre this week. The new facilities will support the popular and fast-growing nursing courses at the University, which are helping address the shortage in nurses in the region.
The facilities, which will be used by around 380 student nurses currently studying at the University, comprise two five-bed simulation hospital ward units with hi-tech medical mannequins and an active living centre, set up like a flat with kitchen, bathroom and bedroom. There is also a therapy room, a simulated GP surgery and classroom spaces.
The opening also provided an opportunity for the University to thank NHS colleagues, staff and students for their work on the frontline during the pandemic.
At the ribbon cutting ceremony, Professor Greer was joined by Alex Whitfield, Chief Executive of Hampshire Hospitals NHS Foundation Trust (HHFT), which is one of a number of NHS providers that the University partners with.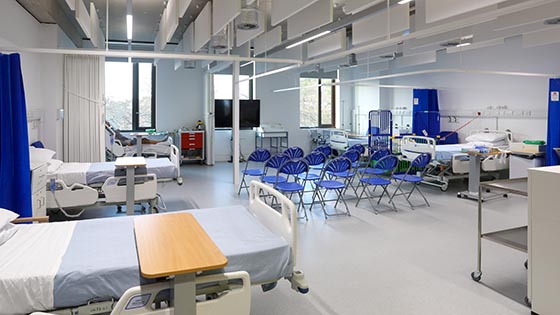 Student nurses and staff who learn and teach in the new spaces then showed guests - which included NHS partners and stakeholders from the region - around the facilities.
One of the students at the launch and showing guests around was Cyzel Gomes, a third-year student nurse at Winchester who has been shortlisted for the Student Nursing Times Awards Mary Seacole Award 2022 for outstanding contribution to diversity and inclusion. The award recognises a student who has made an exceptional contribution to creating a supportive and inclusive environment for their patients and/or other students and staff, showing compassion and understanding of the needs of those from diverse backgrounds.
"These flagship clinical facilities present huge opportunities and possibilities. Not least, they place the University in a fantastic position to help meet the healthcare challenges of the future," said Professor Sarah Greer, Vice-Chancellor of the University of Winchester.
"The NHS is suffering from a skills shortage, with vacancies across the NHS in England at a record high. We are working with a range of NHS partners and providers to help secure the next generation of healthcare professionals in the region and ultimately provide outstanding care. These facilities will go some way to bridging that gap and helping produce the skilled workforce that the health sector is lacking.
"We are developing our curriculum with an exciting range of new courses to further boost teaching in this important area, with a new Midwifery degree programme launching in 2023."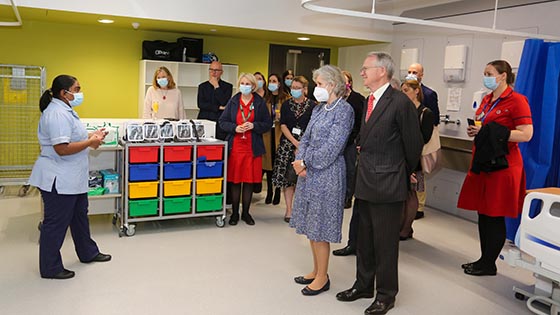 Simon Jobson, Dean of the University's Faculty of Health and Wellbeing, said: "Everything within this outstanding training facility is geared towards preparing our student nurses for successful careers. As with the excellent education they receive at the University, the new facilities will help them develop the clinical skills they will need in real-life settings and become values-driven, compassionate nurses.
"Students will gain invaluable experience in delivering high-quality patient care that's as real to life as possible, whilst in a safe and stimulating environment where they can practice their essential nursing skills, learn to work with each other and gain confidence."
Alex Whitfield, Chief Executive of Hampshire Hospitals NHS Foundation Trust, said: "The partnership between Hampshire Hospitals NHS Foundation Trust and the University of Winchester goes from strength to strength. I am delighted to celebrate the opening of the new nursing training facilities.
"Nursing is at the very heart of what we do at Hampshire Hospitals - nurses make up the largest part of our workforce and are central to patient care. Giving student nurses a great foundation of knowledge, skills and training is crucial in delivering high quality care. I am proud that our partnership with the university allows us to support that alongside the brilliant work that goes on in the classrooms.
"At Hampshire Hospitals we look forward to continuing this collaborative work supporting many students on placement at our hospitals. This, coupled with excellent new training facilities, will inspire and encourage students as they go on to a career they will love and as we develop future generations of colleagues for the NHS."
The University of Winchester teaches four Nursing degree programmes focusing on Adult, Child, Mental Health and Learning Disabilities qualifications.
Photos: Dominic Parkes Photography
Press Office | +44 (0) 1962 827678 | press@winchester.ac.uk | www.twitter.com/_UoWNews
Back to media centre