New online exhibition to be launched at Tyntesfield reveals latest findings of Hispanic-Anglo research project
5 Jun 2018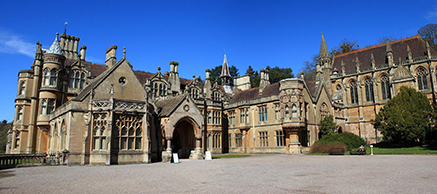 The latest findings of an international research project exploring the factors that made the British Isles a crucial hub for the global Hispanic world are set to be revealed at a special event at National Trust-owned property Tyntesfield near Bristol on Saturday 23 June.
The event - which includes the launch of an online exhibition, an open meeting and a 'Hispanic itinerary' of Tyntesfield's vast collection - offers an opportunity for members of the public to learn more about the project, while also helping to shape future expert research with questions and suggestions.
The Hispanic-Anglosphere: transnational networks, global communities (late eighteenth to early twentieth centuries) is led by Dr Graciela Iglesias-Rogers, Senior Lecturer in Modern European and Global Hispanic History at the University of Winchester. It brings together historians in the British Isles, continental Europe, the Americas and Russia to develop the 'Hispanic-Anglosphere', a new critical conceptual framework and is funded by the Arts and Humanities Research Council and the University of Winchester in partnership with the National Trust.
The group is studying individuals, networks and communities that made the British Isles a crucial hub for the global Hispanic world and a bridge between Spanish Europe, Africa, Asia and the Americas for 200 years from the last 1700s. The period was marked by natural disasters, the dislocation of global polities, nation-state building and the rise of nationalism.

"Few people know that the founder of the neo-gothic Victorian mansion and parkland of Tyntesfield, William Gibbs, was born in Madrid and that his family made much of its fortune through trading Spanish wine and Peruvian guano," said Dr Iglesias-Rogers.
"On Saturday 23 June, we will be launching our online exhibition Exploring the Hispanic-Anglosphere at an open meeting. Through text, images and sound, the exhibition showcases just a small sample of the contribution made by British people who are often called 'Hispanophiles', who were closely engaged with the global Hispanic world, regardless of their birth, religion or political allegiance. The exhibition also celebrates those people who came from the Hispanic world to the British Isles as visitors, exiles and/or migrants."
At the open meeting, which starts at 3.30pm at the Sawmill, those attending will be offered a little taste of Hispanic food, for example a torta de aceite and a small shot of sherry or sangria, depending on the weather.
Visitors to the event at Tyntesfield will also have the chance to undertake a 'Hispanic itinerary' of the house, as part of a pilot experience aimed at drawing wider attention to items within its collection - the largest of the National Trust - that most vividly illustrate the enduring entanglement of the Gibbs family with the global Hispanic world.
Free tickets for the open meeting on Saturday 23 June can be booked via the National Trust website here or call 01275 461900. Visits to the house are only free to National Trust members.
For more about the project, visit the project website at: http://hispanic-anglosphere.com or contact Dr Graciela Iglesias-Rogers by email at g.iglesiasrogers@winchester.ac.uk
Back to media centre