November 2022 at the University of Winchester
13 Dec 2022
November saw the University celebrated for its work helping to support a range of people, including refugees and asylum seekers, primary school children and regional businesses. Read our blog post to find out what we were up to this month.
Winchester gains University of Sanctuary reaccreditation for support of asylum seekers and refugees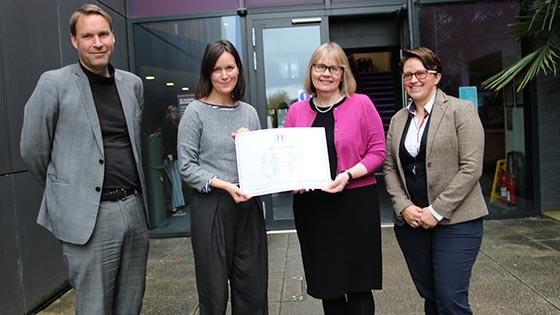 Left to right: Dr Wayne Veck; Elizabeth Flint; Professor Sarah Greer; Sarah Harder-Collins.
The University has been reaccredited as a University of Sanctuary in recognition of its ongoing successful initiatives to welcome refugees and asylum seekers and support them in higher education study.
Winchester became the first University of Sanctuary in the south of England in 2018. A short ceremony at the University saw the Award presented to Vice-Chancellor Professor Sarah Greer by Elizabeth Flint, Chair and Founder of Winchester City of Sanctuary, a volunteer run and led local community group organisation, which is part of a movement of welcome across the UK.
At the ceremony, the University also relaunched its Forced Migration Network as the University of Sanctuary. Led by Dr Wayne Veck, a diverse group of University staff and students and external practitioners is engaged in research, teaching, and outreach and support relating to asylum seekers and refugees.
BBC Moodboosters initiative inspires children to feel good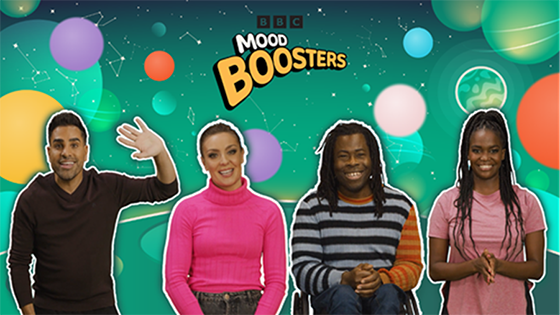 Dr Vicky Randall, subject tutor for Physical Education and co-convenor of the Centre for Professional Learning in Education, has helped create a new BBC initiative to inspire primary school age children around the UK to get moving and develop the skills and tools to learn about their mental health and wellbeing.
She worked alongside the charity stormbreak, BBC Education and BBC Children in Need to develop resources for BBC Moodboosters. The initiative is supported by celebrities from across the BBC and beyond, including Dr Ranj Singh, Amy Dowden, Ade Adepitan MBE and Oti Mabuse, who lead videos to inspire children to boost their mood and feel good.
Dr Vicky Randall said: "The Moodbooster resources provide trusted adults with inclusive movement-based activities that support children's mental health. They are great fun to take part in and have been a lot of fun to create too!"
University of Winchester at Venturefest South 2022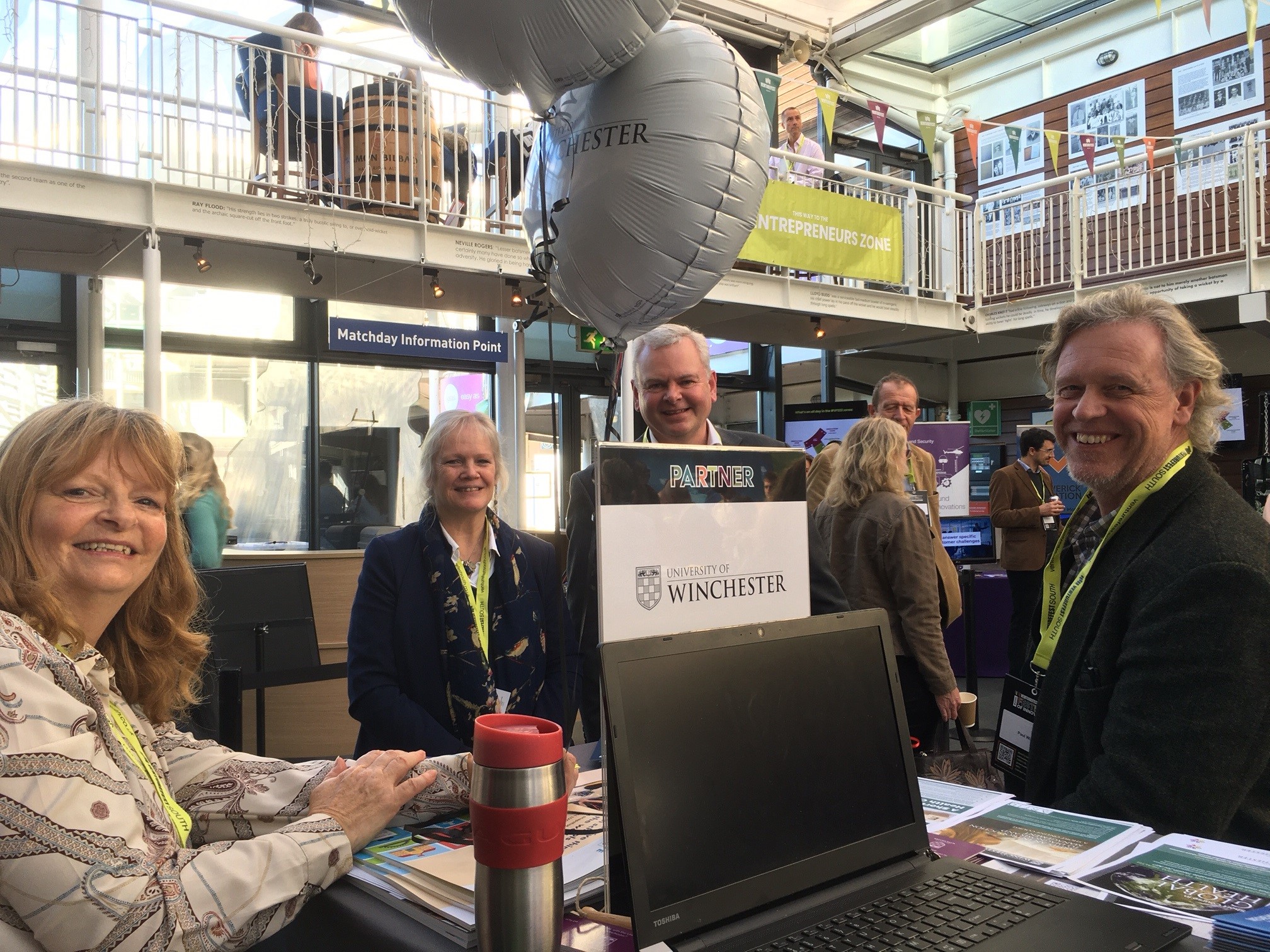 Left to right: Debra Mildenhall; Debs Wilson; Dr John Richardson; Paul Wilson.
On 17 November, a broad group of students, academics and members of Research and Innovation represented the University at VentureFest South (VFS), a vibrant annual festival celebrating enterprise and innovation across the region.
As a VFS partner, the University had a prominent stand and entrepreneurial Winchester students took part in pitches and competitions, and their businesses and Winchester's wider knowledge exchange activities attracted much interest from attendees.
John Richardson and Paul and Debra Wilson attended to promote the work and services of the Centre for Enterprise, Design and Innovation (http://cedi.uk/). Josh Armstrong, Enterprise Officer (Students and Staff) attended with several enterprising students. The University also promoted its business engagement activities, such as short courses and consultancy services.
Psychology research showcase day
On Thursday 10 November, the Department of Psychology hosted an interactive event to showcase some of the research undertaken to the University community.
There were four talks throughout the day on different topics of interest, including Dr Joe Stubbersfield on 'Is the impact of fake news... fake news?' and Dr Feni Kontogianni on 'Escape the room and tell us what happened': a questioning framework for hostage-taking situations'
Drop-in Psychology lab activities on research included Memory for voices; investigations in the psychology of financial knowledge; eyetracking research (how you 'people watch'); first impressions psychology; reporting information about networks and groups, and trying to identify AI-authored texts.
Dr Liam Satchell, Senior Lecturer in Psychology, said: "The idea is to develop an event structure that can be used across the University to engage in knowledge exchange and public engagement. Public engagement is good for its own sake, but there are also clear paths to public engagement with research. Whilst this was our pilot event to test the formula, our goal is to show off a Spring public event.
Holocaust Memorial Day 2023: Winchester academic contributes to online resource
Dr Alasdair Richardson, Reader in the Institute of Education, has contributed to an online resource published recently by the Council for Christians and Jews (CCJ) for Holocaust Memorial Day 2023.
Tuesday 27 January marks the day of the liberation of the concentration camp at Auschwitz-Birkenau and is Holocaust Memorial Day in the UK and many other countries around the world. Alasdair has contributed a resource / reflection on the life of Fr Ludwik Mroczek, a Polish Catholic priest who was imprisoned at Auschwitz, where he died from injuries received at the hands of the guards in 1942. The resource (aimed at Church and other faith groups) can be accessed here.
Student entrepreneurs showcase business skills for Global Enterprise Week
Two Winchester student business owners showcased their enterprise skills at Winchester market as part of Global Enterprise Week this month.
Business student Luke Allisstone and Performing Arts student Amy Bennett set up a stand to market their businesses STiTCH.LDN and Amy's Cutie Pies. Winchester City Council provided the stall in support of the University's Enterprise Futures service, which provides support for student start-up and alumni businesses.
Josh Armstrong, Enterprise Officer (Students and Staff), said: "I am always excited to bring Global Entrepreneurship Week (GEW) to the University of Winchester and I want to thank all of the colleagues, volunteers and placement students and external supporters for all their help in the week.
"Starting your own business is an amazing alternative to the traditional career path that provides you with the opportunity to choose how and when you work and being at university is a great time to get started. It was amazing to see our students and graduates succeeding in their start-ups and I look forward to continuing to support them in the future both with the Enterprise support programmes at the University and through GEW 2023 when we will be back with new and exciting events."
Find out more.
Blue Apple Theatre win South Coast Business Award
Congratulations to our artist in residence Blue Apple Theatre which scooped the award for Best Use of Technology in the South Coast Business Awards 2022. The award acknowledged the success of Blue Apple in sustaining activities and delivering performances in the face of extraordinary challenges during the pandemic.
Blue Apple provides equal access to performing arts for people with learning disabilities. Many people with learning disabilities are isolated and excluded from opportunities and never more so than during the pandemic. With digital tools Blue Apple was able to keep contact going during very lonely and challenging times.
Press Office . | +44 (0) 1962 827678 | press@winchester.ac.uk | www.twitter.com/_UoWNews
Back to media centre