October 2017 at the University of Winchester
8 Nov 2017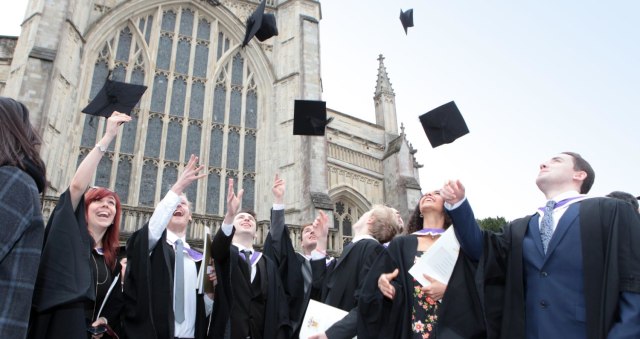 With the new academic year in full swing, October was a busy month, full of student and University achievements, collaborations and conferences and - best of all - celebrations.
Here are some of our October highlights:
We celebrated Graduation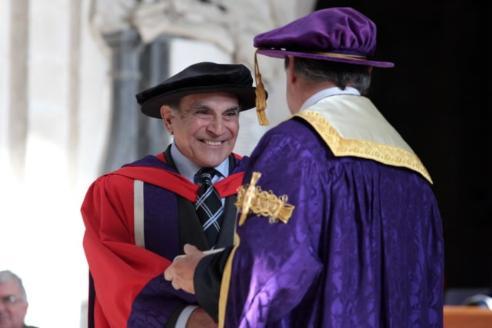 October is one of our favourite times of the year when we celebrate the academic achievements of another cohort of students.
Four days of Graduation ceremonies in Winchester Cathedral were presided over by Chancellor Alan Titchmarsh as more than 2,500 students received their degrees and celebrated with family and friends. We wish them well as they move on to the next phase of their lives and careers.
Prominent public figures who have excelled in their fields were also honoured at Graduation with Honorary Doctorates. These included Head Coach of England rugby team Eddie Jones; Paralympian Rachel Morris; renowned actor David Suchet, best known for his role as fictional detective Hercule Poirot, and actor and animal welfare activist Peter Egan. Find out more about Graduation 2017 here.
See a list of our Honorary Doctorates with short biographies here.
Read our blog interview with Honorary Doctor David Suchet here.
Check out our album on Facebook for photographs of Graduation here.
We supported the international Extinction and Livestock Conference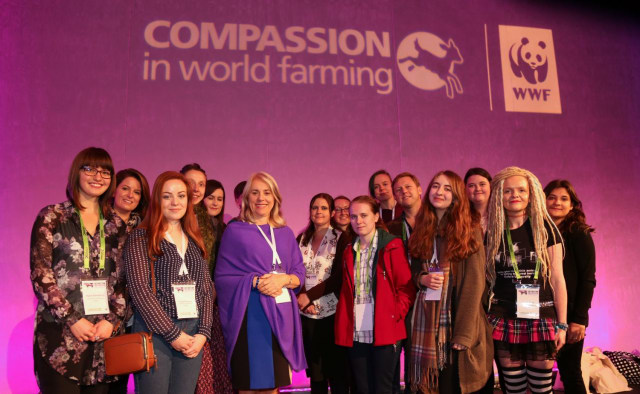 The University proudly supported the international Extinction and Livestock Conference in London on 5-6 October. The Conference, organised by Compassion in World Farming (CIWF) in partnership with WWF, brought together leading international experts to explore how intensive global farming systems might be transformed to benefit people, the planet and animals.
Professor Joy Carter, Vice-Chancellor, chaired the opening session on the first day and Philip Lymbery, CEO of CIWF and a Visiting Professor at the University's Centre for Animal Welfare, delivered one of the keynote speeches. Students from our BA Animal Welfare and Society course also attended the conference, giving them the opportunity to hear high profile speakers and learn more about the issues around factory farming. Find out more.
After the Conference, the University hosted CIWF's Stop The Machine exhibition which highlights the destruction that factory farming is inflicting on our planet. Situated in the Food Hall over five days, the exhibition gave University staff, students and visitors the opportunity to engage with animal welfare issues.
Our Musical Theatre students helped to develop new British musicals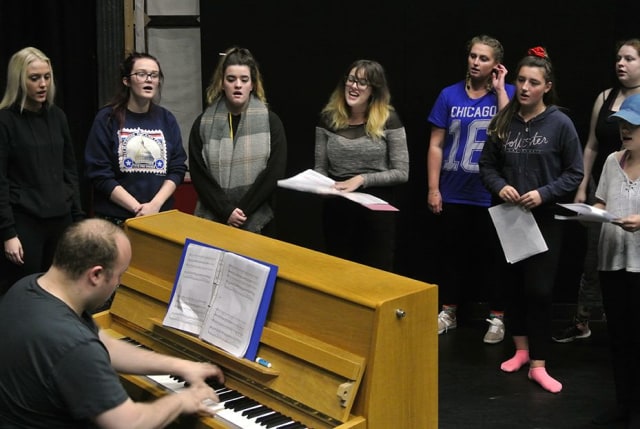 Second year Musical Theatre BA Hons students spent time working with emerging young British composers and lyricists on three new musical theatre projects.
The projects developed are The Jury by Ashley Walsh and Amy Finchley, Flower Cutters by Rachel Bellman and Josh Bird and Amy 37 by Susannah Pearse and Rebecca Applin. The creative collaboration culminated in a work-in-progress performance of all three musicals in front of an invited audience. Find out more.
One of our Journalism students was published in The Times and The Daily Telegraph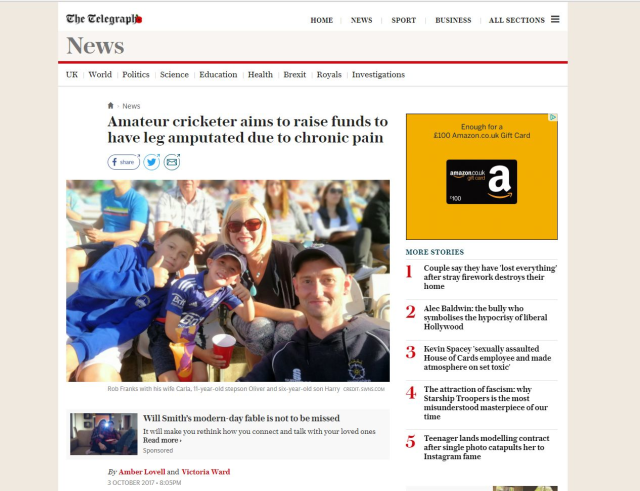 A hard-hitting piece by third year BA Journalism student Amber Lovell was published by two national broadsheet newspapers.
Amber's piece covers the worrying rise in self-funded amputations, detailing the case of an amateur cricketer who has launched a GoFundMe campaign for the operation in an attempt to find a solution for his chronic pain.
Find the story in The Times here (paywall) and The Daily Telegraph here.
Our Gym was shortlisted for a National Fitness Award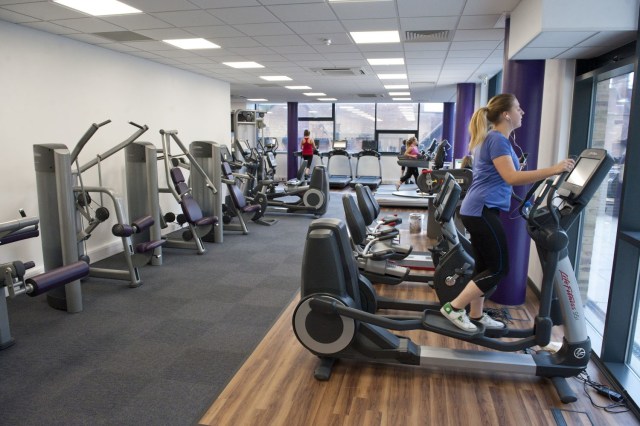 The University's state-of-the-art gym has been shortlisted for a National Fitness Award for the outstanding service it offers to its users.
The gym is one of six fitness and leisure centres - and the only university - shortlisted for the Customer Service Award 2017. The University gym has been shortlisted for going the extra mile to support gym users by providing professional advice to members about their wellbeing and personal fitness goals and holding a variety of regular workshops to suit all needs.
The National Fitness Awards, now in their eighth year, recognise achievement and excellence in all corners of the fitness industry. The winners will be announced on 1 December. Find out more
Lauren Cohan, Winchester alumna, returned to TV screens in The Walking Dead
Halloween may be over but the dead are still walking in the hit popular TV show The Walking Dead, which returned to our screens this month.
The determined, independent leader of the Hilltop, Maggie Greene, is portrayed by Winchester graduate Lauren Cohan.
Lauren graduated from the University in 2003 with a BA in Drama Studies with English and has gone on to act in a variety of US television and films. Highlights include roles on Supernatural, CSI: NY, Vampire Diaries and Chuck.
Follow her fight for survival by tuning in for Season 8 on the show on Fox (channel 124 on Sky) on Mondays at 9pm, or you can stream the entire story on Amazon Prime.
We recognised our BLS students with a prize-giving ceremony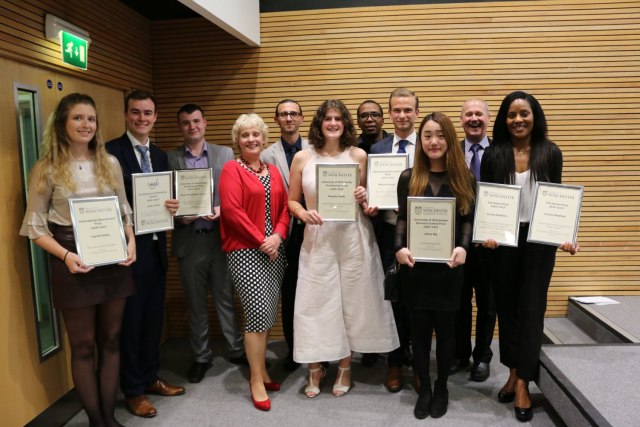 The University's Faculty of Business, Law and Sport recognised outstanding student academic achievement at the Faculty's annual prizegiving ceremony.
Over 80 students were honoured for success in programmes including Law, Accounting, Business Management, Event Management, Fashion Marketing, Marketing and Sports Studies.
Blog highlight: How Juniversity is raising educational aspirations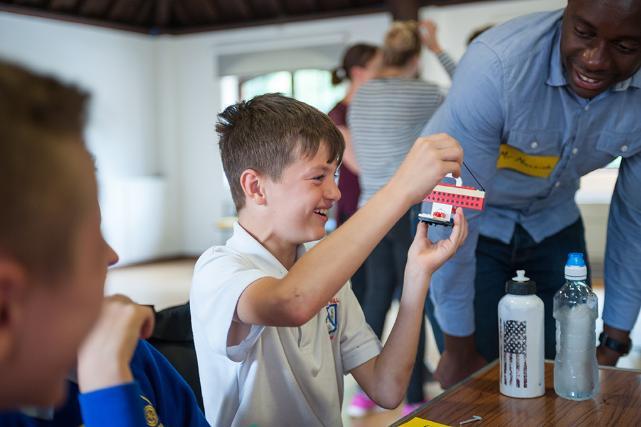 To mark United Nations World Teachers' Day on 5 October, a blog post by Professor Alison James, Head of Academic Quality and Development, explains how Juniversity - a joint initiative between the University of Winchester and Castle Hill Junior School - is helping to develop the teachers of the future. Read the post.
Back to media centre