October 2018 at the University of Winchester
2 Nov 2018
In a busy month at Winchester, we welcomed Education Secretary Damian Hinds to see our pioneering work improving access to higher education, saw veteran broadcaster Alastair Stewart open our newsroom and marked a key milestone in the construction of our new learning and teaching building at our West Downs Quarter.
Enjoy the highlights below.
We 'topped out' our landmark West Downs development

In a traditional 'topping out' ceremony, Professor Joy Carter CBE laid a final section of concrete on the top floor of the teaching and learning building at West Downs to mark reaching the highest point of the build. She was joined by Chancellor Alan Titchmarsh MBE VMH DL and John Craig, Managing Director, Construction at Osborne. Members of leading construction company Osborne, architects Design Engine and other contractors involved in the building's construction looked on as John Craig presented an engraved trowel to commemorate the topping out and a celebration cake in the shape of the building was cut. Find out more
Education Secretary Damian Hinds visited during National Care Leavers Week

Education Secretary Damian Hinds visited the University to see our leading work in improving access to higher education for care leavers. The visit coincided with the launch of the government's new Care Leaver Covenant.
Damian Hinds met a group of Winchester students from care backgrounds to talk about how support from the University has been vital in helping them succeed in their studies and the challenges care leavers face. Find out more
Alastair Stewart formally opened our newsroom

Veteran ITN journalist and broadcaster Alastair Stewart OBE opened our new purpose-built, industry-standard newsroom. The interactive space provides facilities for students to gain practical experience working as reporters in a simulated environment. It also serves as the hub for student journalism website Winchester News Online.
"Anyone who wants to work in television journalism has got to feel the space and the facilities I have opened today will help Winchester students feel the space of the newsroom," said Alastair. Find out more
University translates values into action through signing pledges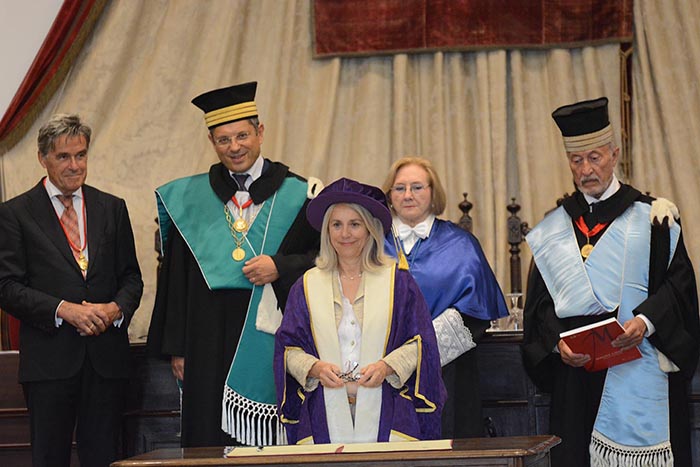 The University underlined its dedication to academic freedom and university autonomy when Professor Joy Carter signed the Magna Charta Universitatum. The document is a statement of the principles and values shared by universities around the world, including the importance of links between teaching and research, academic freedom, and collaboration between different countries and cultures. Find out more
Professor Carter also signed the Government's Emissions Reduction Pledge, committing to reducing the University's emissions by 30 per cent by 2020/21. Winchester was one of five universities and Student Unions who met with the Department for Business, Energy, and Industrial Strategy (BEIS) Director General Julian Critchlow, and Office for Students CEO Nicola Dandridge to officially sign the Pledge. Find out more
University set to share learning expertise with Winchester Cathedral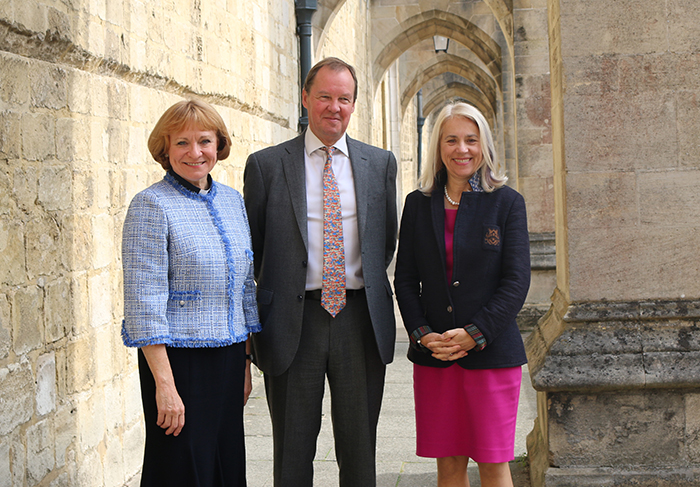 The established partnership between the University and Winchester Cathedral is set to be strengthened by the appointment of Bill Lucas as a 'critical friend' in all aspects of learning to the Cathedral.
Professor of Learning at the University of Winchester and director of the Centre for Real-World Learning, Bill is an advocate for learning outside the classroom and informal learning.
In his new role as Learning Advisor, he will shape tours and activities offered to young children and online learning materials, enriching the visiting experience for all ages. Find out more
Winchester Poetry Festival Young Wordsmiths launch anthology at the University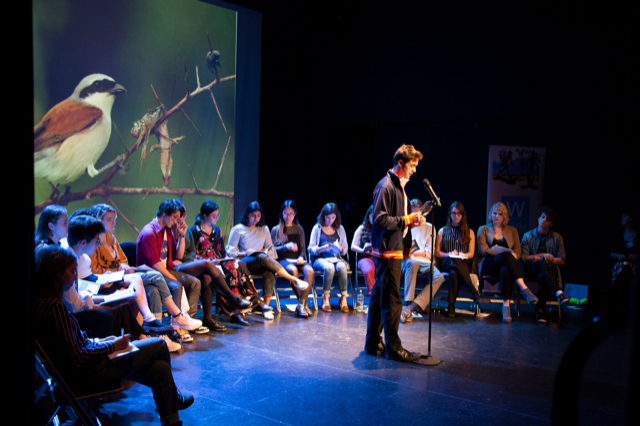 Our new partnership with the vibrant Winchester Poetry Festival saw aspiring young poets gather at the University on National Poetry Day. At a celebratory event, the winner of the Robert Hutchison Young Poets' Competition was announced, which recognised climate-change-themed poems from Hampshire poets aged 11-16.
A new poetry anthology was also launched, featuring works from sixth-form students who participated in the Young Wordsmiths intensive creative writing course.
Work by a Winchester Academic is on display at the Victoria and Albert Museum

A sound installation titled Tonotopia: Listening Through Cochlear Implants by Dr Tom Tlalim, an artist, composer and senior lecturer in the University's Faculty of Arts, is showing at the V&A.
Designed by Tom in partnership with users of cochlear implants and partly realised during his artistic residency at the V&A, the art and research project showcases the diverse ways that users of cochlear implants experience complex sound and music. The exhibition includes sound works, filmed interviews and pieces of sound art created by Tom in response to his research. See the exhibition until 8 March. Entry is free. Find out more
We launched a novel public engagement initiative at a local pub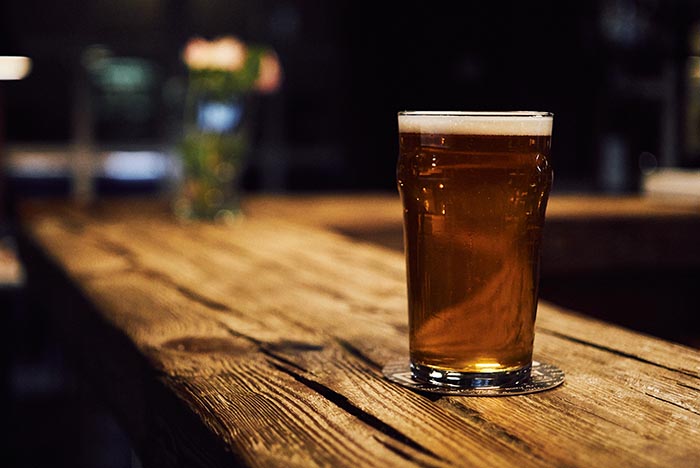 Winchester pub the St James Tavern is the unusual venue for a new series of public conversations about the creative arts.
Tavern Talks aim to bring people together to listen to short, informal talks and engage in lively discussions. The series launched with Peter Billingham, Professor of Modern Drama and Performance on the relationship between democracy and civil disobedience in these turbulent times. Future events feature Dr Vanessa Harbour , Senior Lecturer in Creative Writing, on the issues writers face when writing history as fiction and Tim Prentki , Professor of Theatre for Development, on social performers and audiences.
Find out more in this article by Professor Alec Charles, Dean of Arts at the University of Winchester.
BBC documentary based on Winchester research project shortlisted for award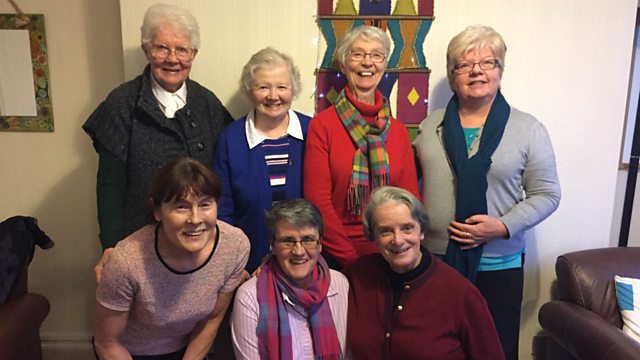 Sisters of the Troubles, a BBC radio documentary based on research by Professor Lisa Isherwood, Director of the Institute for Theological Partnerships, was shortlisted for the Jerusalem Trust Religious Broadcasting awards. The awards recognise original, engaging Christian broadcasting.
The documentary tells the untold story of the role of Catholic nuns during Northern Ireland's troubles and was the culmination of a two-year research project carried out in Northern Ireland. It originally aired on the BBC World Service in March.
Listen to the documentary here
Student success and prominent public figures recognised at Graduation 2018

Over 2,000 students attended graduation ceremonies in Winchester Cathedral in mid-October, alongside inspiring and distinguished public figures who received honorary doctorates and fellowships. Find out more
Read about our 2018 Honorary doctorates and fellowships here: honoraries_Graduation_2018
Blog highlight: "As an investigative journalist, keep knocking on doors until you get to the truth." Five minutes with Louise Shorter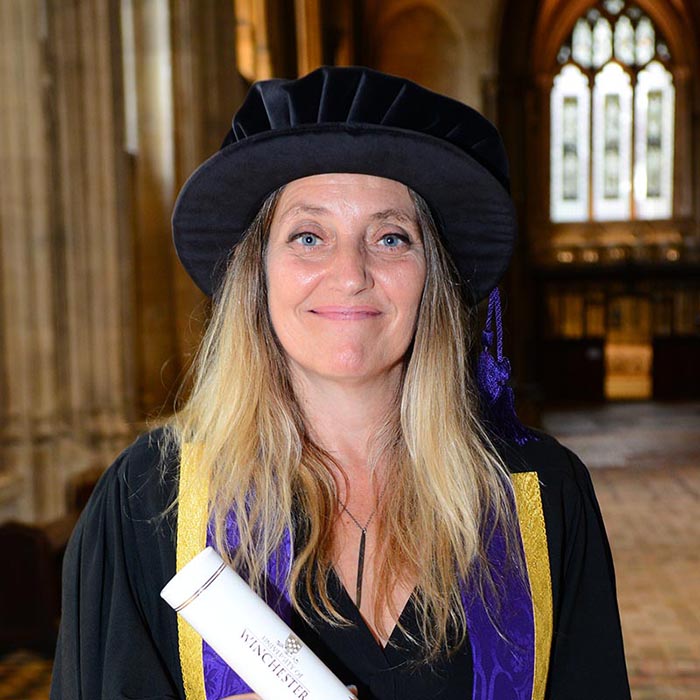 CEO of criminal justice charity Inside Justice Louise Shorter received an Honorary Fellowship for services to rights campaigning at Graduation. She tells us about her work, Netflix documentary series Making a Murderer and the importance of public engagement in wrongful conviction cases. Read now
Back to media centre