October 2021 at the University of Winchester
2 Nov 2021
October was a month of celebration here at the University of Winchester: We celebrated the Class of 2021 who graduated in ceremonies at Winchester Cathedral, as well as the achievements of high profile and inspirational individuals who became honorary graduates of the University.
We marked Black History Month 2021 with a student-led podcast series and announced both a new creativity collaborative funded by Arts Council England and our participation in a Friends of the Earth catering initiative. Read on to find out more.
Celebrating success at Graduation
More than 2,000 University of Winchester students in the Class of 2021 graduated in ceremonies hosted in Winchester Cathedral this month (19-22 October).
The University also honoured inspirational individuals with the award of honorary degrees, including historian and film maker Michael Wood (Doctor of Letters), conservationist David Mills MBE (Fellowship) and actor/director Kwame Kwei-Armah (Doctor of Arts).
University of Winchester alumna Judge Carole Burgher was awarded an Honorary Doctor of Law and professional quizzer and Egghead Kevin Ashman, who lives in Winchester, received a Fellowship.
University in pilot partnership to trial new approaches to teaching for creativity with £360k Arts Council grant
A new 'Creativity Collaborative' in Hampshire is set to help revolutionise creativity across the curriculum in schools, after securing a £360,000 grant from Arts Council England (ACE).
The Collaborative is made up of the University, the University of Winchester Academy Trust, including the lead school Halterworth Primary, and an extensive network of Hampshire schools. It will combine the development of teaching for creativity with applied research in this area. Over three years, the project aims to enrich children's life chances by developing them into confident and creative problem-solvers, engaging them through authentic, meaningful problems, embedded in their lives and communities. Find out more.
Climate change is focus of inaugural exhibition at the West Downs Gallery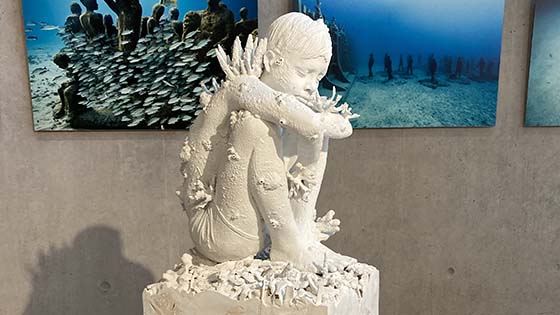 Internationally-renowned sculptor and environmental activist Jason deCaires Taylor's work is showcased in We Are Nature, the first exhibition open to the public in the new West Downs Gallery. The exhibition is one of a number of activities hosted by the University to mark the United Nation's COP26 Climate Conference in Glasgow.
Taylor's large scale underwater installations can be found across the world, attached to the seabed, slowly transforming into thriving habitats for marine life. This landlocked exhibition of maquettes and photographic prints offers a unique opportunity to experience his work without having to dive under the waves, provoking conversations about climate change, the fragility of our oceans and the regenerative power of nature. Find out more.
University catering service signs up to Kale Yeah! Kitchens
The University is one of the first higher education institutions in the country to sign up to a new Friends of the Earth accreditation scheme. Kale Yeah! Kitchens, which launched in October, is encouraging caterers to make their menus more sustainable by serving less and higher welfare meat, dairy and fish, and offering more tasty plant-based options. Find out more.
New podcast series by students for students launched in Black History Month 2021
The Inside Out, a miniseries of three podcasts, brought together student voices for open and honest conversations about race and diversity to mark Black History Month 2021 (1-31 October).
BAME Ambassadors Alisha and Shelina discussed the mental health pandemic, microaggressions and culture with Winchester students to gain their perspectives on the issues.
The short films are available to watch on the University of Winchester YouTube channel, with longer audio podcasts available on Spotify.
Social work graduate shortlisted for national award
Lucy Collier, a graduate of the University's Step Up to Social Work programme who now works for Portsmouth City Council as a disability social worker, was shortlisted for the Student Social Worker of the Year Award in the prestigious Social Worker of the Year Awards.
The Awards - which take place annually to celebrate the achievements of practitioners and teams in the profession across the country - will announce the winners in London on 17 November. We're keeping our fingers crossed for Lucy! Find out more.
Physiotherapy students praised by Deputy Lord Lieutenant for their commitment during the pandemic
Sir Freddie Viggers, Deputy Lord Lieutenant of Hampshire, visited the University's physiotherapy suite in Winchester High Street this month. He met staff and students from the BSc (Hons) Physiotherapy programme to thank them in person for the commitment shown to their studies and profession during the COVID-19 pandemic. Find out more.
Music Centre performs new composition in Winchester Cathedral
Musicians from the University of Winchester Music Centre performed an original piece of music in Winchester Cathedral to accompany special late-night openings of an art installation by sculptor Peter Walker.
'Leaves/Trees' was composed by Neil Valentine, Creative Director of the Music Centre, and was inspired by 'The Leaves of the Trees' exhibition, a reflective installation made up of 5,000 steel leaves with the word HOPE on each one. Collectively the leaves create the impression of autumn leaves fallen from the trees appearing as though naturally scattered by the wind. The leaves symbolise the past but also hope for the future, as the shape of the sycamore maple leaf has been chosen because it symbolises strength, protection, eternity and clarity.
Winchester in The Conversation
LGBTQ+ athletes: why more sportspeople than ever are coming out
Factors including sport becoming more inclusive, support from high-profile heterosexual allies within sport and its increasing politicisation are all creating an environment where more sportspeople are coming out.
Read the full article for The Conversation co-authored by Eric Anderson, Professor of Masculinities, Sexualities and Sport.
Press Office | +44 (0) 1962 827678 | press@winchester.ac.uk | www.twitter.com/_UoWNews
Back to media centre