Oxfam Winchester scoops inaugural University of Winchester Sustainable Fashion Award
10 May 2019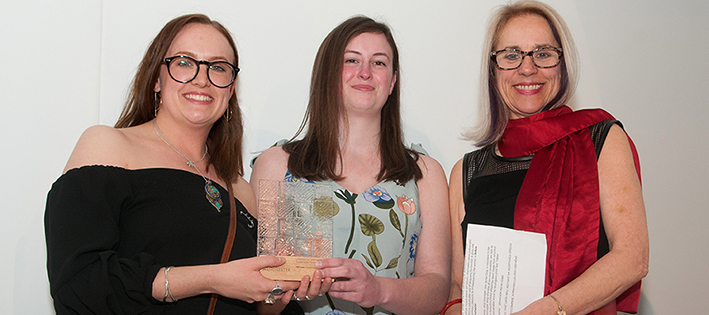 Oxfam Winchester has won the first University of Winchester Sustainable Fashion Award, which recognises a local organisation working responsibly, ethically and sustainably within fashion.
Professor Joy Carter CBE, DL, Vice-Chancellor of the University of Winchester, presented the award to Leigh Warren, Oxfam Winchester shop manager, at the Winchester Fashion Week Grand Finale Catwalk Show on Saturday 4 May. The University sponsored the city-wide celebration of style once again in 2019.
The award trophy - made from recycled glass and sustainable wood - was made by local glass artist Sue Tinkler (www.suetinklerartglass.co.uk).
Professor Carter said: "The University of Winchester is a values-led university. We are the University for sustainability and social justice. Oxfam Winchester shares our values, champions social justice and offers a sustainable way of shopping for fashion. It is a deserving recipient of our very first Sustainable Fashion Award."
"One of the University's firm beliefs is that fashion can be a force for good and Oxfam Winchester's focus on selling pre-loved fashion to raise funds to help the world's poorest people through projects around the globe was a key reason for their award," said Dr Samantha Lynch, Programme Leader for the BA (Hons) Fashion Marketing course.
"Undergraduate students on our Fashion Marketing programme are encouraged to rethink and challenge existing industry practices to create a more sustainable economy and society for the future. As part of Winchester Fashion Week, around 50 of our students have been supporting Oxfam and other fashion retailers in the city, learning about working sustainably within fashion retail."
Leigh Warren said: "It's so wonderful to receive the Sustainable Fashion Award from the University of Winchester. Oxfam offers a way to help reduce the harmful effect of 'fast fashion' on our planet and its people. By buying and donating your clothes through Oxfam shops you can give clothes a second chance - increase their lifespan, while protecting the planet, and raising money to help the poorest people around the world.
"To be recognised for our contribution to this ethos within the community is an incredible achievement for both our shop and volunteers, and for that we are very grateful. This is also a lovely opportunity to thank all of our donors, consumers, volunteers and supporters from within the Winchester community for making it possible. We look forward to continuing to give pre-loved and donated clothes a new lease of life and offering the people of Winchester a more sustainable fashion option."
The photo above shows (l to r): Leigh Warren, Jamie Gray (Oxfam Winchester volunteer and University of Winchester student) and Professor Joy Carter.
Photograph by Andy Brooks, Andy Brooks Photography.
Press Office | +44 (0)1962 827678 | press@winchester.ac.uk | www.twitter.com/_UoWNews
Back to media centre