Peace and prosperity in Afghanistan focus of lecture by His Excellency Dr Abdullah Abdullah
11 Jun 2018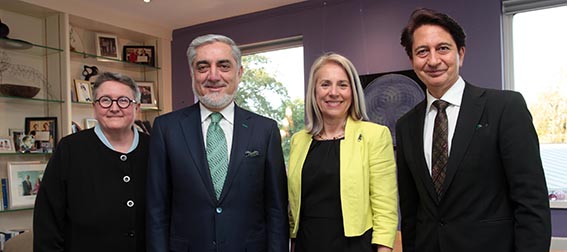 Peace and prosperity in Afghanistan, supported by the transformational power of education and valued partnerships with countries including the UK, were the focus of a speech by His Excellency Dr Abdullah Abdullah, Chief Executive of the Islamic Republic of Afghanistan, at the University of Winchester last week.
Dr Abdullah was on a three-day visit to the UK for high-level talks on issues related to the war-torn country. The University of Winchester was the only higher education institution he spoke at during his visit.
An audience of students and staff from the University and invited guests from schools and other organisations in Winchester heard Dr Abdullah talk on a wide range of topics, including peace initiatives, human rights, the importance of education, especially for girls and young women, and the opportunities offered by a new path to prosperity in his country.
Professor Joy Carter CBE, DL, Vice-Chancellor of the University of Winchester, said: "We were deeply honoured to welcome Dr Abdullah to the University to speak to us about efforts to create a more prosperous and fairer society alongside lasting peace in Afghanistan.
"As a University which is passionate about the transformational power of education and its capacity to improve the lives of individuals and the communities around them, it was wonderful to learn more about how extending education to girls and young women is changing prospects and lives for thousands of young people across Afghanistan."
Commenting after his lecture, Dr Abdullah said: "With the University of Winchester's values as described to me, students here are very lucky to be in this environment. They should see this as a blessing and see what they can do for those who are deprived and who don't have these chances and enjoy these opportunities. But much more than that, this is their moment and the future is theirs, to make the right choices and be hopeful."
After the lecture, Dr Abdullah answered questions from members of the audience in a session chaired by Dr Mark Owen, Director of the University's Centre for Religion, Reconciliationa and Peace.
Dr Abdullah was accompanied on his visit to the University by His Excellency Dr Said T Jawad, Ambassador of Afghanistan to the United Kingdom and a delegation from the Afghan Embassy. After the lecture, Professor Carter hosted an Iftar dinner in honour of Dr Abdullah, HE Jawad and guests to mark the end of the daily Ramadan fast.
Back to media centre