Peace is possible through music
12 Jan 2018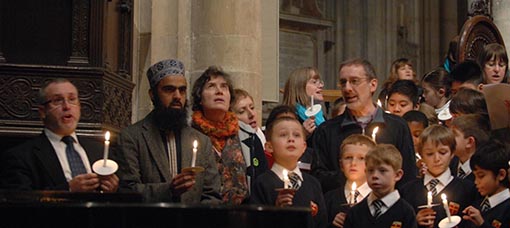 A day of peace-making - including talks and other activities - which highlights the growing desire for peace-making between the faiths of the world will be hosted by the University of Winchester on Saturday 27 January.
Individuals and families are welcome to join Day for Peace to reflect on what peace means to us all. An opening ceremony lead by the University's Dean of Spiritual Life, Revd Dr Terry Biddington, will be followed by a bring and share lunch and two peace walks. The day will end with Space for Peace, an evening performance which sees representatives from Jewish, Christian, Islamic and other faiths join together in a unique inter-faith event.
Space for Peace brings together local community choirs, schools, faith groups, artists and soloists to embody a way of working together. Choral and religious groups will each perform their own repertoire of musical material, using University buildings as a resonant meditative space.
Reverend Professor June Boyce-Tillman MBE, who has devoted much of her life to music in education and spirituality, said: "My experience of pieces involving choice of this kind is that people become very sensitive to their surroundings and to one another. Some of the soundscapes will be very complex, with a number of pieces performed simultaneously in different parts of the campus, and some will be simple, with only one piece being performed."
Day for Peace takes place at the University of Winchester, Sparkford Road, Winchester SO22 4NR on Saturday 27 January 2017 from 11.30am. The programme is available on the University website at www.winchester.ac.uk/dayforpeace. All activities are free.
Space for Peace takes place from 7.15-9.00pm: doors open at 6.45pm. Admission is free with a retiring collection. Find out more at www.winchester.ac.uk/spaceforpeace
Back to media centre