Remembering James Atwell, 1946 – 2020
14 Dec 2020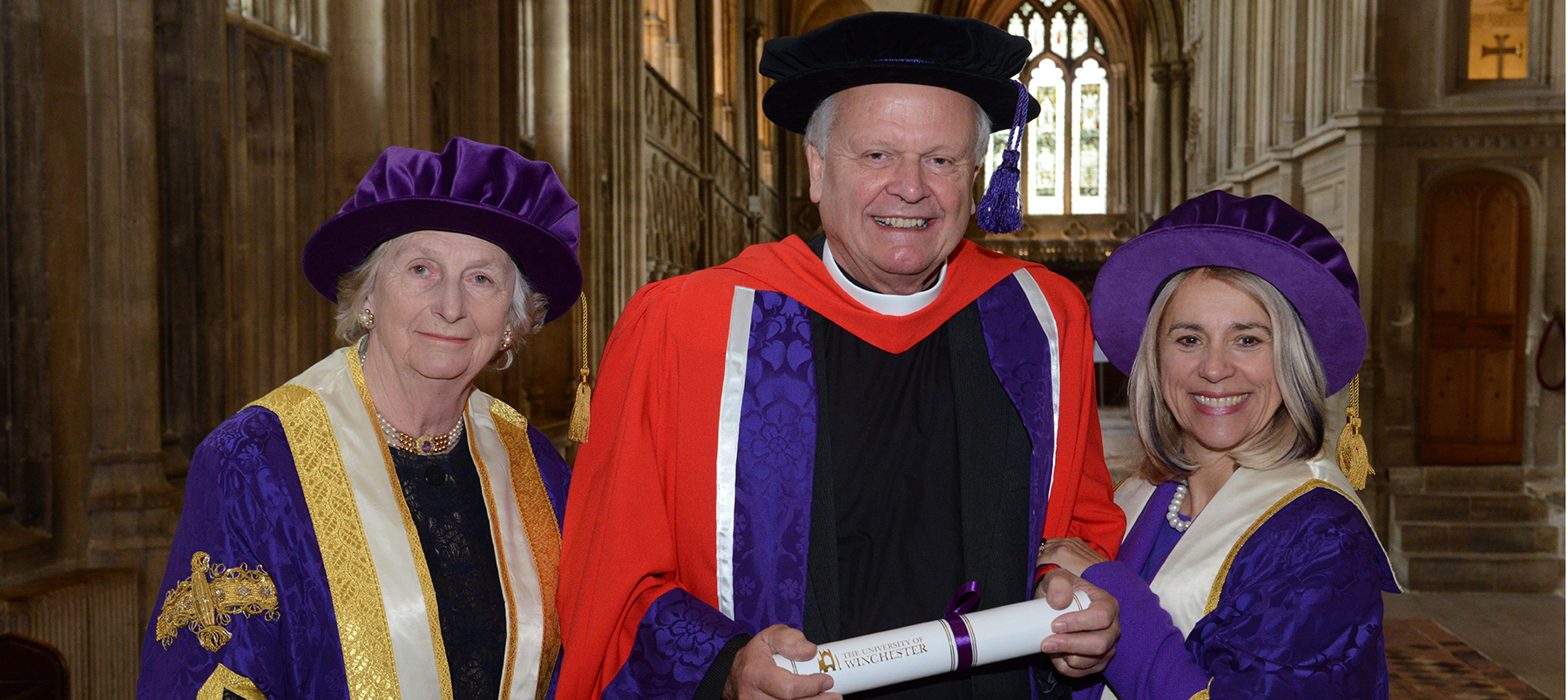 The Very Reverend Professor James Edgar Atwell, Dean of Winchester Cathedral from 2006 to 2016 and dear friend to the University.
The whole University of Winchester community today mourns the death of The Very Reverend Professor James Edgar Atwell. As Dean of Winchester Cathedral, Reverend Atwell made a huge contribution to the life of the City, the Cathedral and the University. The University was able to honour James and his work by making him a Visiting Professor in 2011 and awarding him an honorary degree of Doctor of Divinity in 2016.
Professor Joy Carter CBE DL, Vice-Chancellor of the University of Winchester, said:
"We were deeply saddened by the passing of James Atwell. James was a dear friend to me and to the University. Our warmest sympathy, thoughts and prayers are with his wife, Lorna, and their family. All those who knew and worked with James miss him dearly.
"We loved the way he made the Cathedral a place of broad hospitality in which the most devoted attender or the one-off tourist were equally welcomed; the homeless person no less than the Queen, the believer and the doubter equally valued. He made it a place where an Imam and a Rabbi chant side by side. He made it a place of reflection in which hard questions could be asked. He made it a place which beat to the rhythm of the fundamentally congenial and courteous heart of Anglicanism and he was able to do so because his heart always beat to that rhythm. We felt that welcome and cherished the close working relationship he built between the University and the Cathedral."
His time at Winchester, before he retired in 2016, was the culmination of forty-six years of ministry during which he notably established a close relationship with Mother Theresa, ran a reggae club, gave children the first holiday they had ever experienced, and took many people on study trips to the Holy Land and Middle East.
James was an accomplished theologian, an expert in the Old Testament. The son of a Wiltshire tenant farmer, James said it was his upbringing that instilled in him both a sense of wonder in the natural order, and a sense of realism in its closeness to the cycle of life and death. It made him ask the question that if the world is really a gift, then who is the giver? And what should our relationship to them be?
We give thanks for his life which was a blessing to so many.
Back to media centre