Research roundup September 2018: Focus on the Faculty of Arts
13 Sep 2018
In this month's research roundup, we look at the Faculty of Arts, with a focus on developing cultural partnerships within the city and region, books published, grants, research studies and expert comments on issues in the media.
Forging new cultural partnerships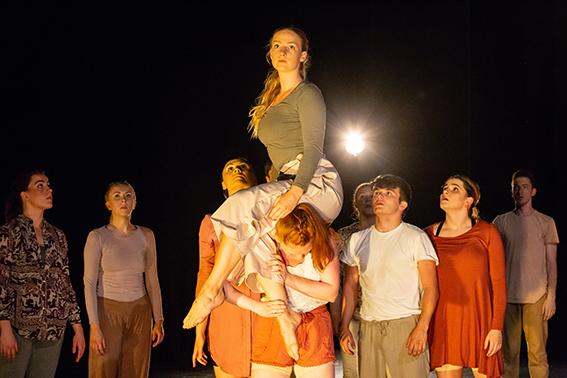 The Faculty of Arts is leading on forging new strategic cultural partnerships on behalf of the University with key arts organisations in the region. The partnerships are set to benefit students and art lovers and audiences in Winchester and more widely in Hampshire, with the University cooperating across a range of artistic and academic areas.
In recent months, the University has signed strategic partnership deals with the Live Theatre Winchester Trust - which incorporates the Hat Fair and the Theatre Royal - Winchester Film Festival, Winchester Poetry Festival and The Point, Eastleigh. The partnerships will boost opportunities for audiences to enjoy and experience the arts and offer Winchester students unique opportunities to get involved behind-the-scenes and undertake work placements.
A five-year residency with Blue Apple Theatre - which works with performers with learning disabilities - has seen the Theatre team move its HQ into the University to work closely alongside Faculty of Arts colleagues.
Winchester graduate's debut novel shortlisted for Richard and Judy's 'Search for a Bestseller'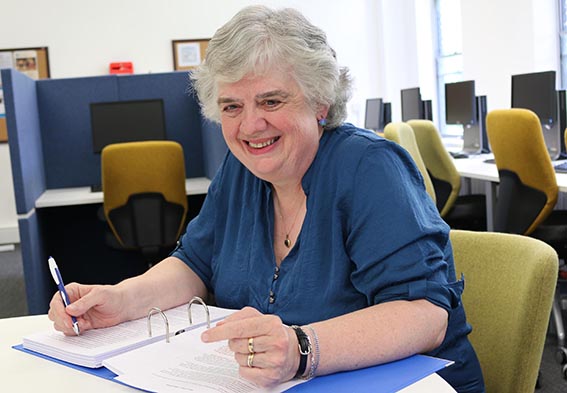 Claire Gradidge is one of five unpublished writers shortlisted for Richard and Judy's third 'Search for a Bestseller' competition, with her historical crime novel Home to Roost. The competition aims to find a first-time author with the potential to become a bestselling writer. The winning novel and author will be announced in January 2019 and will receive a £30,000 publishing deal and get their novel in print. Find out more.
Debut children's novel from creative writing lecturer

(Photo courtesy of Madeleine Vaughan, lecturer in creative writing. Read about Vanessa Harbour's book launch on Madeleine's blog.)
The gripping true story of the rescue of the Spanish Riding School's Lipizzanner horses during the Second World War - known as Operation Cowboy - is the subject of the debut novel by Dr Vanessa Harbour, Senior Lecturer in Creative Writing.
Flight (Firefly Press) is aimed at 8-12 year olds and follows the adventures of two children and their guardian as they battle to transport the horses through the Austrian mountains and Nazi territory to safety. Vanessa signed copies of her book at an official launch at P&G Wells bookshop in Winchester last month (pictured above). The book has received positive reviews, with the New Statesman ranking it among the best children's books of summer 2018. Find out more.
Monographs, books and papers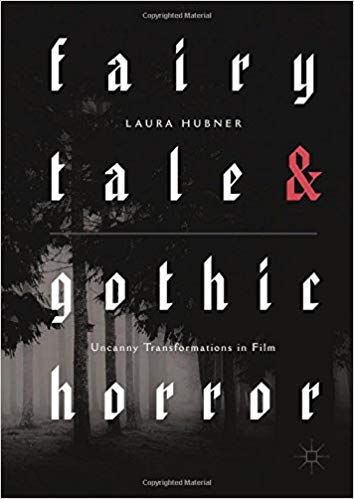 Fairytale and Gothic Horror: Uncanny Transformations in Film (Palgrave Macmillan) by Dr Laura Hubner, Reader in Film and Media, explores the links between fairytale and gothic horror as they are depicted in film and examines fairytale motifs and themes within cinema. Classical and contemporary films analysed in her book include Rebecca, Pan's Labyrinth and American Werewolf in London. Find out more.
Chris Mounsey, Professor of Eighteenth-Century English Literature, Department of English, Creative Writing and American Studies, is the editor of a newly-commissioned monograph series, Peculiar Bodies with Virginia University Press.
The series addresses and questions the body as an historical object of study and as the physical aspect of our experiential lives. The word 'peculiar' has many meanings and the forum created by the Peculiar Bodies series offers a place to examine the many forms of the body - the healthy and the diseased, the athletic and the crippled, the alluring and the pious, the famous and the dispossessed - from all disciplines, all periods and across all geographic contexts. Chris's fellow editors are Carolyn Day, Associate Professor of History at Furman University, and Wendy Turner, Professor of History at Augusta University.
This series links to the conference series which Chris co-organises: the latest VariAbilities conference was held in June at Birkbeck, University of London.
Susmita Bhattacharya, Lecturer in Creative Writing, has just signed a contract with Dahlia Publishing for her debut short story collection Table Manners. The stories explore the diversity in people's mindsets, life stories and heritage and highlight how we are all tied by the same threads to a universal humanity. Find out more.
Lecturer in Creative and Professional Writing Richard Kelly's book Keegan and Dalglish (2017, Schuster and Schuster) was longlisted for The Gordon Burn Prize in May. Richard has been commissioned to write a novel for Faber and Faber to be published in 2020 and is co-editing an issue of Critical Quarterly on Sherlock Holmes.
Dance technique and performance training roundtable looks at impact of major shifts in contemporary culture on dance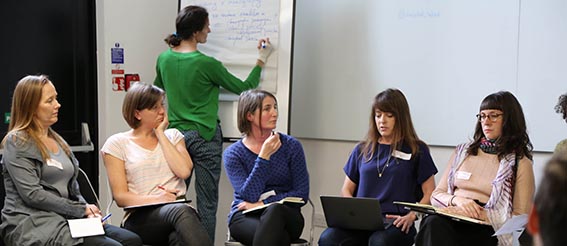 Dr Noyale Colin, senior lecturer in Choreography, and Dr Cathy Seago, programme leader for Choreographer and Dance, hosted a Roundtable on Dance Technique and Performance Training at the University in May, with the Centre for Performance Practice and Research.
This is one of a series of activities which will consider the impact of major shifts in contemporary culture on dance - including the influence of media, and technology on young people.
Cathy and Noyale explained: "This roundtable event began to examine the different approaches to dance training and their relations within and to the wider professional context. An aim of our research is to re-examine technical and performance training in response to the impact of some of the issues pertaining to shifting politics of education, many of which are particular to the UK dance field."
Grant success for John Lee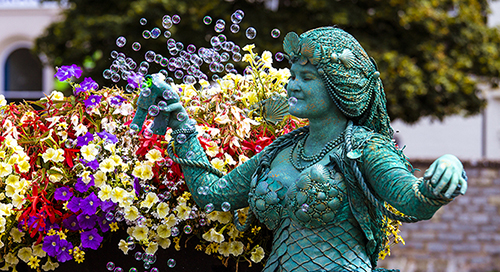 (Photo credit: Gilbert Yates Photography)
Fuse Performance, the not-for-profit arts company co-directed by John Lee, Senior Fellow in the Department of Performing Arts, has been awarded the Taunton Deane Business Creative Industries Award 2018.
Fuse has also won Arts Council England funding of almost £50,000 and been awarded the commission to artistically co-direct Bridgwater Quayside Festivals until 2020 from Sedgemoor Council, along with funding for associated community engagement projects in Somerset and for performances/events throughout Somerset and further afield.
In March, John gave a presentation at the 101 Creation Centre in Newbury, National Centre for Outdoor Arts to leading representatives of the sector in UK and Europe on Higher Education and Outdoor Arts with the director of Fai-ar, National Centre for Street Arts, University of Provence.
Expert comment on musical theatre from Professor Millie Taylor

(Photo courtesy of Martin Nangle)
Professor of Musical Theatre Millie Taylor, acted as a consultant about the current state of British musical theatre and sources of scholarship for an episode of BBC 2s Front Row Late, presented by Mary Beard, which was broadcast in April this year. This followed her interview on BBC Radio 4s Front Row in January this year about the development of musical theatre since the premiere of Fiddler on the Roof in 1964.
Listen to Professor Millie Taylor discussing musical theatre on BBC Radio 4 Front Row on BBC iPlayer.
Teaching award and Visiting Professorship at the University of Costa Rica for Professor Marcus Leaning
Marcus Leaning, Professor of Digital Media Education in the School of Media and Film, has been awarded a National Teaching Fellowship, in recognition of the outstanding impact he has made on student outcomes and the teaching profession in higher education. Find out more on the Higher Education Academy website.
Marcus was also awarded a Visiting Professorship in Information Literacy and Interculturalism at the University of Costa Rica. In August, he ran a number of seminars (pictured above) in Costa Rica as part of this new role.
Conference papers
Dr Dan Varndell, Senior Lecturer in the Department of English, Creative Writing and American Studies, gave a conference paper, Tasting Anthony Hopkins: Serial Cannibalisation in NBC's Hannibal, at the Society for Cinema and Media Studies conference in Toronto in March.
The Misguided Tour performed in Belfast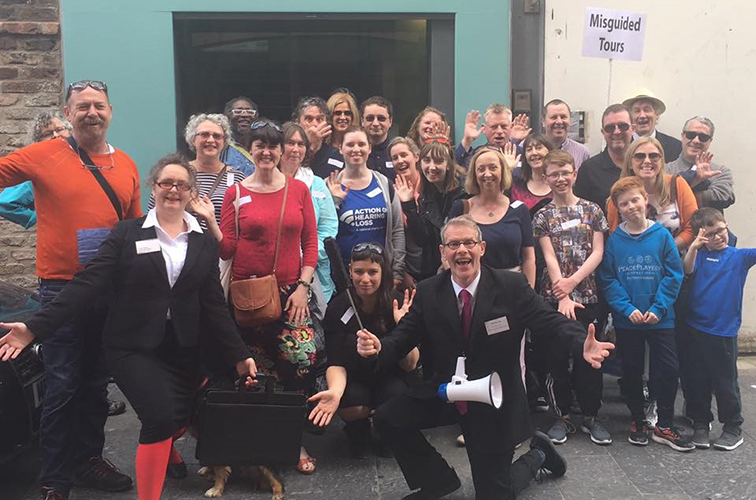 (Photo credit: Sally Mann)
Dr Richard Cuming , Senior Lecturer in the Department of Performing Arts (pictured above centre with the loudspeaker), did six performances of The Misguided Tour with Fuse Performance at the Festival of Fools, Belfast in May. Rewritten for each new space, this semi-improvised tour pastiches the official guided tour giving out both real and fake information and playing with the architecture and history of the city. Participants on the tour become complicit in the tour, performing to a secondary audience who see the tour pass by. Richard was joined by John Lee, senior fellow in the Department of Performing Arts, who co-directs Fuse (pictured back row, far right), and Sally Mann.
More information about the Faculty of Arts
The Faculty of Arts is a vibrant community that offers you a dynamic learning and teaching environment informed by world-leading research and highly creative staff.
We offer an exciting range of study provision in the arts at both undergraduate and postgraduate levels, including a strong community of postgraduate research students.
The Faculty of Arts comprises three academic departments: English, Creative Writing and American Studies, Performing Arts and the School of Media and Film.
Our creative and rigorous programmes provide a hands-on, fulfilling student experience and an outstanding foundation for professional life after graduation. In addition, our research sparks creativity, ignites imagination and unleashes potential. Subject areas include:
American Studies
Creative Writing
English Literature
English Language Studies
Choreography and Dance
DramaMusical Theatre
Film Production
Film Studies
Journalism
Back to media centre