Royal Weddings: Continuity, Change and Controversy
14 May 2018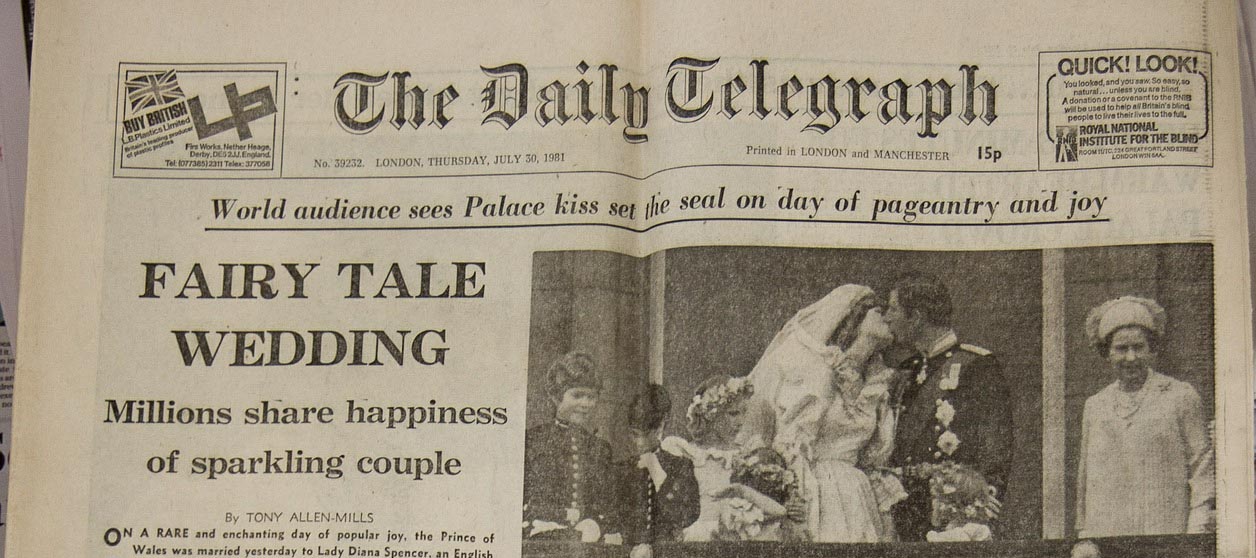 As we look forward to celebrating the Royal wedding at St George's Chapel in Windsor on Saturday 19 May, Dr Elena (Ellie) Woodacre, Senior Lecturer in History at the University of Winchester, explains how the marriage of Prince Harry and Meghan Markle fits comfortably into the long history of royal weddings, despite changes to tradition and protocol.
Since the announcement of Prince Harry and Meghan Markle's engagement in November 2017, there has been a media frenzy around the couple and their upcoming nuptials on 19 May 2018. While there has been much discussion about how the young couple have broken royal traditions with their engagement and wedding plans, it is also important to reflect on how their marriage ties closely in with the wider history of royal weddings.
Foreign royal brides
The bride's foreign status has been the focus of a great deal of discussion, and yet historically, royal brides have often been foreign - their marriages part of wider diplomatic alliances.
Edward IV's decision to marry Elizabeth Woodville, a widowed Englishwoman in 1464 sent shockwaves through the court and upset the 'kingmaker' Warwick who had been negotiating with the French king Louis XI to secure a matrimonial alliance for Edward. Henry VIII chose a mix of foreign and native brides for his six wives - though he famously divorced both of his foreign spouses (Katherine of Aragon and Anna of Cleves).
In spite of Henry VIII's apparent preferences for English brides, the tradition of marrying foreign spouses continued in the royal family for several centuries. For example, of the fifteen children of George III and Queen Charlotte, eight married foreign spouses - only two married within Britain and the remaining five royal children either died young or never married. Eight out of Victoria's nine children married foreign spouses - only Princess Louisa, who married the Duke of Argyll, made a match within Britain.
While the 20th century has seen increasing numbers of native spouses, Meghan will hardly be the only foreign-born member of the younger royal generation. Harry's first cousin Peter Phillips is married to a Canadian, (née) Autumn Kelly.
Royal wedding venues
The choice of Windsor - rather than Westminster Abbey where William and Catherine were married in 2011 - also attracted comment. Yet Windsor is hardly a radical choice: it has served as a frequent venue for royal weddings since the marriage of Edward VIII and Princess Alexandra of Denmark in 1863. In more recent years, Prince Edward and Peter Phillips selected it for their weddings in 1999 and 2008 respectively and Princess Eugenie intends to marry there later in 2018.
Indeed, out of all royal events, weddings are the most varied in terms of where they are celebrated. English kings have married abroad, including Edward I (Burgos), Edward II (Boulogne) and Henry V (Troyes). Richard I married his queen, Berengaria of Navarre, in Cyprus whilst on Crusade.
Within Britain, the choice of location has also been varied. While London sites, such as Westminster and St Paul's Cathedral, where Harry's parents were married in 1981, have been popular, many royal weddings have taken place outside the capital at Canterbury Cathedral, Reading Abbey and, of course, Winchester.
Royal weddings in Winchester
Winchester has been the site of several significant - and even controversial - royal weddings. It was the location for both of Emma of Normandy's marriages: first in 1002 to Aethelred II and then to Cnut in 1017. Indeed, both of these marriages involved an interesting 'foreign' element - when Emma wed Aethelred, she became the first foreign bride for an English king since 856. Her second marriage to Cnut of Denmark in 1017 solidified the foreign king's conquest of England. Emma provided a link to the previous Anglo-Saxon regime, legitimising the new Danish monarch.
The choice of Winchester for Emma's second marriage was an additional means to support her new Danish husband - as a key seat of royal power and the locus for events such as coronations, crown wearings, baptisms and burials for the Anglo-Saxon rulers, it provided a sense of continuity and legitimacy through this connection to royal tradition.
Another ruler who chose Winchester for his wedding for arguably similar reasons was Henry IV, who married Joan of Navarre here in 1403. Henry had come to the throne fairly recently by overthrowing, or usurping, the position of his cousin Richard II in 1399. Returning to Winchester, an ancient site of royal ceremonial, for his wedding was a chance for Henry to place himself and his reign in the context of long standing traditions - connecting himself to his Plantagenet, Norman and Anglo-Saxon forebears, instead of looking like an upstart newly-minted king with a tenuous claim.
Joan was another controversial foreign spouse - the widowed Duchess of Brittany, she brought little in the way of dowry and Henry and Joan's secretly arranged marriage had surprised many. It also angered the King of France who hurriedly seized the regency of Brittany from Joan and sent her across the Channel in the middle of winter to her English husband, once he heard of their betrothal.
A final royal wedding in Winchester - which was also both controversial and politically significant - was Mary Tudor's wedding to Philip of Spain in July 1554. When the possibility that the new Queen was intending to wed Philip, son of the most powerful man in Europe, the Emperor Charles V, became known, there was disquiet as many feared that her marriage could lead to England effectively being ruled by a foreign power. Wyatt's Rebellion played on this fear of Spaniards, but after the rebellion was squashed, Mary continued with her plans to marry Philip.
Winchester also offered the queen the opportunity to link herself with monarchs of the past - she too was a tenuous ruler as the first regnant queen (barring Jane Grey's nine days on the throne). The wedding festivities were an opportunity for Mary to get her subjects 'on side' with the match, through lavish ceremonial and celebrations and also to demonstrate through the careful staging of the event that she was the queen and Philip was her consort.
Tradition and modernity
Perhaps then we can say that Harry and Meghan's wedding reflects the age-old adage of 'something old, something new'? While the royal couple is rightly making updates and changes to tradition, precedent and protocol, their marriage also fits comfortably into the long history of royal weddings. Meghan's foreign nationality gives her something in common with many, even the majority perhaps, of royal brides of the past, while the couple's decision to marry outside of London reflects continuity with royal weddings both long past and in recent years.
For the monarchy to thrive, it is important to get the balance right between tradition, history and dynastic continuity on one hand and keeping up to date and relevant with the modern world on the other.
Harry and Meghan's wedding appears to be the perfect example of getting this balance exactly right.
Back to media centre