Silver accreditation for Winchester's Hedgehog Friendly Campus
30 Apr 2021
The University of Winchester's Hedgehog Friendly Campus team has been awarded Silver accreditation for completing the second stage of a national campaign to make university campuses more hedgehog-friendly. In this blog post, Carol Cook, an alumna of the MSc Animal Welfare, Science, Ethics and Law degree programme (2018-2020) outlines the various initiatives undertaken to reach this milestone.
The Silver accreditation follows the team's successful Bronze accreditation in the 2019/20 academic year. The campaign is funded by the British Hedgehog Preservation Society and is one of a variety of initiatives designed to help Britain's best loved mammal thrive. 2020 saw hedgehogs move onto the Red List for British Mammals meaning the species are vulnerable, with populations continuing to decline. However, campaigns like this are mobilising Hedgehog Champions across the UK to help the hedgehogs.
The Hedgehog Friendly Campus campaign began in 2019. There are over ninety other UK universities involved. Pre-COVID-19, the University of Winchester staff and students had been actively engaged in completing various initiatives in their bid to secure Silver accreditation. However, from mid-March 2020, the campaign necessarily moved online to comply with COVID-19 restrictions. The team utilised social media to continue to raise awareness of the plight of hedgehogs and the University's Grounds and Gardening team managed the campus hedgehog initiatives adhering to COVID-19 rules.
The team completed the following Silver campaign initiatives:
Hedgehog surveys on campus with results logged on The Big Hedgehog Map
Local TV interview with TV Solent featuring the University's Professor Andrew Knight, Head of Grounds, Maurice James and Grounds Team member, Nigel Pook
Local radio interview with Radio Winchester to highlight the plight of hedgehogs and give advice
The University's Chancellor, Alan Titchmarsh lending his voice to the University's campaign by providing advice on how to be a hedgehog-friendly gardener
Forming a partnership between the University grounds teams and our NHS neighbours, Royal Hampshire County Hospital, to make both the University and hospital sites hedgehog-friendly. The hospital and University are bisected by a private road, Burma Road, owned by the Hospital. Thanks to collaboration between the Hospital and University, in March 2021, Burma Road, became the first road in Winchester to install hedgehog road signs. These signs request drivers to drive slowly in case there are hedgehogs crossing.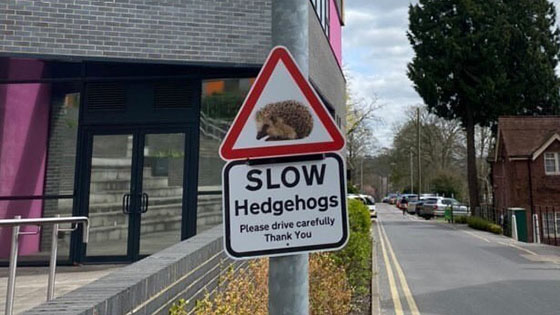 Photos: University and NHS Grounds teams meet pre-Covid to discuss how to make both sites hedgehog friendly and the recently installed hedgehog road signs on Burma Road.
Ongoing management of the University campus by the grounds team to ensure it is a hedgehog and wildlife-friendly campus. This includes maintaining wildflower areas, log piles, native hedging and providing escape ramps in ponds for hedgehogs. Thanks to the national I Dig Trees campaign by The Conservation Volunteers, the Hedgehog Friendly Campus campaign offered the opportunity for University hedgehog teams to receive free native hedging. The University's hedgehog team organised delivery of the hedging, which has now been planted out creating important habitat for visiting hedgehogs.
Creating a legacy to ensure the hedgehog campaign becomes a permanent fixture of University life. This was possible thanks to collaboration with the University's careers team via Career Connect
Winchester Hub students building hedgehog homes for Give it a Go Week.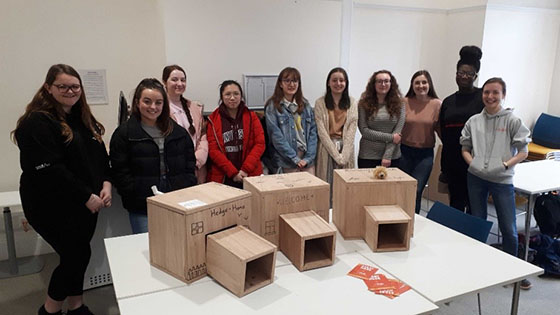 Photo: Students build hedgehog homes for Give it a Go Week in February 2020
And all this hard work is paying off, as photos of hedgehogs visiting several campus locations have been received by the teams social media Twitter account @hogfriendlyUoW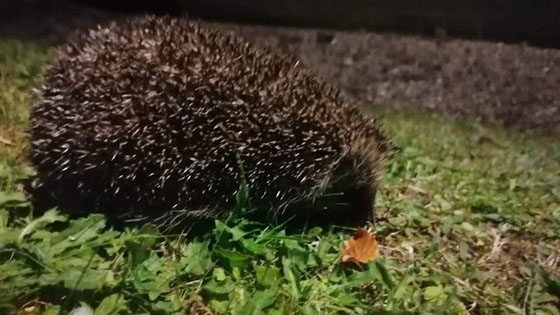 Photo: May 2020: Hedgehog spotted on campus.
Special event
Please join the University's Environment Team for their online Hedgehog Tracking Workshop on Friday May 7 at 10-11am, followed by placement of hedgehog survey equipment on campus. The event will be following guidelines to keep everyone safe in regards to COVID-19.
This event is aimed at all staff and students of the University of Winchester and householders and businesses in the surrounding areas. You must register at this link prior to the event to attend.
The team is now working on their bid for Gold accreditation. For further information on how you can get involved, please check out our volunteering opportunities via the University's Career Connect, here or contact us on Twitter @hogfriendlyUoW.
Press Office | +44 (0)1962 827678 | press@winchester.ac.uk | www.twitter.com/_UoWNews
Back to media centre