Stepping into a world of writing
3 Jul 2018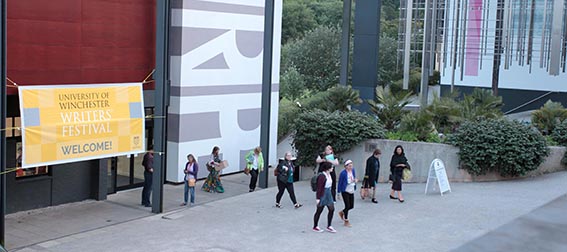 Local writer, blogger and poet, Georgia Guppy, attended the University of Winchester Writers' Festival 2018. In this blog, she shares her experiences of the event and discusses the benefits of networking with other writers and embracing outside feedback.
As a first time attendee of the University of Winchester Winchester Writers' Festival, I was initially nervous about what to expect. I am relatively inexperienced in terms of connecting with other writers and talking about my own ideas, so the prospect of suddenly being among them in their hundreds, as well as industry experts, was a little daunting.
However, as one of ten young people to be awarded a scholarship place, I also felt particularly fortunate to be able to attend the Festival and have the opportunity to benefit from the wealth of knowledge, guidance and support on offer. Most importantly, it is a rare but wonderful event to be among a community of writers, all of whom were present to hone their craft and share their own love of writing.
I soon realised that I needn't have worried for it was apparent on arrival that the Festival would be an immersive and enriching experience. Packed into three days was a varied programme, ranging from talks on how to self-publish and the art of the short story to prose and poetry workshops. Bloggers, poets, authors and would-be novelists all came together and found common ground. In addition to the Festival programme, there were many informal opportunities over the course of the weekend, including open mic sessions, to get to know people better in a different setting and explore more thoughts and ideas.
On the first day I took part in a brilliant life-writing workshop by Cathy Galvin. She created a special, supportive setting within which a small group of people with various backgrounds, interests and experiences in writing were able to connect and share stories. I loved how the session began with her asking us to create a His Dark Materials-inspired 'daemon' (where you visualise your inner-self as taking the form of an animal) for ourselves. It immediately got my imagination racing and was a great way for us to reveal a bit about our inner characters. The intimate but relaxed atmosphere also allowed everyone to open up and share heartfelt words. It reminded me why I began writing and why I have always loved it, for it is a singularly powerful and moving art form.
The Saturday schedule was based around talks led by a range of writers and experts in the literary world. The great thing about being able to select which talks I wanted to attend was that I was surrounded by people who had similar interests to my own. In addition to providing a personal and creative space, the Festival offered events that were informative and instructive, as well as enlightening. I chose to attend a talk on self-publishing, in which I learnt about new and innovative ways that writers can take advantage of new media and utilise less traditional routes to market. For me, this proved that writing can adapt with the rise of modern technology.
Another invaluable experience included in the programme for scholars was the opportunity to book appointments with literary agents. This required me to send in copies of my manuscript and a cover letter a few weeks before the Festival was due to start. I was quite apprehensive about these meetings because it was my first opportunity to talk in detail with an industry expert about some of my most personal writing. Each one was a test of my own confidence in my work, as well as my ability to receive feedback and consider how another person's perspective could offer useful insight and advice on how to improve.
The discussions that I had were immeasurably helpful and I am pleased that they prompted me to reconsider my own work from a critical point of view. Since then I have made edits and redrafts of my manuscript and improvements I could never have managed without their input. From inspiration and original concept to draft and finished piece is just one part of the journey for a writer. In my mind's eye, I can now see the path towards securing an agent and publication and it is one that I am determined to tackle.
After the Festival had come to a close, I will admit I felt slightly adrift. The whole experience had taught me so much and shed light on an industry I previously knew little about. I realised I had much more to learn than I previously thought. But, I realise, this acknowledgement in itself is essential to progressing as a writer, as is finding your own unique voice and refining your skills. Although I came not knowing what to expect - and perhaps at a bit of a loose end with my writing - I left with a head brimming with new ideas and the tools to improve and a firm sense of direction.
Needless to say the Festival has hugely inspired me. It has also given me a lesson in resilience. It reminded me that writing is a discipline that takes time, practice and a lot of careful thought in order to develop and grow. There is always more to explore and learn. No one can say that writing is easy! The human mind is the undoubtedly the most powerful creative force there is: once we realise how to harness that power, the possibilities are truly endless.
Georgia Guppy lives in Winchester. She runs a blog as a dynamic and creative space to share her experiences of mental illness and showcase her poetry, prose, photos, illustrations, videos and reflective experiences. Through this, she hopes to inspire others to think in new ways and pick up a pen to see where it takes them. Visit her blog at www.mindthegaps.blog.
Back to media centre