Student success celebrated and prominent public figures honoured at University of Winchester Graduation 2018
10 Oct 2018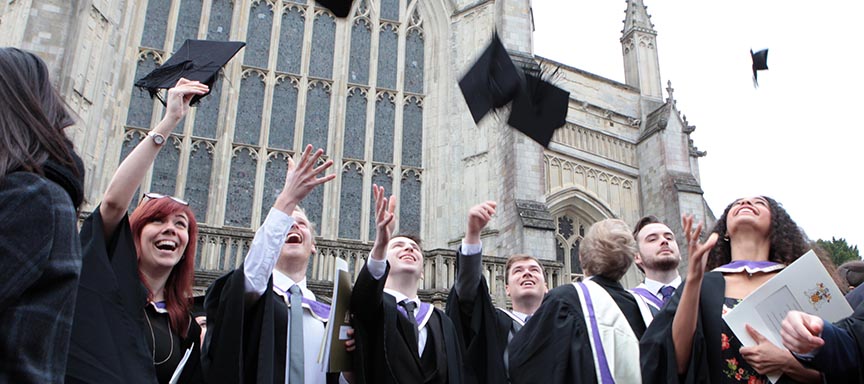 The University of Winchester is celebrating student success and the careers and achievements of prominent public figures - including a former Archbishop of Canterbury and a winner of the Nobel Peace Prize - during Graduation this year (16-19 October).
More than 2,000 students are graduating in Winchester Cathedral in eight ceremonies presided over by Chancellor of the University Alan Titchmarsh MBE DL. The celebrations begin on Tuesday 16 October with a procession from Abbey House to Winchester Cathedral, with civic dignitaries from across Hampshire joining senior staff from the University.
"It is always a pleasure to recognise and celebrate the academic achievements of our students at Graduation," said Professor Joy Carter CBE DL, Vice-Chancellor of the University of Winchester. "We are incredibly proud of our graduates and we wish them the best of luck as they leave Winchester with the knowledge, wisdom and strength to make a real difference in the world.
"It is also a delight to recognise the achievements, distinguished careers and contributions to society of some inspirational individuals with the award of Honorary Doctorates and Fellowships."
Individuals recognised this year have excelled in fields related to the University's values, research and teaching programmes, including the performing arts, journalism, business, education and social work. They include:
The Rt Revd and Rt Hon Lord Rowan Williams of Oystermouth (Honorary Doctorate of Arts for services to the public and social justice) has had an extensive career in academia and ministry. Dr Williams was elected as Bishop of Monmouth and Archbishop of Wales before he became the 104th Archbishop of Canterbury in 2002.
Leymah Gbowee (Honorary Doctorate of Arts for services to social justice) is a Liberian peace activist, social worker and women's rights advocate who was awarded the Nobel Peace Prize in 2011. She is best known for leading the Women of Liberia Mass Action for Peace, a nonviolent movement that brought together Christian and Muslim women to play a pivotal role in ending Liberia's devastating, 14-year civil war in 2003.
Bruce Parker MBE (Honorary Fellowship for services to broadcasting and presenting) is a former BBC news and current affairs reporter, producer and presenter. He was the face of regional news programme BBC South Today from 1967 until 2001 and he presented Nationwide, Badger Watch and Antiques Roadshow.
Other prominent individuals being honoured include:
Sir John Timpson CBE, businessman and owner of Timpson shoe repair business
Honorary Doctorate of Letters for services to business
Louise Shorter, human rights campaigner and director of charity Inside Justice
Honorary Fellowship for services to rights campaigning
Lady Kay Norrington, choreographer and stage director
Honorary fellowship for services to choreography, spirituality and music
Ben Smith, a campaigner for anti-bullying charities and founder of The 401 Foundation
Honorary Fellowship for services in support of mental health issues
Amanda Mackenzie OBE, Chief Executive of Business in the Community
Honorary Doctorate of Letters for services to business
A full list of those receiving Honorary Doctorates and Fellowships this year with short biographies is available here: honoraries_Graduation_2018.
The University will also recognise Jenny Mackereth of The Storehouse with the Community Star Award. The charity, which is based at Winchester Vineyard Church, offers support to families in need of help, providing free clothes, toys, nursery equipment and food bags. The Award highlights the contribution of exceptional community organisations and individuals in Hampshire which share the University's commitment to serving the common good and reflect the institution's values of compassion, spirituality and individuals matter.
Programme of Ceremonies for Graduation 2018
The Graduation 2018 procession from Abbey House to Winchester Cathedral starts at 10.15am on Tuesday 16 October.
Tuesday 16 October at 10.30am
Faculty of Humanities and Social Sciences Ceremony I
Honorary Fellow: Bruce Parker MBE
Tuesday 16 October at 2pm
Faculty of Humanities and Social Sciences Ceremony II
Honorary Fellow: Louise Shorter
Wednesday 17 October at 10.30am
Faculty of Business, Law and Sport Ceremony I
Honorary Doctorate: Barry Cunningham OBE
Wednesday 17 October at 2pm
Faculty of Business, Law and Sport Ceremony II
Thursday 18 October at 10.30am
Faculty of Education, Health and Social Care Ceremony I
Honorary Doctorate: Leymah Gbowee
Honorary Fellows: Ben Smith and Lisa Willis
Thursday 18 October at 2pm
Faculty of Education, Health and Social Care Ceremony II
Honorary Doctorates: Most Revd Rowan Williams and Howard Horstead
Honorary Fellow: Stephen Baldwin
Friday 19 October at 10.30am
Faculty of Education, Health and Social Care Ceremony III and Faculty of Arts I
Honorary Doctorate: Amanda Mackenzie OBE
Honorary Fellows: Wendy Allsop and Lady Kay Norrington
Friday 19 October at 2pm
Faculty of Arts II
Honorary Doctorates: Sir John Timpson CBE and Bill Nelson
Back to media centre