Student wellbeing and waste reduction initiatives on agenda for Lib Dem leader on fact-finding visit
12 Mar 2019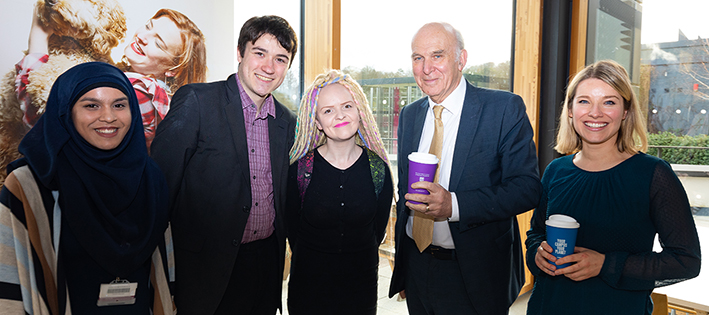 Sir Vince Cable MP, Leader of the Liberal Democrats, visited the University of Winchester on 7 March to meet students and staff and find out more about the University's pioneering student support and environmental initiatives.

Marking University Mental Health Day, Sir Vince also met Acting Director of Student Services Lesley Black and members of her team who showcased the support offered to students as part of the University's mental health action plan. Services include counsellors and mental health advisers working with students in groups and on a one-to-one basis, a student listening service and also support offered in partnership with Winchester Student Union, such as a Nightline service and Look After Your Mate (Student Minds) scheme, which trains students to support friends who may be having difficulties.
A Student Recharge Day run by Winchester Student Union saw free special wellbeing activities on campus on Thursday, including head massages, smoothies and therapy dog sessions. During his visit, Sir Vince met therapy dog Scout and her owner Liz Chamberlain.
Environment Officer Liz Harris and students outlined to Sir Vince a number of recycling projects aimed at reducing waste on campus, including the award-winning scheme which has seen numbers of disposable coffee cups reduce dramatically since it was introduced in 2016. A 25 pence surcharge on all hot drinks bought in a disposable cup has resulted in more than 85,000 disposable cups being saved and 33 per cent of hot drinks now being bought in a reusable cup since the scheme began. To further reduce disposable cup waste, the University has given away 10,500 reusable 'Gumdrop' cups made of recycled chewing gum to staff and students as part of the scheme. Sir Vince was given his own cup to take away.
Sir Vince said: "What I saw today was some really innovative work around environmental initiatives and saving on plastics. The University has a very deep commitment to environmental values - it's pretty impressive. There is also a very committed team who are doing wonderful work giving one-to-one support to students with mental health issues."
Photograph above shows (left to right): Maisha Islam (Centre for Student Engagement); Sam Jenkins (Winchester Student Union Volunteering and Community Officer); Sarah Buck (Winchester Student Union Ethical and Environmental Officer); Sir Vince Cable MP, and Liz Harris (Environment Officer). Photo by Adrian Brophy, xtrashot Ltd.
Press Office | +44 (0) 1962 827678 | press@winchester.ac.uk | www.twitter.com/_UoWNews
Back to media centre