Sustainable and nostalgic: taking a backwards glance at fashion
23 Apr 2020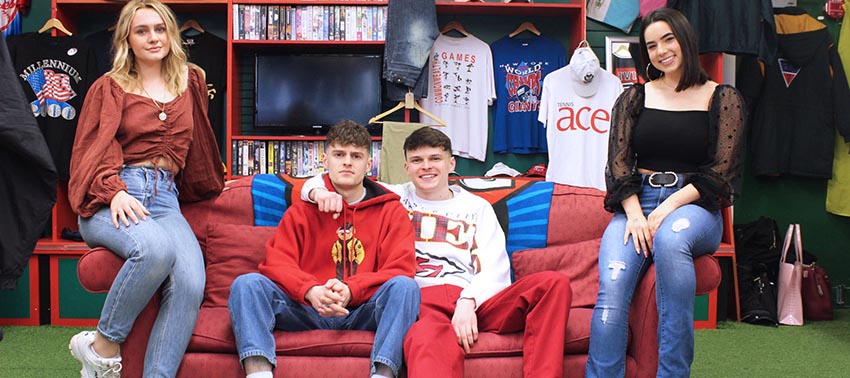 To mark Fashion Revolution Week 2020, BA (Hons) Fashion Marketing students Natasha Coe and Caitlyn Raymond interview the Edwards brothers, entrepreneurs of 1999 Vintage.
Favourites amongst last year's Winchester Fashion Week, the 80s, 90s and noughties inspired duo Harry and Jack Edwards never imagined having a business on the rise in the midst of Winchester; where people go to not only be sustainable, but get a sense of nostalgia. Although their shop in Winchester's Brooks Shopping Centre is currently closed due to the coronavirus pandemic, the brothers discuss their journey from students to sustainable influencers with Natasha Coe and Caitlyn Raymond, both studying BA (Hons) Fashion Marketing.
So Harry, you're a University of Winchester student, do you feel the BA (Hons) Fashion Marketing course has helped prepare you for building 1999 Vintage?
Harry: I do feel it has helped me just for the basic knowledge of sustainability; I got a lot of help in terms of sustainable fashion. We knew it was sustainable to buy second-hand clothes, but we didn't really know the reason behind it. I got a lot of inspiration for the modules that I took, and without Sam (Dr Samantha Lynch, BA (Hons) Fashion Marketing Programme Leader) we wouldn't have been able to have had the opportunity at last year's Fashion Week. She had a lot of experience and gave us good ideas: you can't go wrong with asking for advice from someone who has experience.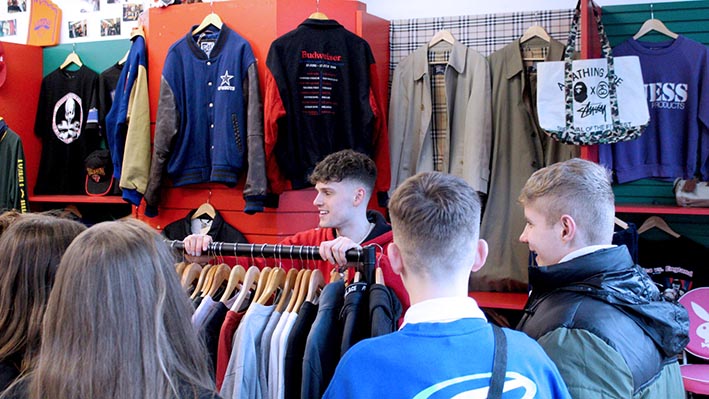 How did you manage your studies while starting up the business?
Jack: Yeah Harry... how did you manage your studies?
Harry: Managing studies... was difficult for me, to be honest I was buying clothes in class on eBay... but that's what I needed to do to realise what I wanted to do with [the Fashion Marketing course]. It helped me realise that it could actually happen: without the course it would have taken three or four more years for us to actually have a shop.
Why build your foundation for 1999 Vintage in Winchester?
Harry: It was fluked that we had the shop in the first place. It just so happens that we are the only vintage retailer in Winchester: there are no other places for youths to generally buy items apart from New Look, TK Maxx - but it's New Look and TK Maxx.
Jack: There was a big enough market individually, especially in comparison to somewhere like London; I think we would thrive now, but when we started we would have really suffered. We are definitely thriving more so now in Winchester.
Harry: Winchester is just -
Jack: It feels right.
Anything you want the readers to know about 1999 Vintage?
Harry: There are three people in the business: our mum Berni Edwards is a full time charity shopper in Hertfordshire. She covers shifts and brings clothes, that's something that's always missed out.
Jack: The fact that it's family run.
How did you get involved with the business, Jack?
Jack: I suppose just by default. I was doing a lot of charity shopping whilst up north, helping Harry out taking pictures. After studying a Criminology and Human Drug degree at Keele University, I trained as a psychologist and got offered a job.I got the job in the prison the same week that we got the pop up for Winchester Fashion Week 2019 then they offered us it for a six-month trial.
Harry: When Jack was moving from Stoke, Berni was in a full time job too, so she sacrificed her job and sense of security to work for an estimated salary: she's found some of the best pieces that have come to this shop.
Why did you decide to open a physical store alternatively to Depop and ASOS Market Place?
Jack: This was one of those situations where the online world wasn't doing as well for us: ASOS wanted 20% of every item we sold and a monthly fee.
Harry: [When] you buy a second-hand item online, you really don't know what condition it's going to come in, especially vintage items; it might have shrunk or have stretched. Communication with customers is so much better: we get to tailor it to people who come in. We're a buy-sell-trade now.
Jack: We were relying 100% on charity shops, carboot sales and online; now we have people coming in, selling to us. People always ask where we get stock from and I think the balance is shifting.
Harry: Like 50% charity shops, 50% people bringing things in: our clothes we've got compared to last year are so much better.
Jack: I don't know how we refined it, but arguably some of our least desired items made up a lot of our main stock before, whereas now -
Harry: This is what we saw on Instagram and wished we had.
Jack: Without the buy-sell-trade concept, we wouldn't have this.
Does sustainability generally play a really big part in your business?
Harry: The biggest. We're currently planning our own brand: we're collecting blank t-shirts from the 90s and 80s and we're going to have our brand on them. The best thing is that the t-shirt isn't going to come in multiple sizes, everyone's going to have their own version of the brand.
Jack: Means you can't mass produce them, we're only a shop, you know?
Harry: We both don't wear new clothes, which is the second biggest of polluters. We just have second-hand in our wardrobe. It's all about sustainability for us and cool clothes, because it works hand-in-hand really.
Do you think people are going back to 90s/80s clothing at the moment?
Harry: They miss it! It's nostalgic! Even us, our childhood was 2000s, we watch stuff we watched when we were younger because right now, probably subconsciously, we hate the way everything is. Best story is a lady who came in and saw a - Walkers?
Jack: Yeah, Walkers Crisps! Basically, you had to buy a certain number of Walkers back in '94. Each packet came with a code you sent off to Walkers and they gave you a free t-shirt! We had one of those t-shirts in here, a Tasmanian Devil one, and she'd had that exact t-shirt; her mum threw it away. She loves Tas so much, had a tattoo and everything, she bought [the t-shirt] from us. That was nostalgic for her.
Harry: I think people are subconsciously thinking about the past.
Jack: It's like a defence mechanism isn't it, retreat to what you know.
Harry: Thing is, Jack and I didn't grow up in the 90s. This is the closest we're ever going to get.
Jack: The only thing we have that we'd just about get away with - it wasn't 90s though it was noughties, 2004. There's a picture of us both wearing the England football shirts, we both have one of them.
Harry: We upload this stuff to Instagram 'cause it's nostalgic for us.
In a world where fashion is amongst top polluters, take time this week to appreciate a bit of nostalgia; while admiring what is new also admire the artistry of what we had, you might unknowingly contribute to a sustainable future.
Follow 1999 Vintage
Youtube: 99 Vintage
Instagram: @99vintage_winchester
TikTok: 99Vintage
Location: The Brooks Shopping Centre, Middle Brook St, Winchester SO23 8QY
This interview was originally due to appear in the Winchester Fashion Week 2020 programme. Unfortunately, this year's event, which is organised and hosted by Winchester BID, has been cancelled because of the coronavirus pandemic.
Image above shows (left to right): Natasha, Harry, Jack and Caitlyn.
Press Office | +44 (0) 1962 827678 | press@winchester.ac.uk | www.twitter.com/_UoWNews
Back to media centre