The benefits of music in care homes is focus of new research study
4 Jan 2018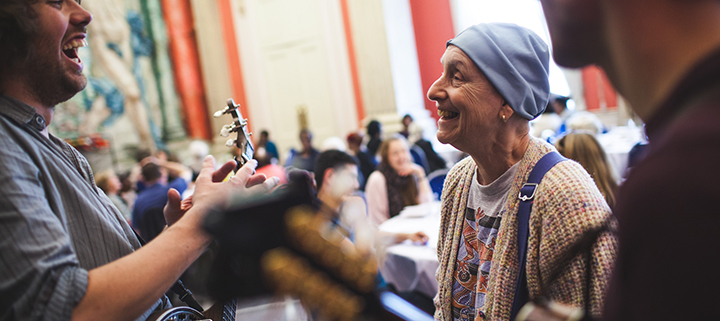 The University of Winchester is a partner in an innovative project running in six care homes around the country to study the effects of music on both older people - especially those with dementia - and members of staff.
The project sees between ten and 20 weeks of interactive and creative music sessions led by specially-trained professional musicians take place in homes in Penarth, Bath, Cheltenham, London and Whitstable up to March 2018.
The Centre for the Arts as Wellbeing at the University of Winchester is evaluating outcomes to see whether the happiness of residents and staff improves as a consequence of the sessions. The project is also designed to enable staff to continue to bring more live music and music making into the care homes after the project finishes.
Led by charity Live Music Now (LMN), Sound Sense and Canterbury Christ Church University, the project is based on growing evidence for the psychological, physical and social benefits of live music and singing for people who live and work in care. Research shows it can help with chronic respiratory illness, Parkinson's disease and dementia, for example.
Dr David Walters, Head of the Centre for the Arts as Wellbeing, said: "This project is a wonderful opportunity to understand what impact regular, high-quality music and singing activities might have on the overall happiness of both staff and residents working and living in care homes.
"We know that music therapy is of enormous benefit to people with dementia. We will be evaluating the experiences of participants and exploring the social, emotional and cognitive benefits of music and singing in care homes. The results will feed into the development of effective arts and music interventions for patients and carers."
Winchester's Centre for the Arts as Wellbeing research encompasses music, performance, dance, movement, literary, visual and other art forms. The Centre hosts a broad research programme that explores the impacts of arts and culture on health and wellbeing.
The Centre undertook an early pilot in this area of research looking at the effects of a ten-week music programme in an NHS hospital, including its impacts on the wellbeing of patients, carers and staff and on the ward environment. The results were published in the Dementia Journal and the International Journal for Arts and Health.
Consortium leader Evan Dawson of Live Music Now says: "We are all living longer lives, which should be celebrated, rather than feared. Later life should still be a time of exploration, creativity and happiness, even whilst living with dementia. The evidence we have seen demonstrates that music is an incredibly effective tool to achieve this, if it is done well. It needn't be expensive, and everyone can benefit, including care staff and families. There's nothing else like it."
Andrea Sutcliffe, Chief Inspector of the Care Quality Commission, said: "Creativity and innovation are key ingredients in outstanding care homes, and regular singing and live music activities can help care homes positively address all five key questions our inspectors ask of care homes."
The other partners in the project are MHA and The Orders of St John Care Trust (OSJCT), which run the homes where the music activities are taking place.
The project is part of an ambitious national initiative, A Choir in Every Care Home, which was a finalist at the Royal Society of Public Health Awards 2017 and is funded by the Baring Foundation and the Libor fund.
It has also created a set of free resources to inspire and support care homes to engage with music.
(Photo by Ivan Gonzalez courtesy of Live Music Now)
Back to media centre