The past is the future for Winchester classical studies graduate
8 Nov 2017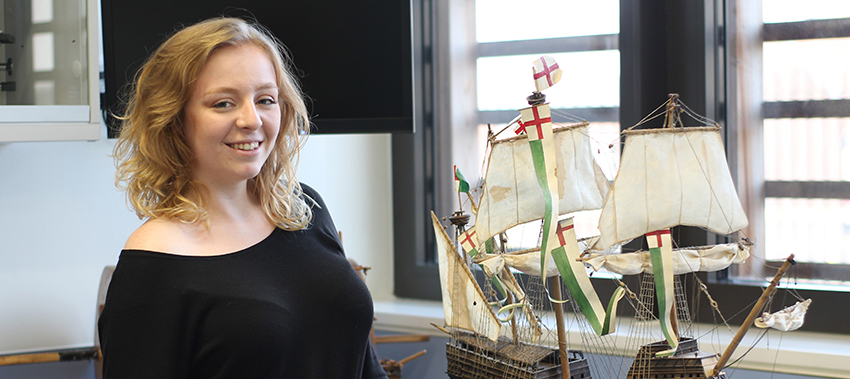 A University of Winchester graduate is gaining experience delivering educational activities and workshops for adults and children of all ages at the internationally-renowned Mary Rose in Portsmouth Historic Dockyard.
Natalie Bartlett graduated last month with a first class degree in Classical Studies and is undertaking a seven-month paid internship as Graduate Museum Learning Trainee supporting the Mary Rose Learning Department. The internship is sponsored by the University.
At the Mary Rose, Natalie works with the Learning Department to support delivery of activities and sessions which cater to a diverse audience ranging from primary history and STEM (science, technology, engineering and mathematics), to GCSE, A Level and university students.
She also works with the Learning Officers to develop learning aids and activities to create fun and inclusive workshops. In addition to this, Natalie has taken a keen interest in promoting the Mary Rose Learning Department on social media and hopes to help expand their online presence throughout her internship. She has also gained hands-on experience leading family activities during half term. During her placement, Natalie is also developing a wider insight into the operation of the Mary Rose Trust by working with different departments including front of house, retail, and events.
"I feel incredibly privileged to be working in such a renowned Museum where education is highly valued," said Natalie. "Currently, I'm really enjoying delivering sessions which have taught me a lot about teaching for different audiences. From my studies, I already had a passion for history and archaeology, but this internship allows me to develop the skills I need in order to share my enthusiasm with hundreds of people. Hopefully, this internship will enable me to continue teaching in museums in the future. I am very grateful to the staff and volunteers for their support and knowledge."
The Museum houses the famous Mary Rose warship which was built in 1510 for Henry VIII. In 1545, she sank after 34 years of service, before being re-discovered and then raised from the seabed in 1982. The Mary Rose is now on display, along with many thousands of her artefacts.
"We are passionate about equipping our students with the skills and experience they need to progress to fulfilling and successful professional careers once they graduate - this is why around 94 per cent of our graduates are in work or further study six months after leaving us ," said Professor Joy Carter, University of Winchester Vice-Chancellor.
"We are fortunate to have developed some fantastic partnerships with employers locally and around Hampshire, including the Mary Rose. These partnerships offer our students and graduates placements and internships, giving them invaluable work experience, new contacts and opening up job opportunities. It also means that our students and graduates have an opportunity to give something back to our local communities - which is something we are deeply committed to as a university. We wish Natalie every success in her new role."
Helen Bonser-Wilton, Chief Executive of the Mary Rose Trust, is delighted to have Natalie on board: "Learning is a vital part of our work at the Mary Rose. We need staff who are passionate not only about history and conservation, but also about engaging others whether that is school groups, academics or individuals.
"We greatly value our partnership with the University of Winchester which allows our Learning Team to share their expertise with a graduate trainee. It is a fine example of a partnership between a university and an independent charity. We hope that Natalie will thoroughly enjoy her time at the Mary Rose and that this opportunity will act as a springboard for her future career path."
Back to media centre