University celebrates Queen's Baton Relay in Winchester
8 Jul 2022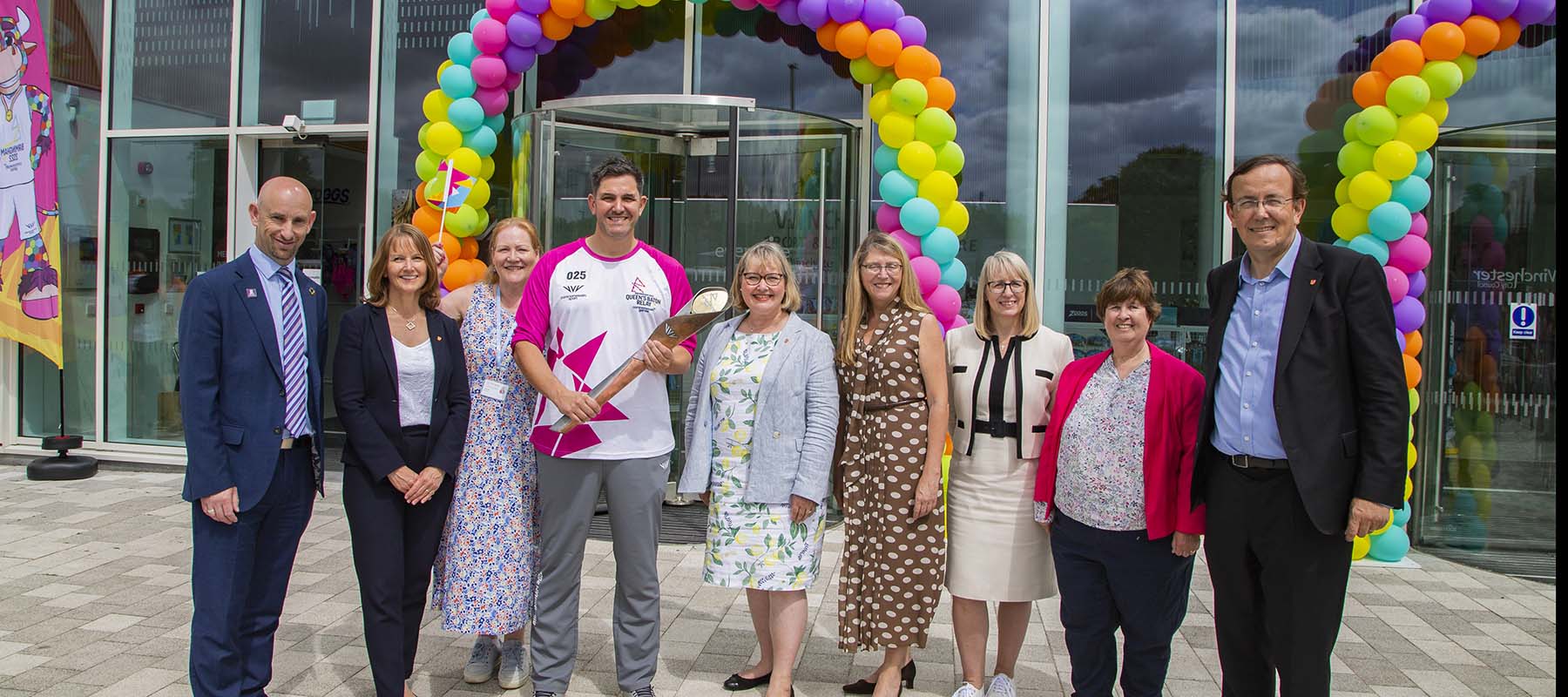 The Queen's Baton Relay visited Winchester on 6 July, as it progressed its journey across the nation on its way to Birmingham after a 254-day journey spanning the Commonwealth totalling more than 140,000 kilometres.
Baton bearers ran a lap of the athletics track at the University of Winchester's Sports Stadium at Bar End accompanied by local primary school children, having earlier arrived at the adjacent Winchester Sport and Leisure Park.
Schoolchildren and local residents lined the approach to Winchester Sport and Leisure Park, as the Baton was greeted by music from the Roynon Performing Arts Club Swan samba band. Blue Apple Theatre group gave the crowds a performance to remember as the Baton made its way around the University of Winchester's athletics track.
Helen Thomas, Sports Facilities Development Manager at the University of Winchester said: "It has been a pleasure to help organise and hold this great community event at The University of Winchester Sports Stadium. Hosting the Commonwealth Games Queens Baton Relay was a huge honour and showcased the fantastic sports facilities that Winchester has to offer. Providing local school children with the opportunity to try some of the Commonwealth Games sports would hopefully have inspired them to potentially be the next generation of sports stars.
"We look forward to working with Everyone Active and Winchester City Council for more community events, and in the meantime The Winchester Sports Stadium remains a community facility and open to all."
Baton bearer Jordan Wylie said: "What an absolute privilege and an honour to be a part of it, especially with so many children out here as well because for me that's what it's all about - inspiring the next generation."
Everyone Active, in partnership with Winchester City Council and the University of Winchester, organised a Commonwealth Games-themed sports festival with over 100 children involved from seven local primary schools - All Saints, Stanmore, Weeke, Winnall, Owslebury, Harestock and St Peters.
The children sampled a range of Commonwealth sports with coaches from Winchester and District Athletics Club (WADAC), Hampshire Cricket, Hampshire Squash, Peter Symonds College Rugby Team, and Everyone Active staff delivering a variety of sports sessions. They then had the opportunity to follow the Baton as it made its way around the athletics track.
Chloe Davanna, Active Communities Manager at Everyone Active, commented:
"It was really special to see the children complete a lap of the track with the Baton - a memory I'm sure they'll never forget!
"It was also fantastic to see so many children of different abilities enjoying physical activity and getting involved in our commonwealth sport taster sessions.
"We hope that the day encouraged participants to challenge themselves and try something new."
Cllr Lucille Thompson, Winchester City Council's Cabinet Member for Business and Culture, attending the Winchester Sport and Leisure Park event, said: "It was a great pleasure to welcome the Queen's Baton Relay to Winchester today. This has been a fantastic opportunity for the local community to come together and share in the excitement of this historical moment creating fond memories which will no doubt last a lifetime.
"A huge thank you must go out to everyone who has been involved in this wonderful event, it has been a marvellous success and a great honour for our district to be part of the Queen's Baton Relay.
"I know my colleagues also enjoyed welcoming the Baton to Hambledon - what a day for our district."
The next stop for the Baton was Broadhalfpenny Down Cricket Ground, where it took in tour of the outfield before stopping in at the Bat and Ball pub to be greeted by players and spectators.
Press Office | +44 (0) 1962 827678 | press@winchester.ac.uk | www.twitter.com/_UoWNews
Back to media centre