University of Winchester bids warm farewell to Chancellor Alan Titchmarsh
13 Dec 2021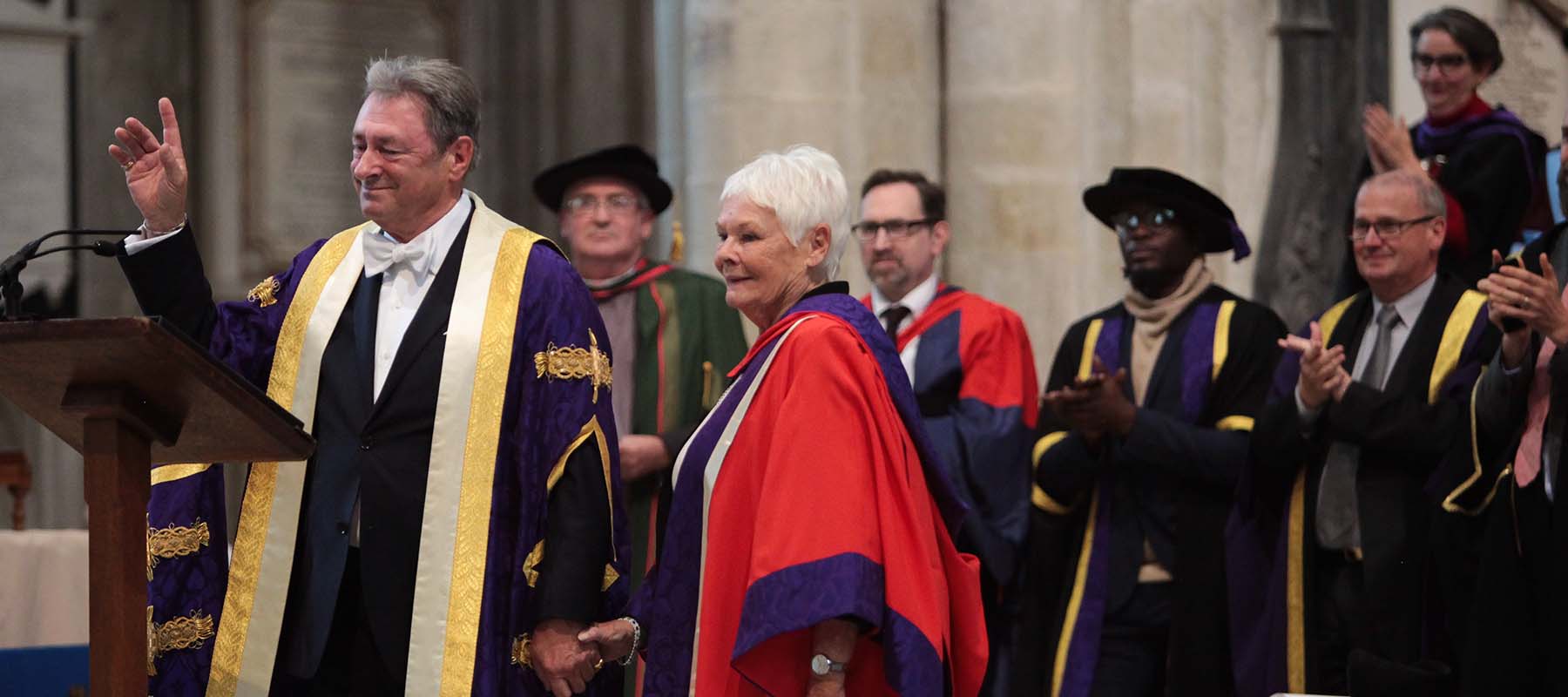 The University of Winchester has bid a warm farewell to Alan Titchmarsh MBE VMH DL, who has come to the end of his term in office as its Chancellor after six years.
The broadcaster and writer has been a dedicated and much-loved Chancellor of the University of Winchester since he was installed in the role in 2015. Over the last six years he has shaken the hands of tens of thousands of University of Winchester students at Graduation ceremonies in Winchester Cathedral.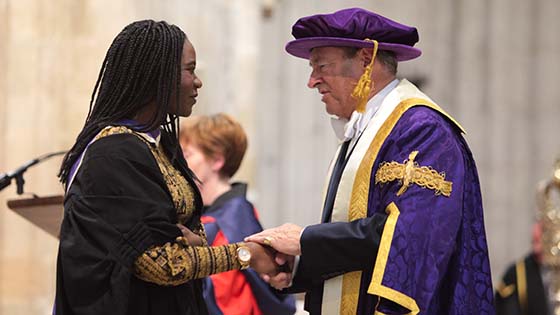 He has also bestowed honorary degrees on a host of inspirational individuals in recognition of their achievements, distinguished careers and contributions to society. These include actors Dame Judi Dench, David Suchet, Hugh Bonneville and Tommy Jessop; choreographer Craig Revel-Horwood; novelist Bernard Cornwell; England rugby coach Eddie Jones, and Carolyn Fairbairn, former Director General of the Confederation of British Industry.
"Being Chancellor of the University of Winchester has been one of the most rewarding experiences of my life," said Alan.
"The enthusiasm of the students, the wisdom of the teaching staff and the friendship offered by two Vice Chancellors has enriched my life beyond measure. I am honoured to have been asked to become Chancellor Emeritus, which will allow me to continue my association with a University whose values I share and of which I am enormously fond."
The Reverend Professor Elizabeth Stuart, Vice-Chancellor of the University of Winchester, said: "The University of Winchester could not be more grateful to Alan Titchmarsh for being such a committed and enthusiastic Chancellor. Over six years he has greeted thousands of students at our graduation ceremonies and you only have to observe their faces to see how much they enjoy meeting him. He takes time to talk to every single one of them. Alan really cares about the University, its students and staff. We shall miss him, but he will always be part of our University family as Chancellor Emeritus."
During his time as Chancellor, Alan also introduced Freedom in a Fractured World: Sustaining the Legacy of Nelson Mandela, a major conference at the University in September 2018, one of a quartet of major conference events which took place in the USA, Kenya and South Africa as part of high-profile celebrations to mark the 100th anniversary of the birth of the inspirational South African leader.
In December that year, he shared his advice for making the most out of life and being inspired to live life to the fullest at a special Christmas lecture for young people, their families and members of the local community.
He also 'broke ground' and 'topped out' the University's landmark teaching and learning building, the West Downs Centre, which was completed in 2020.
The University has begun the process of appointing a new Chancellor and expects to have a new Chancellor by summer 2022.
Press Office | +44 (0) 1962 827678 | press@winchester.ac.uk | www.twitter.com/_UoWNews
Back to media centre