University of Winchester Class of 2022 celebrate success at Graduation
28 Oct 2022
Over 2,000 University of Winchester students celebrated their academic achievements with their families and friends at Graduation ceremonies at Winchester Cathedral this month (18-21 October).
There were 12 ceremonies during the week, attended by more than 10,000 guests.
In addition to the 650 postgraduate students taking part in the ceremonies, 1500 undergraduate students - including the first cohort to graduate from the University's Nursing degree programmes - joined the University alumni community.
The University of Winchester's Vice-Chancellor, Professor Sarah Greer said: "It was a real honour to celebrate their success with our students and to see such pride and happiness in the faces of their friends and family. It was a very special week and an event that I hope our students will always remember as they embrace the next chapter in their lives. They will always be a part of the University of Winchester community as our alumni."
"We also welcomed a number of outstanding honorary doctors and fellows to the University community and it was a real privilege to meet them and be inspired by them."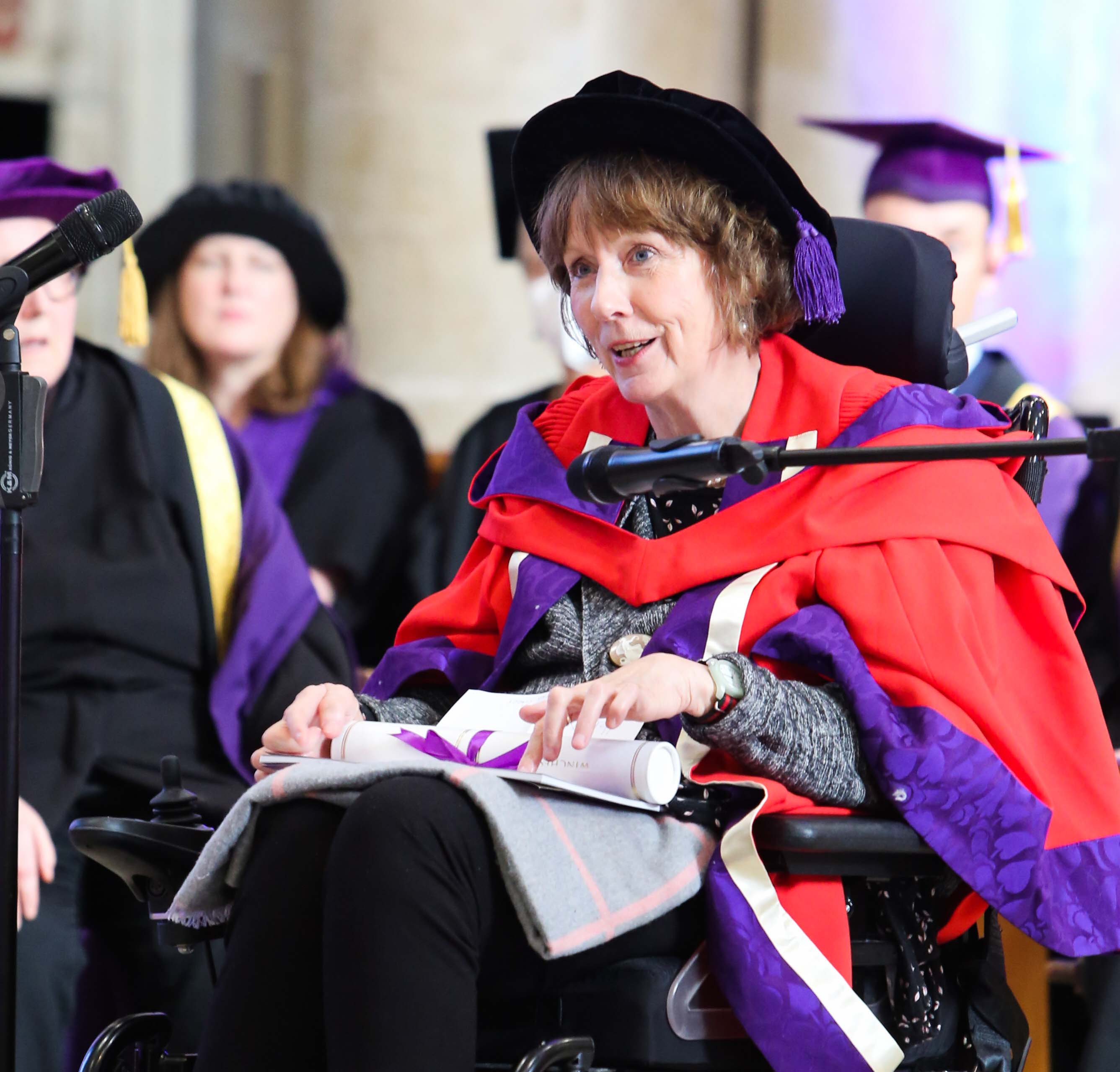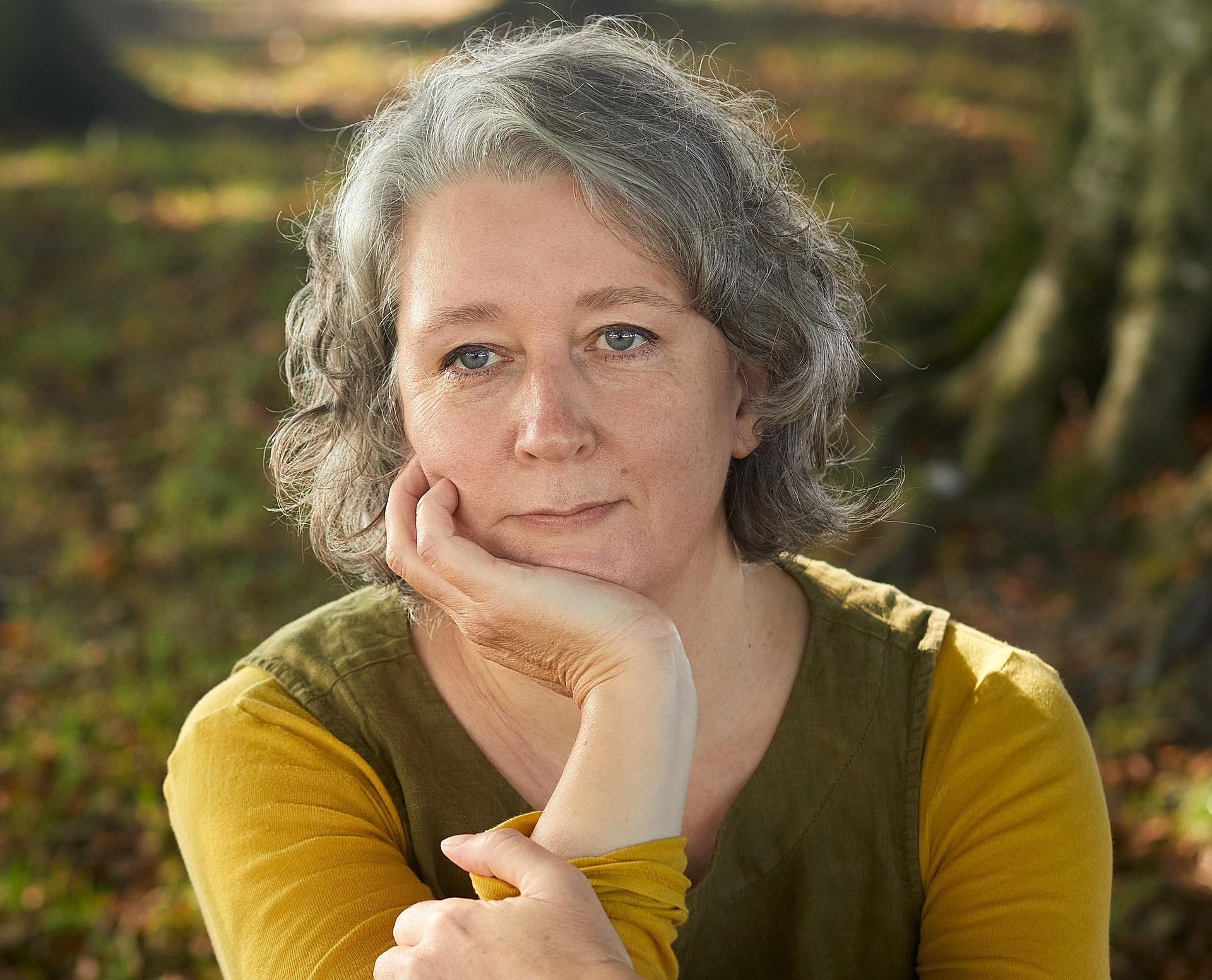 Award-winning journalist Melanie Reid MBE (pictured top above), Winchester-based novelist and former graduate of the University Claire Fuller (pictured above), and British Paralympian Aaron Phipps MBE(pictured below with Vice-Chancellor Professor Sarah Greer) all received Honorary Doctorates.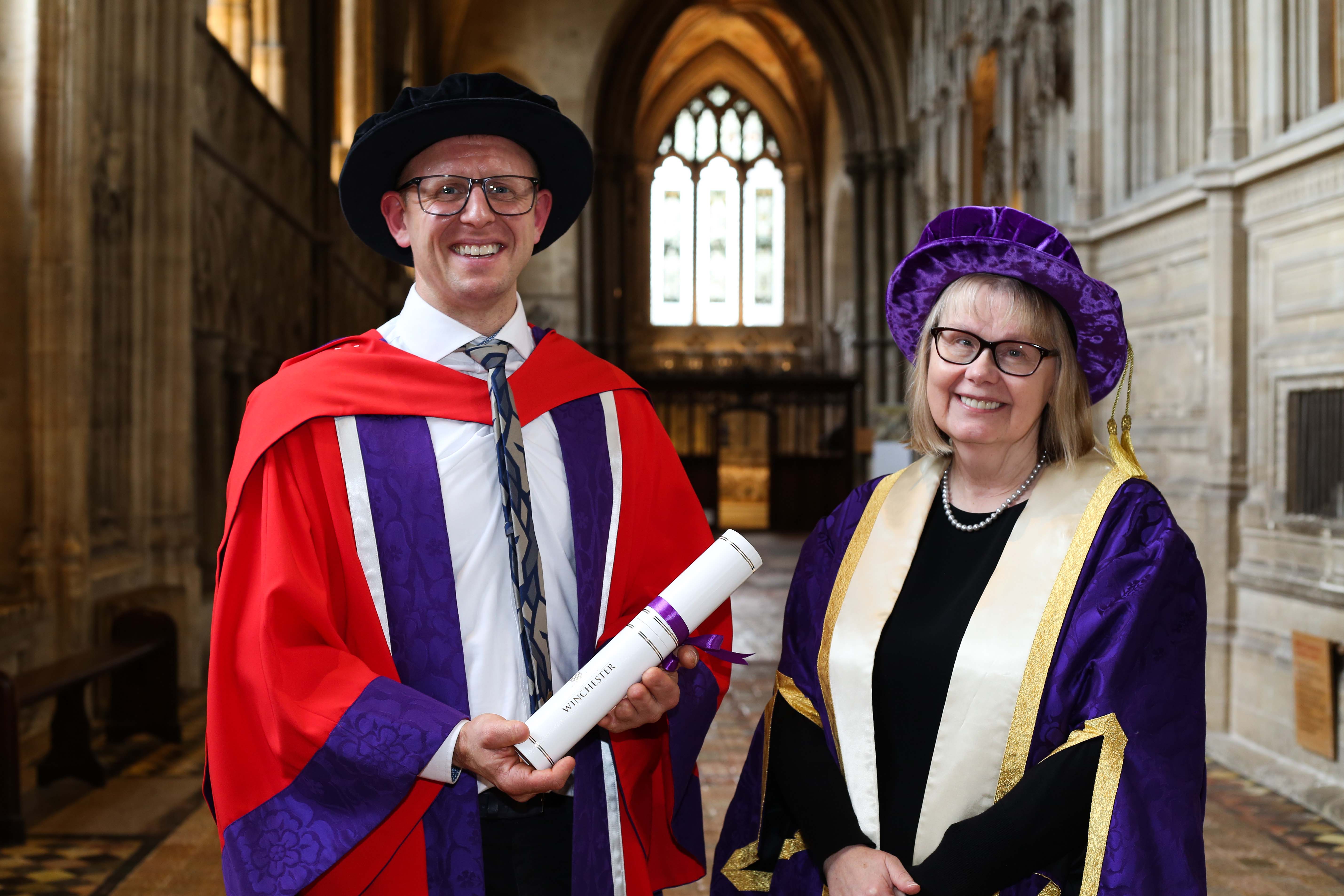 Among those receiving Honorary Fellowships were Beccy Read, Winchester-based music therapist who founded the charity Key Changes Music Therapy, Georgiana Robertson, Chair Emeritus at Blue Apple Theatre (oictured below), and Morgan Lloyd-Malcolm, award winning playwright and screenwriter who is best known for the theatre show Emilia.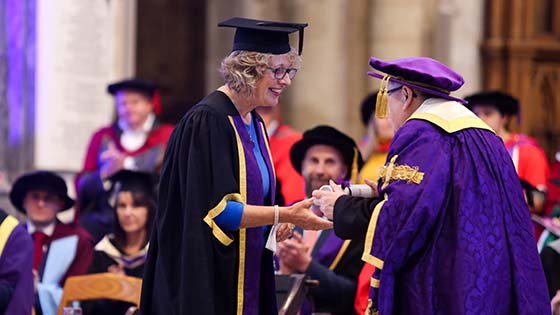 The Pro-Chancellors for the ceremonies were: The Reverend Professor Elizabeth Stuart, Deputy Vice-Chancellor and Provost; Mary Edwards, Chair of Governors; Andrew Robinson, Vice-Chair of Governors and Alan Titchmarsh, Chancellor Emeritus.
The full list of University of Winchester Honorary Graduates 2022 is: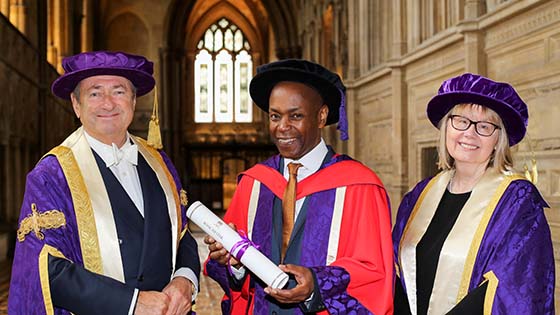 Composer Philip Herbert with Professor Sarah Greer and Chancellor Emeritus Alan Titchmarsh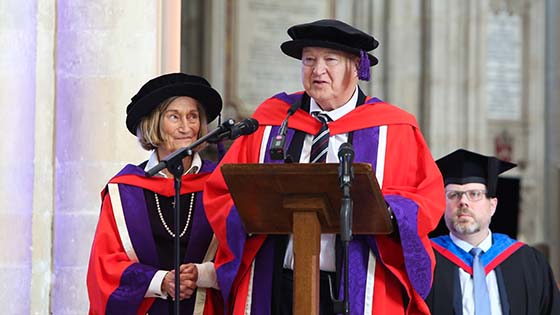 Carol and Paddy Henderson
Honorary Doctorates
Professor Emeritus Joy Carter CBE, DL, Vice-Chancellor of the University of Winchester 2006 - 2021
Sir Akhlaq Choudhury QC, High Court judge who became the first British-Bangladeshi and Muslim to be appointed to the High Court of Justice in 2017
Claire Fuller, novelist and short fiction writer and University of Winchester graduate
Carol and Paddy Henderson, founders of the Trussell Trust network of food banks
Philip Herbert, award-winning composer
Alan Lovell is Chair of the Environment Agency and former Governor of the University of Winchester for
John McKenna, Senior Director of an international blue chip research and development company
and former Student Union President of King Alfred's College
Aaron Phipps MBE, British Wheelchair Rugby player and a Gold Medal-winning Paralympic Champion
Melanie Reid MBE, FRSE, writer and award-winning journalist
Honorary Fellowships
Morgan Lloyd Malcolm, award winning playwright and screenwriter
Nicola Morrill, equality and diversity champion within he Civil Service
Beccy Read, Winchester-based music therapist who founded the charity Key Changes Music Therapy
Georgiana Robertson, Chair Emeritus at Blue Apple Theatre
All photographs: Dominic Parkes Photography
Back to media centre