University of Winchester education expert appointed as learning adviser to Winchester Cathedral
3 Oct 2018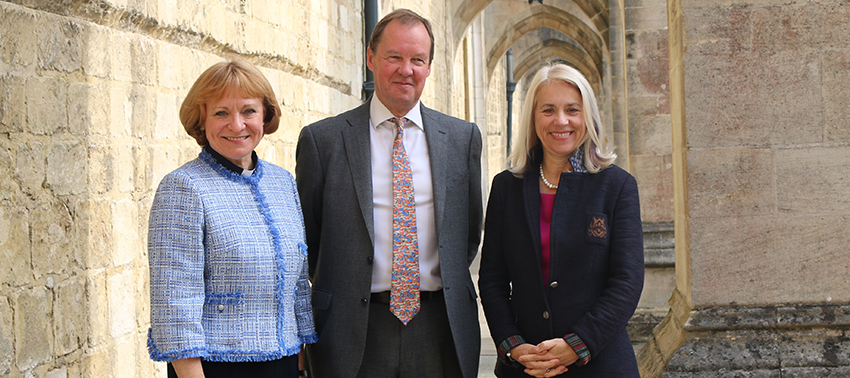 Bill Lucas, Professor of Learning at the University of Winchester has been appointed as the new Learning Adviser to Winchester Cathedral.
The appointment develops an already firmly established partnership between the two city institutions.
Professor of Learning at the University, Bill Lucas directs the University's Centre for Real-World Learning. The Centre focuses on research to understand the teaching methods that will develop the character and attributes learners need to thrive in a complex world.
He is a considerable advocate of learning outside the classroom and informal learning. He is a believer in developing children's character, which he splits into the seven C's: confidence, curiosity, collaboration, communication, creativity, commitment and craftsmanship. Bill is a prolific author, with more than 40 books about learning to his name.
Bill will have challenging and useful insights into the tours and activities which the Cathedral offers visiting children and young people. These insights will be especially valuable as the Cathedral reviews online learning for people of all ages, with the aim of enriching their visit.
Professor Joy Carter CBE, Vice Chancellor of the University, said: "The University of Winchester and Winchester Cathedral have a longstanding and supportive working partnership, which we value very highly. Bill Lucas's appointment as the first Learning Adviser to the Cathedral is an exciting new development in our partnership and I know that his renowned expertise in innovative approaches to teaching and learning will boost the Cathedral's educational offering."
Speaking of his new role. Professor Bill Lucas said: "I am honoured to have been asked by the Dean to be the Cathedral's critical friend in all aspects of learning. For high-quality learning is at the heart of the Cathedral's life, whether from the perspective of a school pupil taking part in educational work, a visitor experiencing the exciting new exhibitions in the Cathedral or someone engaging with words and music as part of a service. I am looking forward to working with staff and volunteers over the coming years."
"Chapter is delighted to be appointing Bill Lucas as Learning Adviser to Winchester Cathedral," said The Very Rev'd Catherine Ogle, the Dean of Winchester. "His expertise in both formal and informal learning will be an enormous help as we seek to develop the Cathedral's contribution to the schools and colleges in the region, as well as to deepen our engagement with visitors. We thank both Professor Lucas and the University of Winchester for weaving another strand in the cord that binds together our two institutions."
Professor Bill Lucas is pictured above centre with the Dean of Winchester, The Very Rev'd Catherine Ogle (left) and Professor Joy Carter (right).
Back to media centre