University of Winchester historian's role in hit Netflix drama The Last Kingdom
1 May 2020
A University of Winchester historian has once again helped to weave historical accuracy in to the new series of Carnival Films' hit television drama The Last Kingdom, which is now available on streaming channel Netflix with its fourth season.
Internationally-recognised expert in Anglo-Saxon Winchester and King Alfred, Professor Ryan Lavelle, Reader in Early Medieval History, has been an historical advisor on all four seasons of the critically-acclaimed drama.
Set in Viking Age England, The Last Kingdom is based on author Bernard Cornwell's best-selling historical novels series. The saga is set during one of the most turbulent times in British history: the reign of Alfred the Great and the generations after. It is told through the eyes of Uhtred of Bebbanberg, who was "adopted" by Danish invaders as a boy and has become a man who is torn between the two cultures. As season four begins, Uhtred decides to return to Bebbanburg, the land that is his birthright.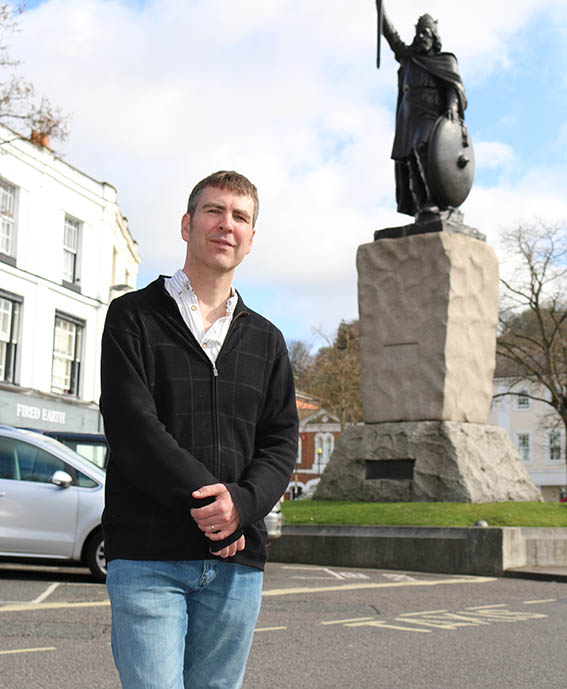 During the making of the new series, Professor Lavelle shared his expertise on a wide range of subjects, from everyday life in Anglo-Saxon England and the composition of the court and politics, to marriage traditions, costumes and head coverings.
Professor Lavelle is also writing a series of episode reviews on the BBC History Magazine website History Extra (www.historyextra.com). His reviews of each episode feature lots of information about the historical elements of the show. The reviews are available online here.
"Providing historical background detail and notes for the scriptwriter and the production team on this latest season of The Last Kingdom has been as enjoyable as in previous years," said Professor Lavelle.
"I think it's very important that historical drama programmes get accuracy into the mix with entertainment. It's particularly exciting because popular dramas such as this, which bring history so vividly to life in people's homes, are a fantastic gateway to inspire viewers about the past and encourage them to want to explore it for themselves."
"This fourth season sees the story move on past the reign of Alfred into that of his son, and it has been great to get my teeth into the turbulent politics of the Saxon kingdoms in a period which sees the formation of an English kingdom."
The University of Winchester has been at the forefront of early medieval research - shedding light on this period and the final resting place of King Alfred. In 2014, the University and Hyde900 discovered a pelvic bone thought to belong to Alfred the Great, or his eldest son.
All ten episodes of series four of The Last Kingdom - which is produced by Carnival Films - are available now on Netflix.
Photo on Press Centre page and photo above courtesy Carnival Films.
Press Office | +44 (0) 1962 827678 | press@winchester.ac.uk | www.twitter.com/_UoWNews
Back to media centre