University of Winchester hops onto Hares of Hampshire art trail
31 Mar 2022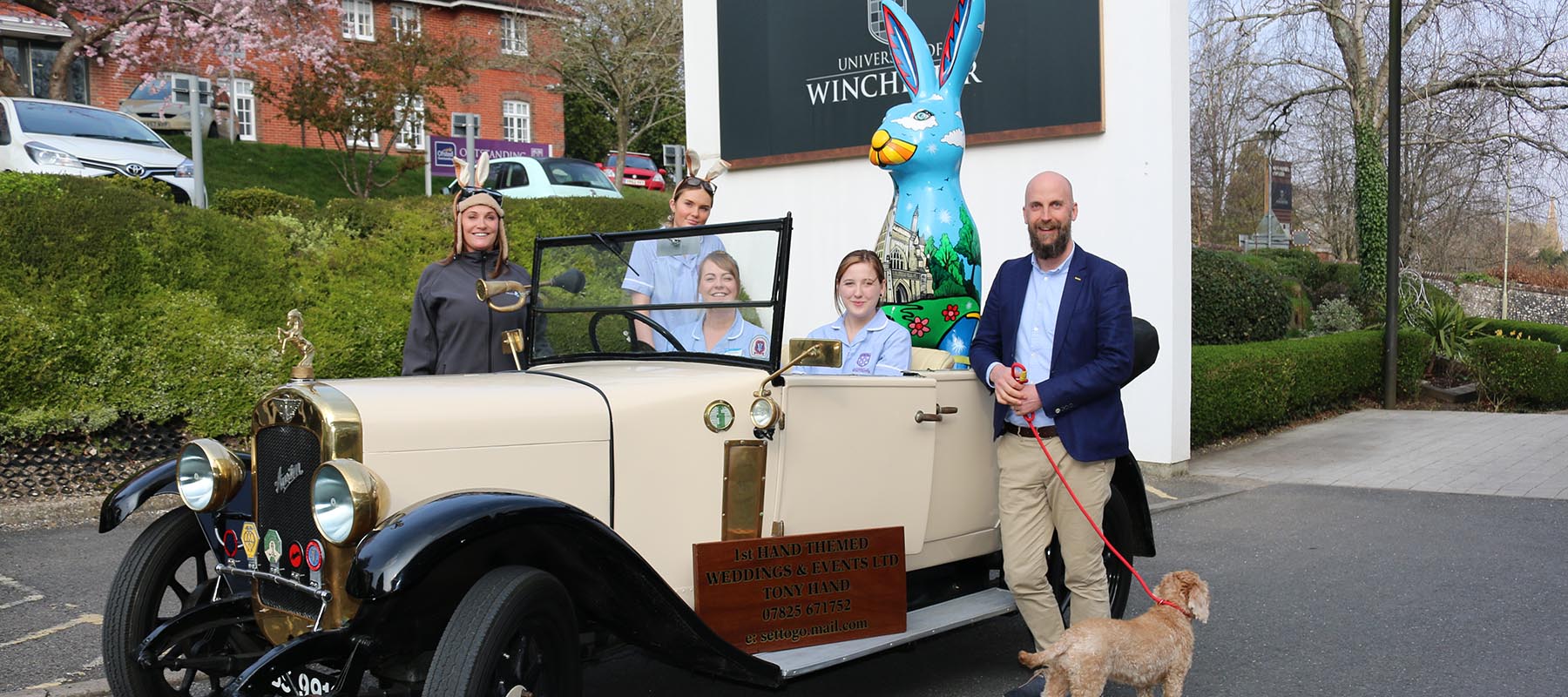 Actor Sarah Parish arrived at the University of Winchester in a vintage open top car accompanied by a giant hare sculpture this week to launch the Hares of Hampshire Art Trail, which opens in Winchester and Southampton in June.
Student nurses Sophie Amos, Jessica Slater and Maisie Stewart and Assistant Vice-Chancellor Sam Jones met Sarah on her tour of organisations which have pledged their support for the public art event.
The University is sponsoring its own giant hare sculpture for the trail, which is being designed and decorated by Winchester-based professional artist Jenny Muncaster. Jenny's highly decorative abstract design is about embracing diversity, promoting health and wellbeing and being comfortable in one's own skin.
Sam Jones said: "The University is excited to be a part of this colourful public art event and to support the wonderful work that the Murray Parish Trust does for children in Hampshire.
"Our Faculty of Health and Wellbeing is committed to enriching the health and wellbeing of individuals, families and communities, so we have chosen a special theme of health for our hare sculpture. It's also fitting that some of our wonderful Nursing students have had an opportunity to meet Sarah today and lend their support to the event."
The Murray Parish Trust and Wild in Art have launched the Hares of Hampshire Art Trial to raise funds for Southampton Children's Hospital. The Trust was set up by Sarah Parish and her husband actor James Murray in 2014 to ensure the best medical care for children in the region.
Sarah Parish said: "'We are delighted to be working with the University of Winchester on Hares of Hampshire. Having such a prestigious University on board is a huge boost to this project. A public, free, family event like Hares of Hampshire is a perfect charitable fit for the University of Winchester and we look forward to having lots of fun together over the coming months."
For ten weeks this summer, streets, parks and public spaces in Winchester and Southampton will be brought to life by an exhibition of individually-designed giant hare sculptures. The free family-friendly trail will showcase the artistic talent the county has to offer and contribute to the cultural life of the area.
Press Office | +44 (0) 1962 827678 | press@winchester.ac.uk | www.twitter.com/_UoWNews
Back to media centre